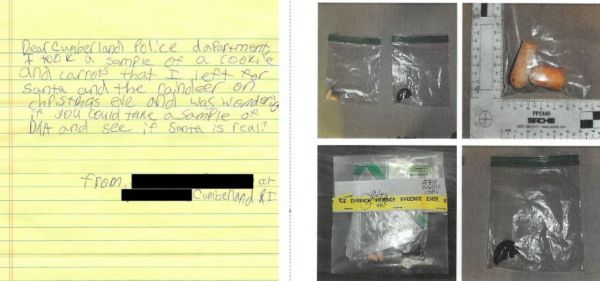 UPDATE 1/24/22: AP reports that the Rhode Island Department of Health has completed its DNA examination of the Santa Claus evidence. It could not match the sample with DNA in its database, although there is a partial match a 1947 case in New York City.
ORIGINAL POST:
Chief Matthew Benson of the Cumberland, Rhode Island Police Department is taking this case very seriously. It began when, ABC 7 News reports, he received a letter from a little girl. It included part of a cookie and carrots that were left in her home last Christmas night. The cookie was for Santa Claus and the carrots for his reindeer. Would he run DNA tests on these objects and get back to her?
I'm not sure what a DNA test would reveal, but Chief Benson processed the evidence and sent it to the Rhode Island Department of Health for examination. Is Santa real? Do these remains point to the presence of Santa and his reindeer in her home on Christmas night? The police will follow up with the child and let her know.
-via Dave Barry | Photos: Cumberland Police Department