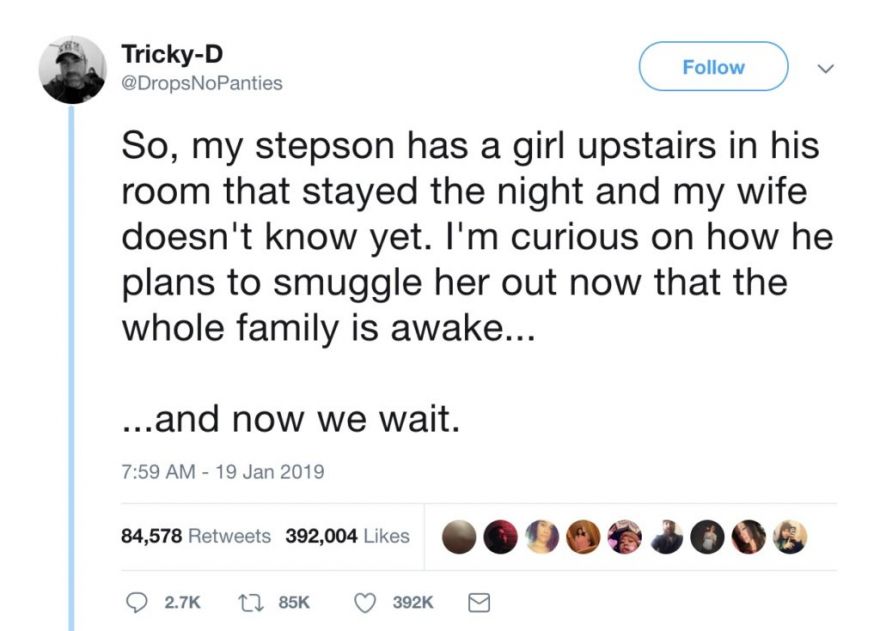 Twitter user Tricky-D had a stepson who brought a girl inside his room the night before. The stepdad hadn't seen the girl yet, but he knew that it was a girl because of the noises that came out from his stepson's room. The problem is: how will his stepson smuggle his overnight guest out of his room and out of the house, now that the whole family is awake? Tricky-D watched the whole thing unfold in front of his eyes, while giving occasional updates to his followers on Twitter.
When some of his followers suggested that he might intervene and help Stepson with his escape, Tricky-D had this to say:
"I see all ya comments about help the kid out… He's a 18yo grown ass man. We live and die by our choices"
Was the stepson able to smuggle his girl out of the house without anyone knowing (except his stepdad, of course)? Find out what happened over at Awkward.
(Image Credit: Tricky-D/ Awkward)