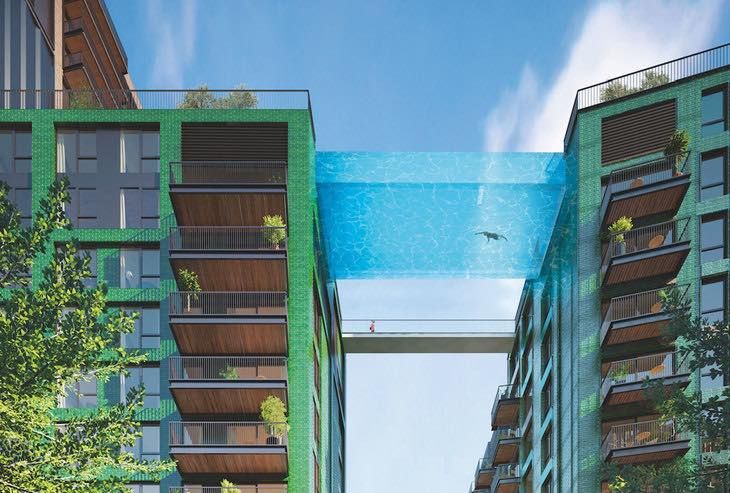 I don't think I'll be able to handle the height if I ever get a chance to swim in this pool. Meet the Sky Pool, a special outdoor pool in London's Nine Elms business district. The most distinct feature of this outdoor location is that it is suspended 35 meters above the ground between two residential buildings. The transparent pool is made of acrylic and can hold up to 148,000 gallons of water:
The impressive sky pool is the centerpiece of Embassy Gardens, a new 2,000-home development in the Nine Elms and Battersea Power Station regeneration zone. When it opens, next month, Sky Pool will become the most exclusive place to take a dip in all of Britain.
Sky Pool will nor only be offering swimmers breathtaking views of the House of Parliament, the London Eye and London's city skyline, but also the thrilling experience of floating in the air, tens of meters above ground, with nothing but a transparent layer of acrylic separating them from the chasm below.
Apparently, transporting the bool from Colorado, over the Atlantic was an adventure in itself, but designing and installing it between the two new residential buildings was even more challenging, with engineers and workers having only inches of tolerance.
Image via Oddity Central