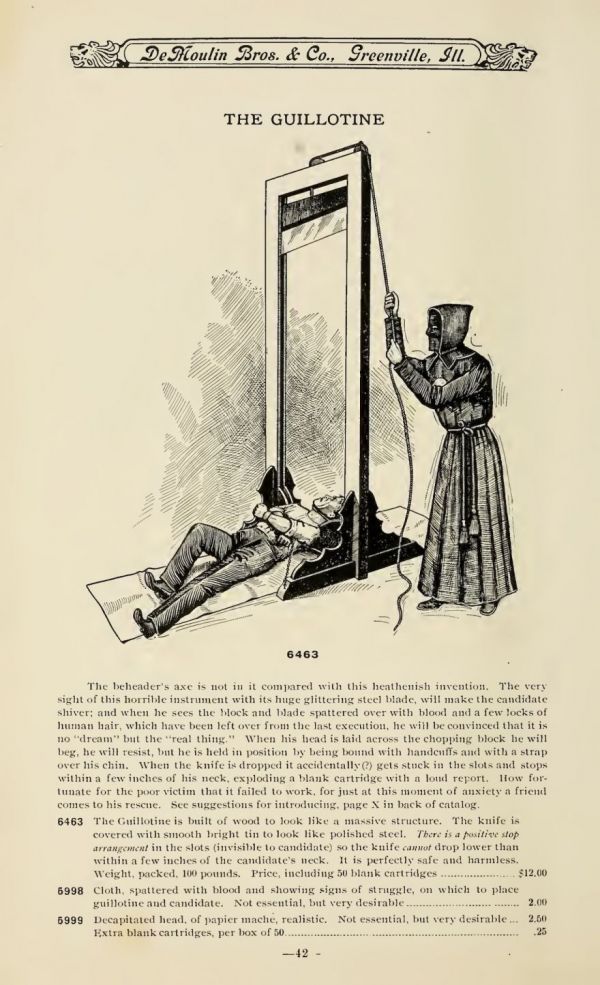 DeMoulin Brothers & Co. of Greenville, Illinois, has been in business since 1892. They manufactured military uniforms for both world wars, and today they sell band uniforms. Early in the company's history, they also sold novelties, such as devices for pranks and illusions. These items were designed for and aimed at lodges and fraternities for hazing purposes. All in good fun, of course.
Clothes steeped in cultural meaning as party costumes; imitation guns to terrorise; a goat – wait for the goat; a guillotine; the rhythmic automatic spanking machine; the embarrassingly erotic 'pillow fight'; the promise of having your facial bones crushed by a large lead weight; the 'branding and whirling table'; the intimately ravaging 'pointed affair'; more buttock thrashing with the 'spanking shovel'; and many more japes to get excited lodge members howling as 'the candidate' fears for their life all feature in the DeMoulin Brothers & Company's cornucopia of earthly delights.
The guillotine pictured above was built to stop a few inches from the victim's head. Surely nothing could ever go wrong with that! While most of the items pictured in the DeMoulin Brothers & Co. 1908 catalog were illusions, some delivered an electric shock to the unsuspecting victim. Take a look at the weird items they had to offer back in the day at Flashbak. -Thanks, WTM!