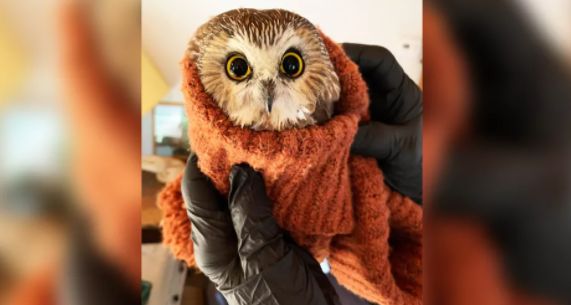 The tiny owl found in the Rockefeller Center in Manhattan would not be taken back to his former home. The owl survived the long drive, hiding in the Norway spruce, from upstate New York to Manhattan, and is now conveniently cooped up in the Rockefeller Center Christmas tree. The initial expectation was that wildlife officials would rescue the bird and take him back to the wild, right? But it seems that there are other plans for the lost owl:
"There's been a lot of controversy over the release site," said Ellen Kalish, director and founder of Ravensbeard Wildlife Center, a nonprofit in Saugerties, New York, where the owl, named Rockefeller after the Christmas tree where he was found, is recovering. "[But] saw-whet owls by nature are nomadic. They basically don't have a home base unless they're raising a family, in which case they both help to feed the babies and then they're off to their solo life."
This nomadic lifestyle works in Rockefeller's favor. Rather than "stress him out" on a two-hour journey to his old home in Oneonta, New York, Kalish is planning to release him from the wildlife center into the surrounding woods this Saturday (Nov. 21).
"It's called a soft release where we're going to put food out on the platform in case he's hungry and doesn't have a successful night of hunting," Kalish told Live Science. "We believe that he's going to go where he wants to go."
In the end, this unexpected adventure will be "just a little detour" for the nocturnal predator, she said.
Image via Live Science