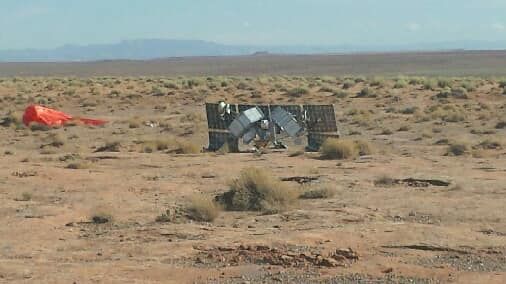 A mysterious object fell from the sky and landed in remote Dennehotso, a community in the reservation area of Arizona. People near the crash site were able to capture photos and videos of the unidentified object. The object appears to have four large solar panels and has an orange-colored parachute. But what could it be? USA Today has more details:
The Navajo Police Department confirmed officers responded to the area after receiving reports about an object that fell from the sky, said department spokesperson Christina Tsosie.
Tsosie described the object as a satellite, which crash-landed. There were no reports of injuries or property damage, she said.
The cause of the crash was unknown and the "satellite material" was released to employees from a company called Polar Field Services, she said.
Company officials did not respond to requests for comment Thursday. According to the company website, the Colorado-based firm specializes in providing logistics and support for expeditions to locations in extreme climates.
That object turned out to be a high-altitude weather balloon. Polar Field uses similar balloons in its operations.
The balloon that crashed in Michigan had been launched by Samsung as part of a "SpaceSelfie" ad campaign and crashed because of unexpected weather conditions, according to news reports at the time.
Image via USA Today