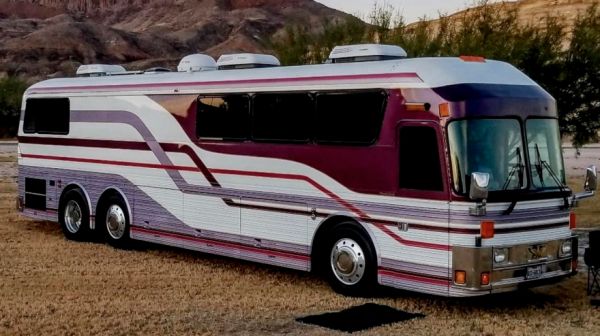 This 1983 bus is up for auction. It sleeps six and has all the amenities you'll need for a vacation or a concert tour, like Prince's 1984 Purple Rain tour, for which it was custom-built. That should raise the price of a 37-year-old bus. 
Offered by Mecum out of Houston, the motorhome is in excellent condition, mostly due to the fact that it was only used privately once Prince was done with it and has been stored indoors. It features a master bedroom with a king-size bed, two bunk beds and one couch that converts into a double bed. There's plenty of storage space, a bathroom with shower and toilet, kitchen with oven, sink and separate fridge and freezer, and office space with seating decked in quality leather.
Note that the auction site is hedging its bets on the provenance.
Purportedly designed and custom built for rock star Prince for his 1984 Purple Rain Tour
Please note that this vehicle's history was conveyed verbally and will not be offered with any supporting paperwork
But the evidence is there. The outside is purple. The inside, not so much, but not does have purple steps, a purple sink, and purple mood lighting. The motor coach will be auctioned off December 3-5. -via Nag on the Lake