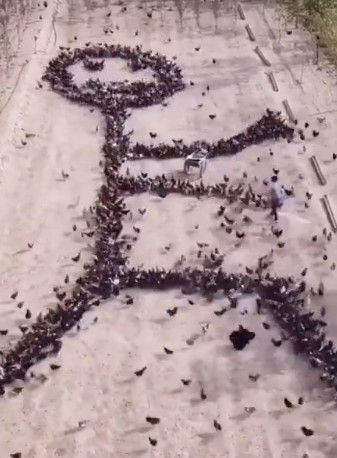 Similar to how a conductor, using gestures, directs an orchestra in a musical performance, this man masterfully directs the chickens by strategically placing bird seeds in places where he wants the chickens to be. The result is this giant stickman holding a ball in his hands, which is similar to the "Hadouken" pose made by characters in the Street Fighter games.
Just like most street artists, the creator behind this bird art performance remains anonymous. However, whoever it is deserves the praise they're currently getting from the Internet—both for their idea and for their effort in making it happen. The gif has amassed over 66k up votes on Reddit and most six million views on Gfycat.
Strangely—if you look closely at the video—you'll spot what looks like a turkey joining in with the flock.
Watch the whole video over at My Modern Met.
Magnificent!
(Image Credit: Gfycat/ My Modern Met)