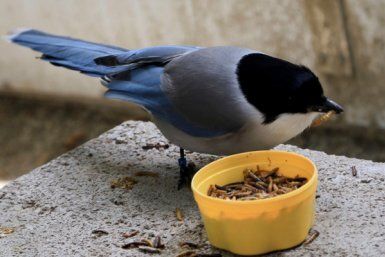 One of the many emotions that we humans have is sympathy. But this emotion isn't exclusive to us humans; animals can show sympathy, too. In a study recently published in Scientific Reports, researchers found out that birds share their food with other birds that are less fortunate.
They seem to [take each] other's perspective into account in their decision, and thus seem to show sympathy," said Utrecht-based biologist Jorg Massen in an experiment with azure-winged magpies.
[...]
The researchers discovered that the magpies are inclined to share food with their peers. They differentiate, however, between whether others have food or do not have food, and subsequently cater to that lack. "Females mainly shared with the others if they had nothing. The males always shared. We think the latter has to do with 'advertisement': 'Look at me being generous.' With the females, it's mainly to help the other if they have nothing."
The azure-winged magpies are more inclined to share food as a response to begging, but it turns out that even without begging, the magpies share food with conspecifics that are less fortunate. This shows that azure-winged magpies might truly notice the need of others, even without begging behavior.
Amazing.
Learn more details about this study over at PHYS.org.
(Image Credit: Utrecht University/ PHYS.org)