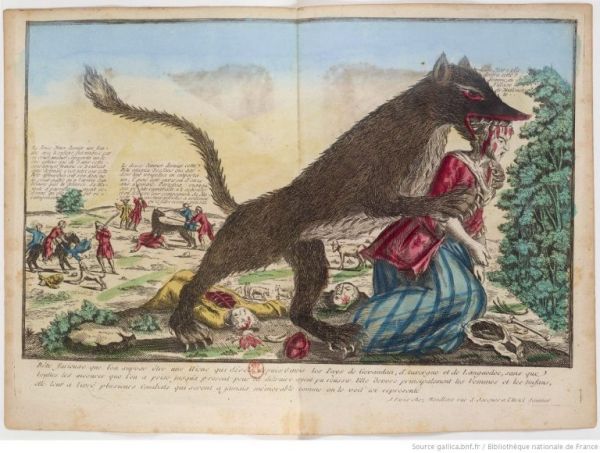 Over a period of 110 years, werewolves roamed France. Or maybe they were just wolves, but a lot of people were killed or injured, and a lot of people were executed, accused of being a werewolf. Between 1530 and 1640, those accusations were lodged against around 30,000 people.
As it pertains to France, the country's history with wolf-related mythology is long and rich with stories such as the La Bête duGévaudan, or The Beast of Gévaudan, which for three years terrorized the area. The first attack occurred in April of 1764, and the victim, a young woman tending her flock of sheep, described her assailant as looking "like a wolf, yet not a wolf." She survived when her sheep went into action, defending the teenage girl from the Beast. Two months later, another young girl, Jeanne Boulet, was attacked and killed by what the residents of Gévaudan thought to be a natural predator, given the fact Boulet was also tending a flock of sheep. Two more fatal attacks would follow within a matter of weeks, both young field workers, a girl, age fifteen, and a boy age sixteen. This would be the start of more than 100 documented fatal attacks in Gévaudan in which most of the victims were partially eaten. The residents of Gévaudan would take up arms, and large rewards were offered for the capture or killing of The Beast of Gévaudan. Experienced hunters and even groups of children would go out in search of the Beast and return with stories of battling a giant wolf (noted in the book Monsters of the Gévaudan: The Making of a Beast). One such incident describes the wolf attacking a group of young children, five boys and two girls in a bog where they were playing. The wolf preyed on the youngest of the group, an eight-year-old boy who he clenched in his massive jaws as the kids attacked the wolf with their make-believe weapons (in this time period, pretend bayonets), finally getting the animal/manimal torelease their friend.
Some actual beasts were hunted and killed, but the attacks went on in Gévaudan and different parts of France. Read more about the "werewolves" and their victims at Dangerous Minds.