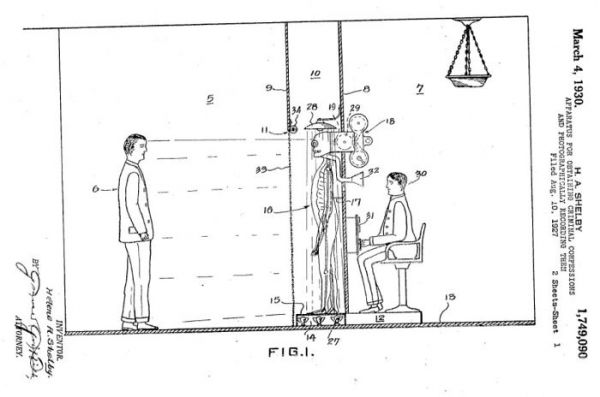 Patents are granted to protect a person who has an idea, not to render judgement on whether it's a good idea. Therefore, the patent files are full of strange and wonderful notions that will make you scratch your head. In 1930, Shelby Helene Adelaide was granted a patent for a system to interrogate crime suspects and compel a confession from the guilty.  
"The present invention relates to a new and useful apparatus for obtaining confessions from culprits, or those suspected of the commission of crimes, and photographically recording these confessions, in the form of sound waves, in conjunction with their pictures, depicting their every expression and emotion, to be preserved for later reproduction as evidence against them," the inventor describes her invention.

The invention works somewhat like this: first, the suspect is isolated in a small, dark chamber. The examiner sits in a nearby chamber and asks their questions through a megaphone. But here's a twist—the suspect isn't able to see the questioner. Instead, they're faced with "a figure in the form of a skeleton."

Moreover, the eyes of the skeleton are glowing red "for the purpose of imparting to the eyes of the skeleton an unnatural ghastly glow"
While such a setup might be perfect for a haunted house attraction, its use in solving crimes might have only come down to separating hardened criminals from the hopelessly naive (and probably innocent), who would end up traumatized for life. At any rate, it seems no one built this contraption, much less used it in law enforcement. Read about Adelaide's patent and see more pictures at Bored Panda.
(Image source: Google Patents)