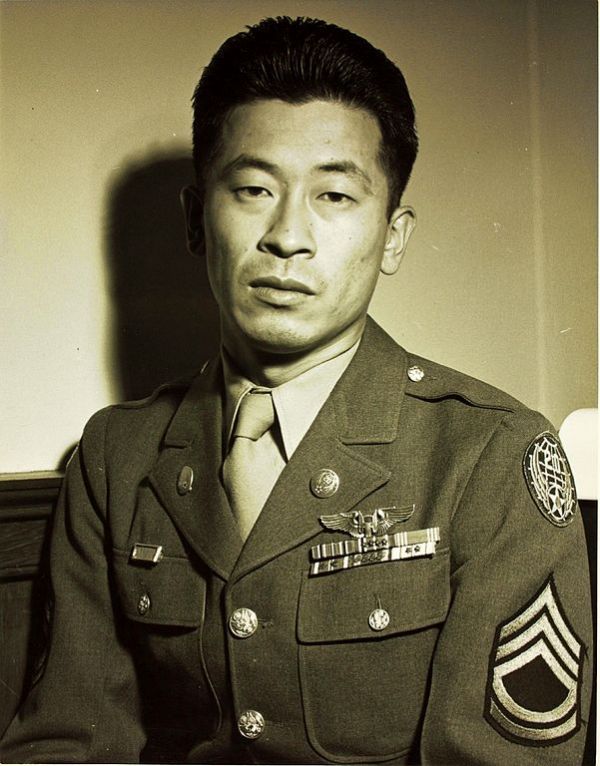 How many generations must pass before an American is considered to be American? That often depends on one's appearance or name. After the 1941 attack on Pearl Harbor which drew the US into World War II, people with Japanese ancestry were looked upon with suspicion, whether they were recent immigrants or were descended from immigrants of several generations before. Those of Japanese descent were rounded up from the West Coast and interned in camps. Volunteer fighters were eventually granted the opportunity to serve, although in segregated units. And then there was Ben Kuroki.  
After Pearl Harbor, a Nebraska farm boy named Ben Kuroki volunteered for the U.S. Army Air Corps. He could not have been more American: born in the breadbasket of America, one of ten children, growing up in a small town of with a population of about 500, vice-president of his high school senior class. His parents had come to the United States from Japan, started a family, and settled into a happy life in their adopted country. Outraged as an American when the Japanese attacked Pearl Harbor, Ben Kuroki and his brother Fred enlisted in the U.S. Army.

Kuroki somehow slipped through the filter that placed all Japanese American enlistees in segregated units and he became a gunner in a B-24 squadron based in Europe. He served with distinction and completed 30 combat missions, more than the standard full tour of 25. He returned to the United States for rest and recuperation, and as a war hero made appearances to engender support for the war. In particular, he was toured through the Japanese American incarceration camps to garner support and recruitment of other Japanese Americans to fight. He quickly found himself at the center of a firestorm of controversy—exploited by the government and distrusted by his fellow Japanese Americans wrongfully imprisoned in camps.
Read the story of Ben Kuroki and what he was willing to give for America at Smithsonian.

(Image credit: San Diego Air & Space Museum)