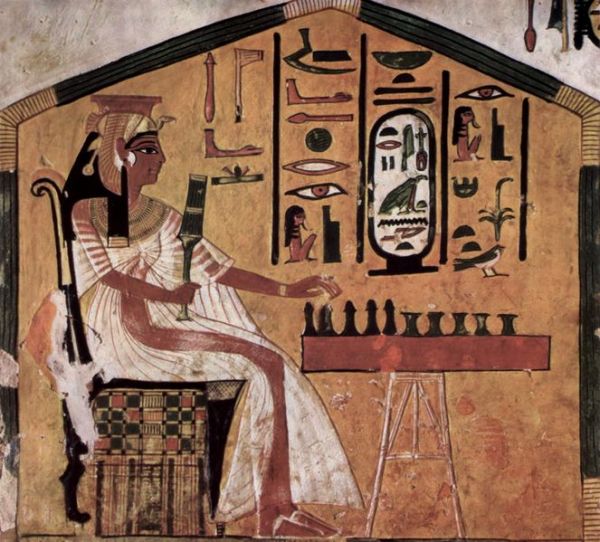 The Egyptian game called senet probably wasn't the first board game, but it's pretty old. It was first developed around 5,000 years ago, and became extremely popular. A view from the side, as in the image of Nefertiti above, makes it looks like chess, but senet was played more like backgammon, with a roll of the dice to determine how far you moved your pieces.
There is no evidence that senet was anything other than a form of entertainment at the time of its invention. But by about 4300 years ago, Egyptian tomb art began to depict the tomb's dead inhabitant playing senet against living friends and relatives. Texts from the time suggest the game had begun to be seen as a conduit through which the dead could communicate with the living.

Over the next millennium, Egyptian texts came to describe the game as reflecting the movement of the soul through the Egyptian realm of the dead—called Duat—and toward the afterlife. And by about 3300 years ago, the game board itself had changed. In place of three simple vertical lines on square 28 of early senet boards, for example, some now had three hieroglyphic birds that Egyptians used to symbolize the soul. The board retained this symbolism for another 800 years, until the game fell out of fashion.
Read about the rise and fall of senet, and the changes in the game that showed its link to the afterlife, at Science magazine. -via Damn Interesting

(Image credit: The Yorck Project)