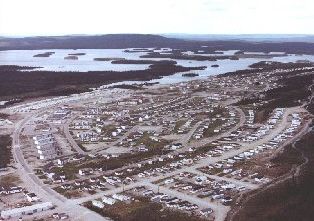 In this place, there are no abandoned buildings, or homes, or any visible infrastructure that would suggest human habitation, except for a lonely stretch of road that cuts through this settlement. The once thriving mining town of Gagnon, in Quebec, became a ghost town unlike any other.
… less than four decades ago, [the town had] an airport, churches, schools, a town hall, an arena, a hospital, and a large commercial center, despite being isolated and accessible only by plane.
… The city was founded in 1960 following the discovery of iron ore in the region. The shore of Lake Barbel was chosen as the site to build the future town of Gagnon. The city rapidly grew in size. Infrastructure such [as a] hospital, airport, churches, primary and secondary schools and other businesses were quickly built to make life easier for new residents. At its peak, the city had about 4,000 inhabitants.
Because of the 1973-75 recession, however, steel production fell across North America. In 1977, the mines ran out of resources and mining operations were transferred to the mine in Fire Lake, which was located 90km northeast of Gagnon.
By the mid-1980s, the mines were no longer turning profit, and it was decided that the mines be closed. The city was evacuated, but instead of leaving the existing buildings intact, the entire town was razed to the ground in 1985. All that remains today is the town's deserted main street and the airport's runway.
Check out the old photos of the town over at Amusing Planet.
(Image Credit: Donnacona/ Wikimedia Commons)