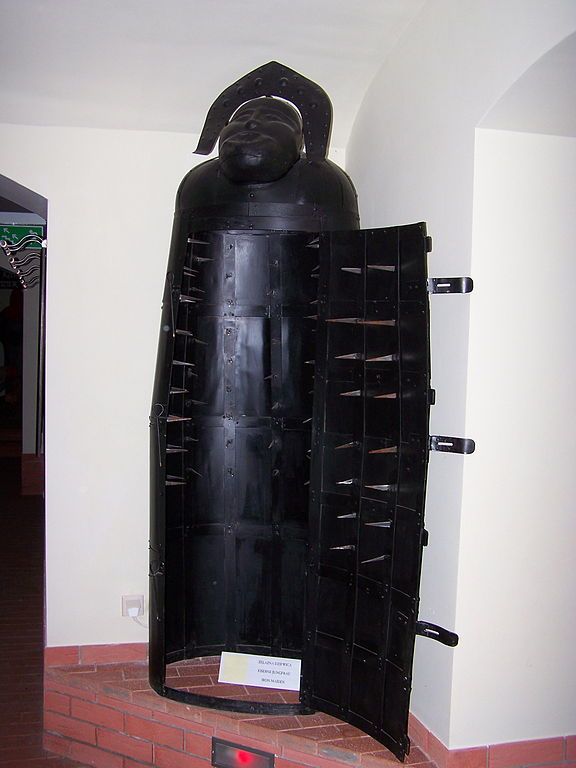 In verifying facts from the distant past, historians want more than one source, that is, corroborating evidence. One instance does not make a trend, or even a fact, because fiction was just as popular in days of yore as it is today. A painting could be a portrait or a fantasy, or something in between. A written account could be a chronicle or a retelling of a popular yarn. And so it is with the Iron Maiden, a medieval torture chamber shaped like a human body with spikes on the inside, in which a victim could be interred, leading to a slow, painful death. The first actual relic of this practice appeared in a museum in Nuermburg, Germany, in 1802.
This device was supposedly "discovered" in a German castle in the late 18th century. Not just a cask, this killing machine was roughly human shaped, made of iron, and even had a face, supposedly based on the face of the Virgin Mary, hence the torture instrument's name- the Iron Maiden.

This probably first real Iron Maiden was sadly destroyed during WW2 by Allied bombers, but a copy created "as decoration for the 'Gothic Hall' of a patrician palace in Milan" in 1828 survived and currently resides in the Rothenburg, das Kriminalmuseum (Museum of Crime). From this copy, we can see that the device was certainly designed to cause unimaginable agony in its victims. Along with having strategically placed spikes designed to pierce approximately where a person's vital organs and sensitive nether-region dangly bits are, the face of the Maiden did indeed have spikes designed to pierce a victim's eyes upon closing, assuming the person wasn't vertically challenged.

This copy did a lot to help popularize the idea of the Iron Maiden as a real thing thanks to its prominent display at the World's Columbian Exposition in 1893 in Chicago, and subsequent tour across the United States to much fanfare.
However, there is no real evidence that an Iron Maiden was ever used in medieval times, or whether it actually existed. What we have are isolated accounts of similar torture that go back a lot earlier than the medieval period, which could easily be fiction. We also have real evidence of devices that may have inspired the stories of the Iron Maiden, although those real devices were not nearly as cruel. Strangely, the strongest evidence of the possible use of an Iron Maiden comes from the late 20th century! Read those accounts, and how they may have led to the myth of the Iron Maiden at Today I Found Out.
(Image credit: Lestat (Jan Mehlich))