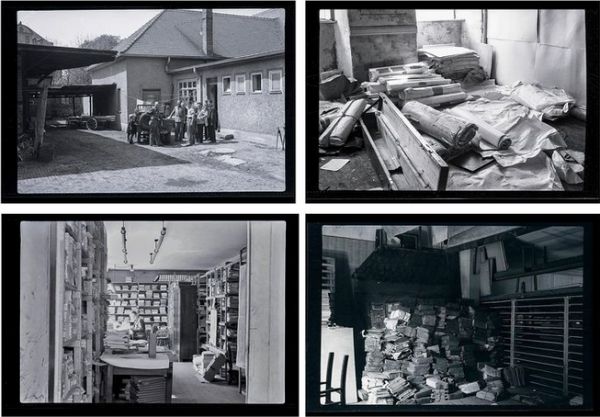 Here's a World War II story you haven't heard, but would make a great movie in the vein of The Monuments Men or Inglourious Basterds. American engineer and surveyor Major Floyd W. Hough was the leader of a highly-classified military intelligence team with the clout to move freely in the war zone, even though no one knew what they were up to. Each member of HOUGHTEAM was selected for their particular set of skills, which might remind you of a cinematic heist team. They spread across Europe, gathering the spoils of war. They weren't after treasure, but information: maps and important geodetic surveys that took the earth's curvature into account to precisely plot locations. This data was more crucial than ever in waging a war of long-distance air missions. HOUGHTEAM carried 1,800 pounds of cameras and equipment to record captured data in microfilm. In the early years of the war, they mostly stayed behind enemy lines.  
Hough remained busy. When the Belgians requested help microfilming some survey data and secret lists of artillery coordinates, he was happy to oblige—and saw to it that an extra copy was sent to Washington without the Belgians' knowledge. When the French city of Strasbourg was recaptured by the Allies, his men removed a cache of top-quality German survey equipment before the French had a chance to claim the gear for themselves.

If an obstacle arose, Hough was willing to get creative. After several neutral countries balked at letting Espenshade and Shallenberger search their institutes and libraries, Hough procured letters from the Library of Congress certifying the men as its representatives engaged in bibliographic research. A similar ploy got Shallenberger into the pope's private library at the Vatican, which was strictly off-limits to members of any military, owing to the Vatican's status of neutrality.

Finally, by early March, the Allied forces resumed their eastward progress and were poised to cross the Rhine into the German heartland. HOUGHTEAM's window of opportunity was opening.
It was when the Allied forces began taking German towns that HOUGHTEAM really went into high gear, particularly in areas that would be ceded to the Soviets after the war. Read the exploits of the super-secret intelligence unit in the November issue of Smithsonian.  

(Image source: Library of Congress)