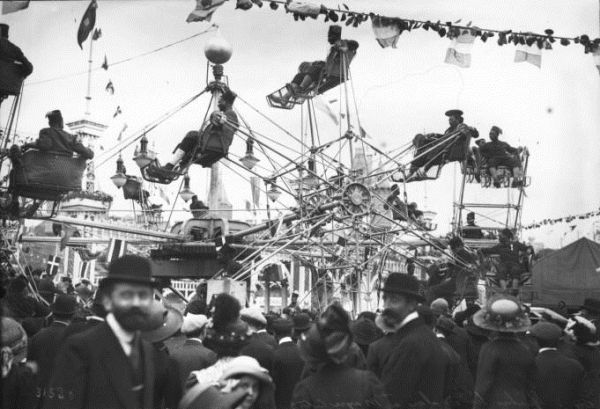 Magic City in Paris was one of the world's earliest permanent theme parks. It opened in 1900, and offered Parisians amusements and distractions beyond imagination for its time.
Dragons curled up under the bridge. Toboggans splashed Parisians in to the Seine, benches twirled, and wine flowed freely. It was a Saturday afternoon like any other at the "Magic City" of Paris, the long lost fun fair that was the nation's very first parc d'attractions. As such, it was quite literally the gateway to extravagances unknown – a ticket into a world of whimsy matched only by the Universal Exposition, aka the Greatest Show on Earth – that could be enjoyed by all, but especially the LGBTQ community, whose legendary drag balls swept Brassaï (and his camera) off his feat. So grab your top hat, darling, for a day at the fair…
The theme park rides closed in 1926, and the ballroom space left behind became a place of celebration for the city's gay and drag community. But if you went to that neighborhood now, you would never guess its history. Read about the heyday of Magic City, with lots of pictures, at Messy Nessy Chic.