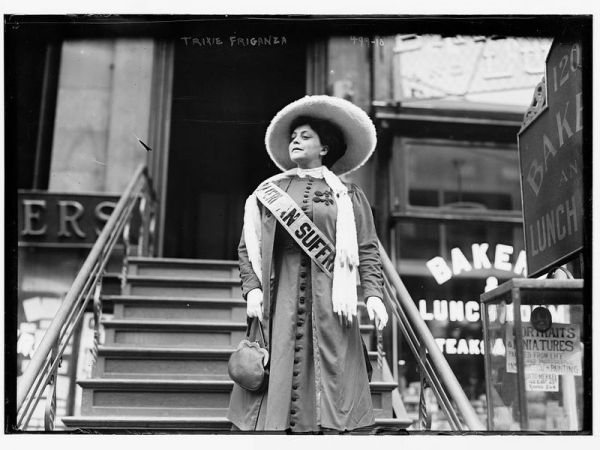 A couple of years ago, Eddie Deezen told us the history of the song "Take Me Out to the Ball Game." In it, he revealed a verse that was part of the original composition, but almost unknown now, concerning a girl named Katie Casey. There were actually two verses about Casey, and historians now believe they were inspired by lyricist Jack Norworth's girlfriend, vaudeville star and suffragist Trixie Friganza.   
"Trixie was one of the major suffragists," says Susan Clermont, senior music specialist at the Library of Congress. "She was one of those women with her banner and her hat and her white dress, and she was a real force to be reckoned with for women's rights." In 1907, Friganza's two worlds—celebrity and activism—would collide when she began a romantic relationship with Jack Norworth.

Norworth, a well-known vaudeville performer and songwriter in his own right, was married to actress Louise Dresser when he met Friganza. (When news of the wedded couple's separation hit the press, Dresser announced that her husband was leaving her for the rival vaudeville star.) The affair was at its peak in 1908 when Norworth, riding the subway alone on an early spring day through New York City, noticed a sign that read "Baseball Today—Polo Grounds" and hastily wrote the lyrics of what would become "Take Me Out to the Ball Game" on the back of an envelope. Today, those original lyrics, complete with Norworth's annotations, are on display at the National Baseball Hall of Fame in Cooperstown, New York.
Read about the unique and uncompromising Trixie Friganza at Smithsonian. You'll also see those original annotated lyrics.

(Image source: Library of Congress)