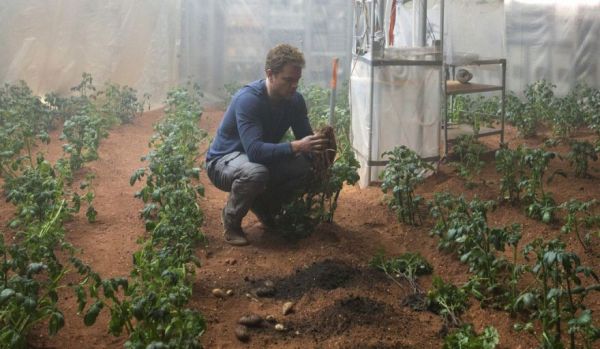 It might not happen as soon as some people think, but one day, humans will travel from Earth to Mars. It won't be just an exploratory stop, either, so they'll have to produce food. What will people eat on Mars? According to the movie The Martian, it's potatoes. Planetary scientist Kevin Cannon and colleague Daniel Britt crunched the data and published a paper titled Feeding One Million People on Mars. It charts a path toward self-sufficiency for a large colony over the course of a hundred years. Cannon talked to Smithsonian about their plan.
What practical factors did you consider when thinking about food production on Mars?

What turns out to be the real limiting factor is the amount of land that you require. The reason why that's so important on Mars is that when you think about land, you're really talking about building an enclosed structure. You have to pressurize it, you have to heat it and you have to light it to protect against the Martian environment. There's almost no atmosphere. It's very cold. So, land turns out to be the most important driver. The more land you have to use to grow food, then the more construction, the more power, et cetera.

How did you determine which food sources would be well-suited for life on Mars?

We looked at this in a very general way. We thought, okay, let's start from plants, because that's what most people assumed in the past when they thought about what people would be eating on space missions. And let's go a little bit beyond that to some protein sources. So, we looked at what's being done on Earth and we honed in on insect-based foods that turned out to be very efficient for Mars, as well as what's called cellular agriculture. That's this idea of growing meat from cells in these large bioreactors. It's something that's actually coming a lot sooner than people think on Earth, and it's very well-adapted for producing food in space.
Read the rest of the interview at Smithsonian.