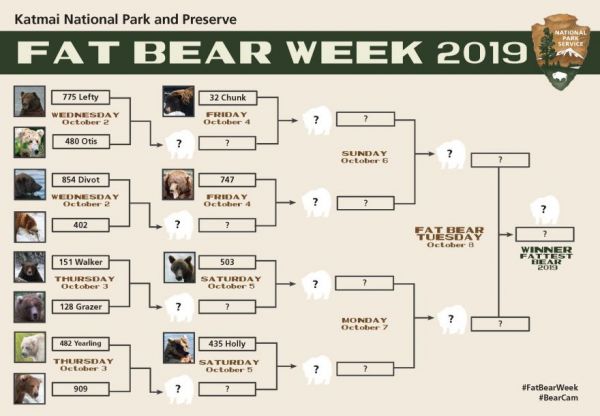 Katmai National Park in Alaska is celebrating Fat Bear Week with their annual competition to crown the fattest bear. Bears emerge from their dens in the spring fairly skinny, and then spend all summer packing on the pounds to keep them going through the winter. Voting on individual bears will run October 2 through 8 at Facebook. 
Katmai's bears, home to one of the densest concentration of bears on Earth, appeared on the explore.org webcams in June as relatively skinny, sometimes gaunt looking, animals. But by September, the brown bears put on hundreds of pounds — some with bellies that nearly scrape the ground.

"It's been amazing to once again watch the bears' transformation from lean animals to the roly-poly giants they have become," marveled Mike Fitz, a former park ranger at Katmai National Park and currently a resident naturalist for explore.org.

There are 12 plump bears in the park's 2019 Fat Bear Week bracket. But this year, unlike many years, there are a number of top, formidable contenders.
Mashable has posted profiles of the four bears who have the best chance of winning. Personally, I'm pulling for the one named "Chunk."

(Image credit: Katmai National Park & Preserve)