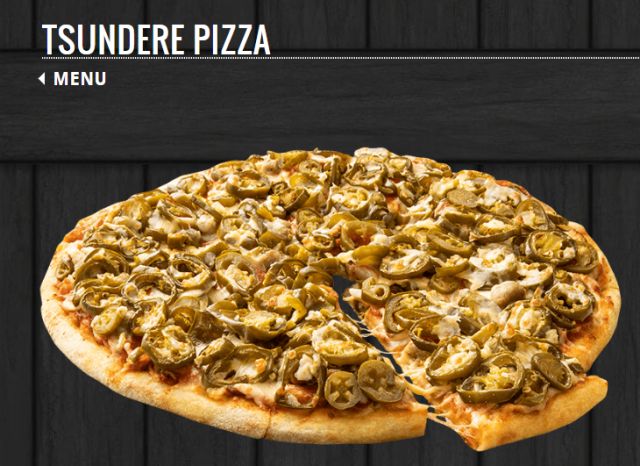 Pizza is a perfect and stable comfort food for anyone, especially for someone whose ideal way to spend the night is watching anime while eating food. Domino's Pizza in Japan, to cater to the otaku market, is now selling the world's first Tsundere pizza (tsundere refers to an anime character/personality type of running hot and cold with one's affections)! Soranews24 details on what makes this pizza tsundere:
So what makes a pizza tsundere? Well, first you've got to have the hateful tsuntsun part. See the massive pile of circular toppings atop the pizza? Those aren't sliced mushrooms, they're jalapenos! With the volume of spicy peppers almost equal to that of the entire rest of the pizza, so just like if you're going to get into a romance with a tsundere, if you're entering a gastronomic relationship with a Tsundere Pizza, you probably should expect it to hurt.
you can't have the tsun without the dere. Domino's Pizza promises that the Tsundere Pizza's cheese coating will lovingly spare you from the full fire of the triple portion of jalapenos, and that the resulting flavor is "nice and mild," though we wonder if that's an assurance we should take at face value or not, given tsunderes' proclivity for downplaying the sharpness of their tsuntsun actions.
image credit: Domino's Pizza via Soranews24