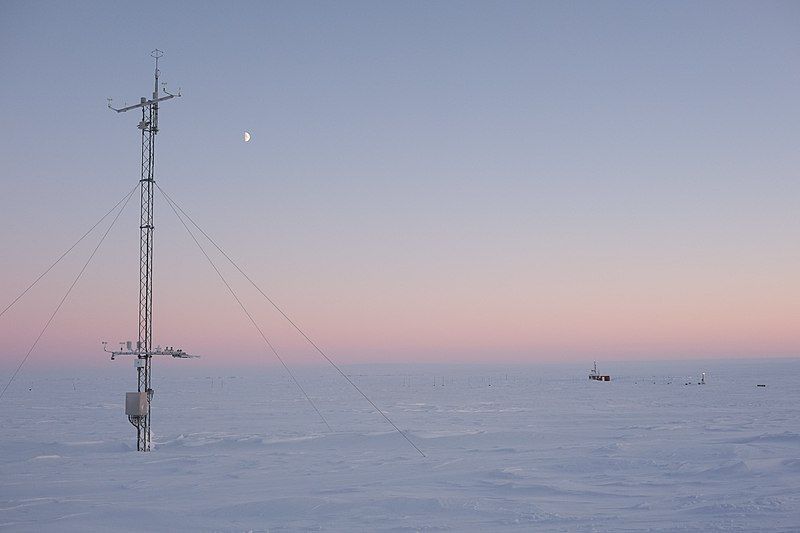 The Arctic is part of a global cooling system. With the rapid change in climate, along with sea ice slowly melting down, that system is breaking down. That situation prompts researchers to gather data from the ice, sea, and atmosphere to measure changes over time that scientists hope will help them predict the planet's future. In a Greenland Arctic base, researchers from around the world gather data about the warming arctic, but they are far from lonely with their work. National Geographic shares details on the scientists' daily life:
One person is playing the guitar, another is reading. There's a relaxed, vacation vibe despite the location: 575 miles from the North Pole at a Danish military outpost in northeastern Greenland called Station Nord. The generator hums in the distance, and occasionally the two Greenland dogs begin to bark. The sun circles the Arctic sky.
The station, which began primarily as a weather center in 1952, is essentially a small village with its own airport. There are more than 25 buildings, including bunkhouses, workshops, a generator shed, a kitchen, and a community center. Single-purpose structures are spread out as a precaution against fire.
The campus is extensive enough to provide the infrastructure required to produce world-class science in a hazardous—and beautiful—environment. The soldiers clear runways, fuel airplanes, clean barracks, secure food shipped on cargo planes and retrieve water from a glacial lake nearby, and repair equipment. In winter the six of them—eight if you count the dogs—are alone for months, with a satellite connection that allows for basic email and text messages. Everyone gets a monthly call allowance. It's more work to shut the station completely during winter than to keep a skeleton crew to look after things.
The community has a culture of its own. If you are late for a communal meal, you are expected, at some point, to bake a cake for everyone. Every Saturday night is feast night, with a three-course meal. Everyone must wear a necktie or a skirt, and if you didn't bring one, as most first timers don't, you may use the station facilities to make one out of anything you can find, including wood, electrical wire, books, or tea bag wrappers; real examples are exhibited on the kitchen wall.
On Saturdays, soldier Mads Adamsen says, you feel like you're "coming home to your family from another place."


image credit: wikimedia commons