From the panels to the exclusives and from the brand activations to the celebrity signings, there is a  lot to enjoy about the San Diego Comic Con. But perhaps the best part for those who don't get to attend the convention themselves is the chance to see all the amazing cosplays created by so many talented fans. And while it's easy to feel left out because you missed the con itself, the good news about getting to enjoy the cosplays online rather than in person is that you are able to avoid the dreaded Comic Con plague which managed to hit me and my family this weekend, as well as many of our friends who attended. So sit back, enjoy these fun photos and be happy for your good health.
All images by Zeon Santos or myself.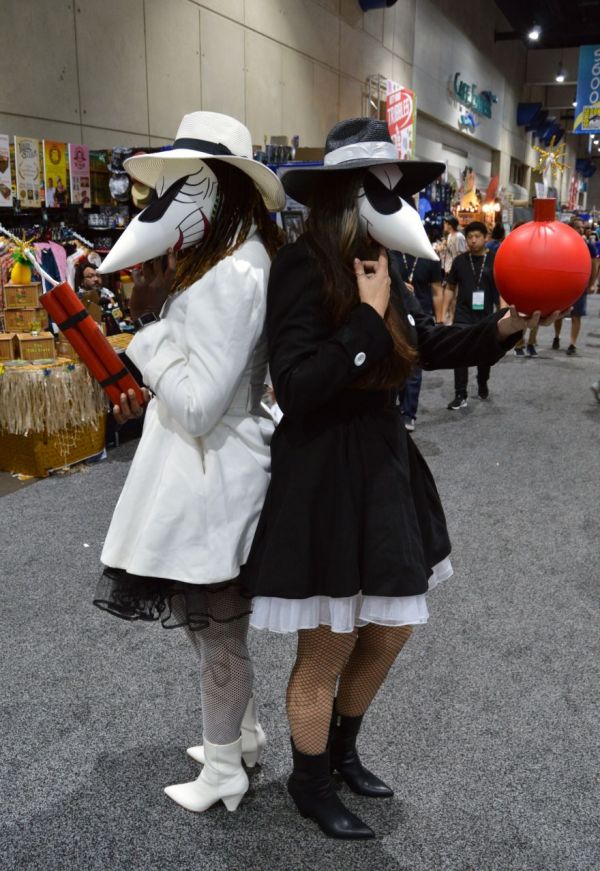 These cosplayers from Fathoms of Fantasy not only look perfect, they even handed out comic strips featuring them in their costumes in a classic Spy Vs. Spy tale.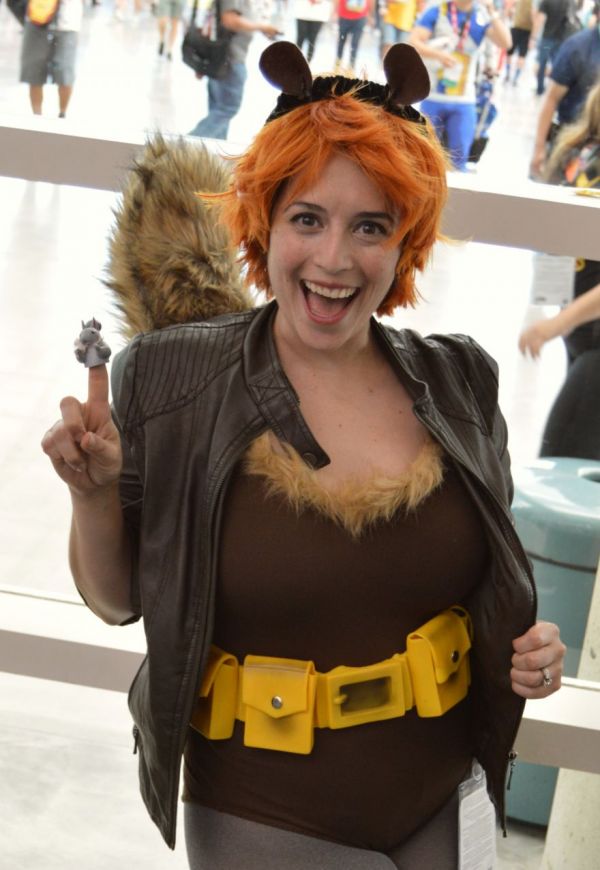 Everyone loves Squirrel Girl, and it's hard not to when she has such an adorable, vibrant personality as this gal.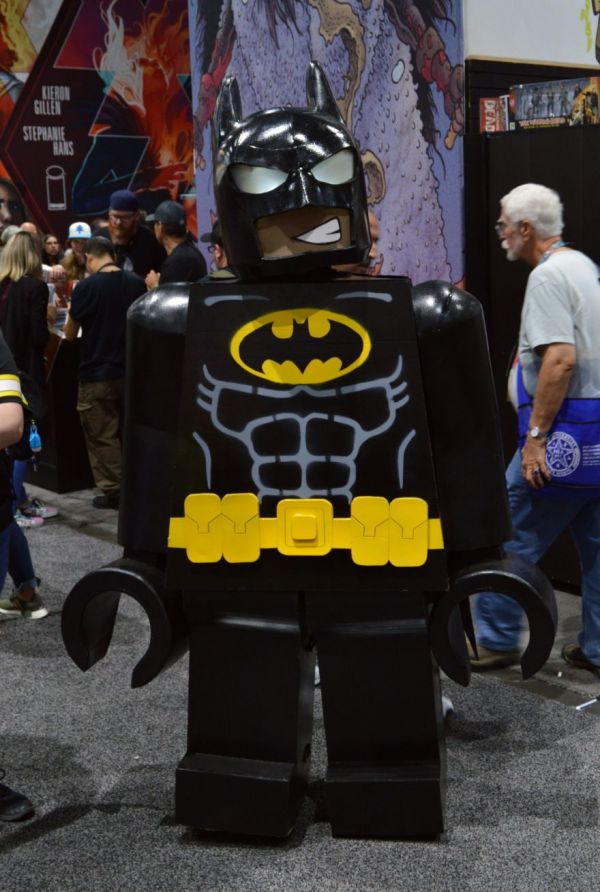 Just like in the LEGO world, everything was awesome for people viewing this great Batman costume, but I can pretty much guarantee that the cosplayer inside was brooding by the end of the day after trying to maneuver the convention with this thing on.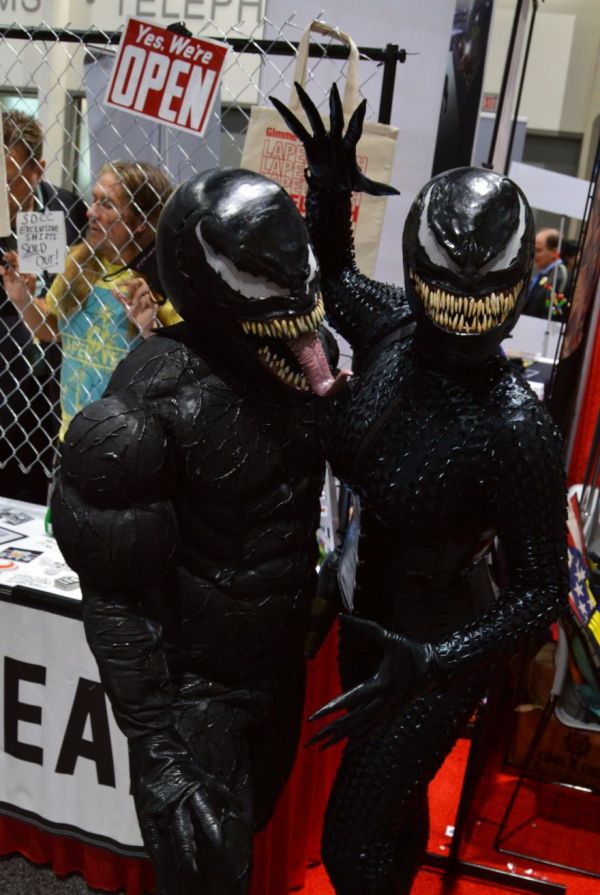 We love a good couple's cosplay, especially when they look as killer as these two Venoms.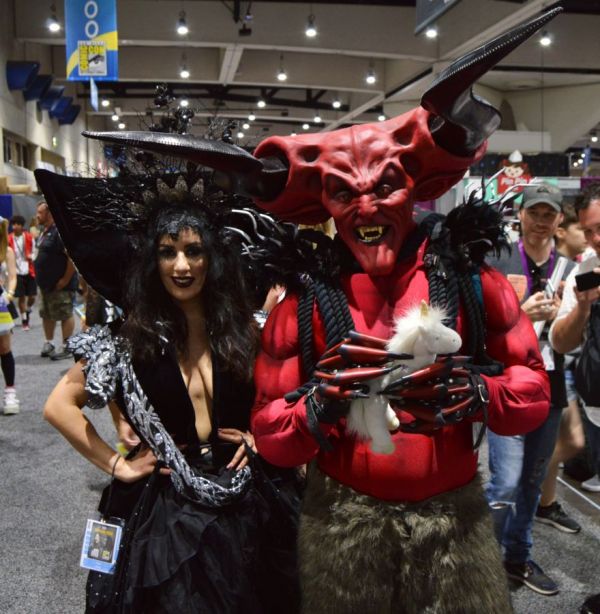 This Legend-loving couple looked particularly impressve -enough to make me want to watch the movie again.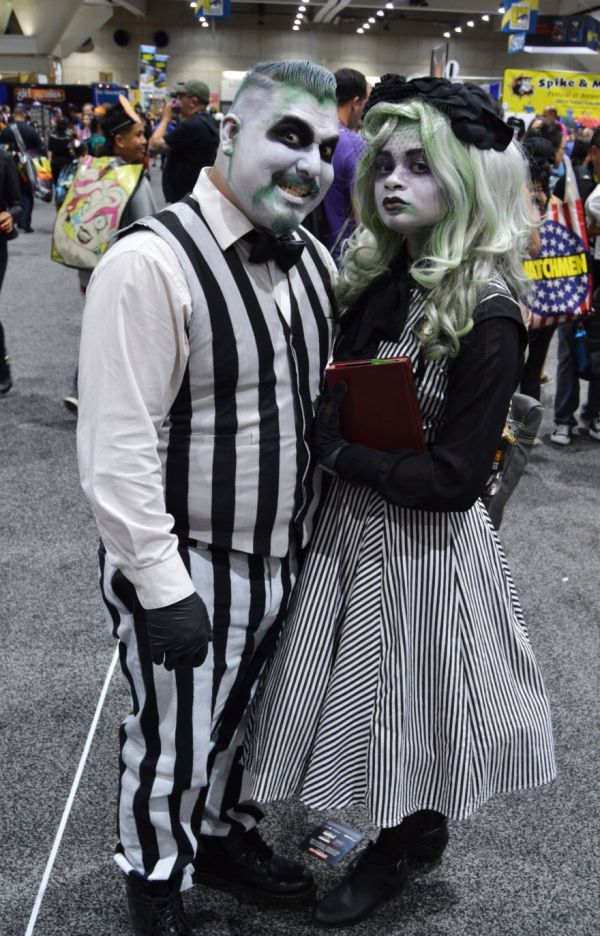 This Beatlejuice couple also looks pretty incredible. They both have a delightfully different take on the classic Ghost with the Most.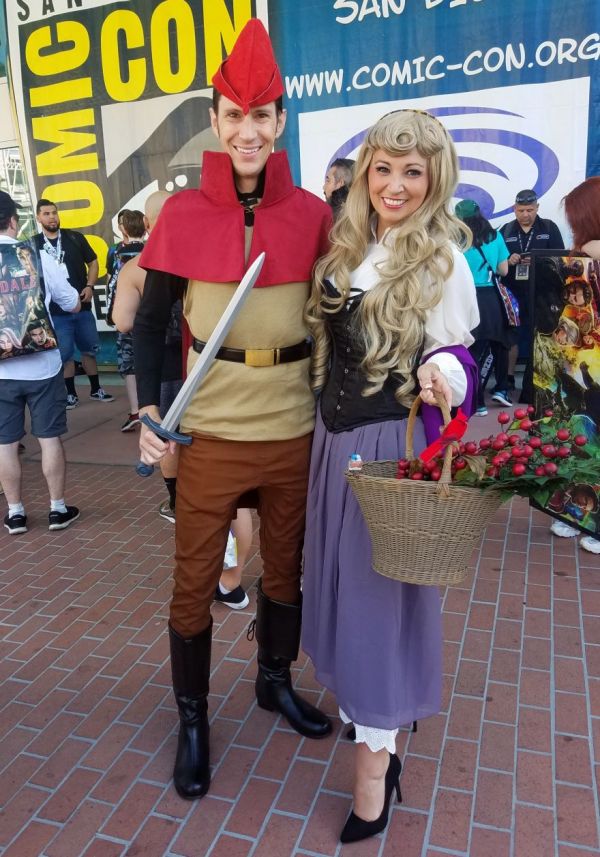 When it comes to couple's costumes, it doesn't get more classic than a princess and her prince.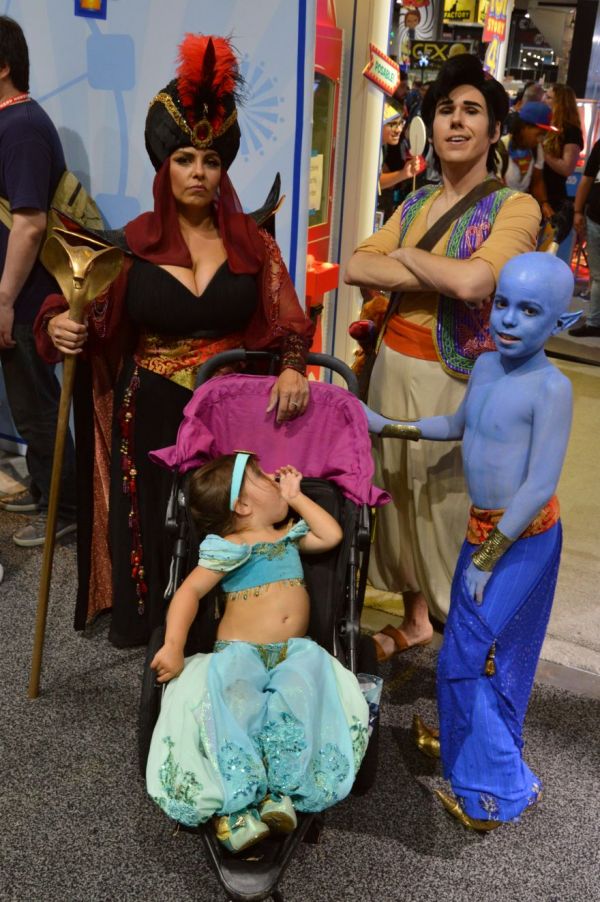 Of course, if there's anything better than a good couple's cosplay, it's a great family cosplay and this Aladdin one was pretty killer.
This John Constantine looks like he just had a rough day, which seems to be the standard for the character.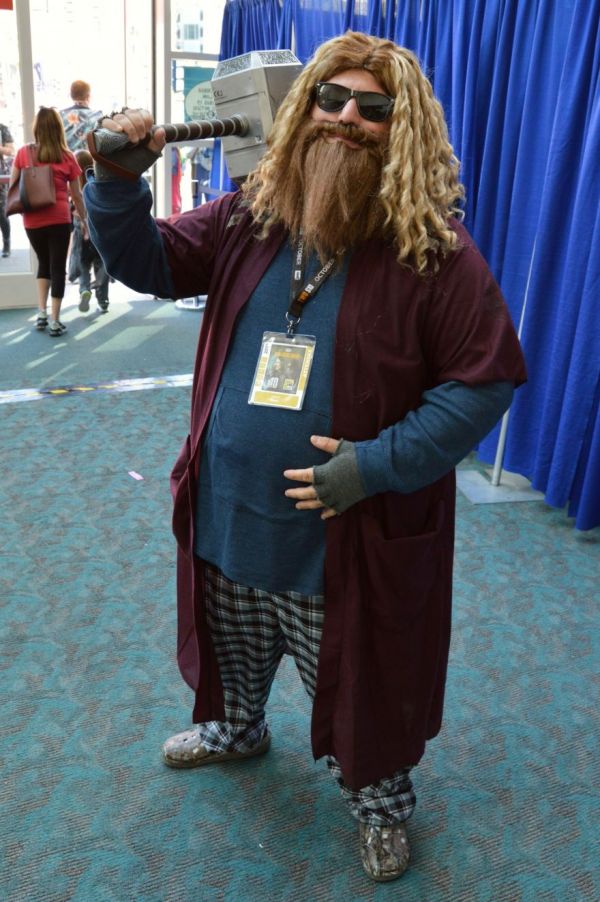 I don't know it it's because it's relatable, comfortable, easy or because it fits the body type of so many men, but one of the most popular cosplays this year was Fat Thor.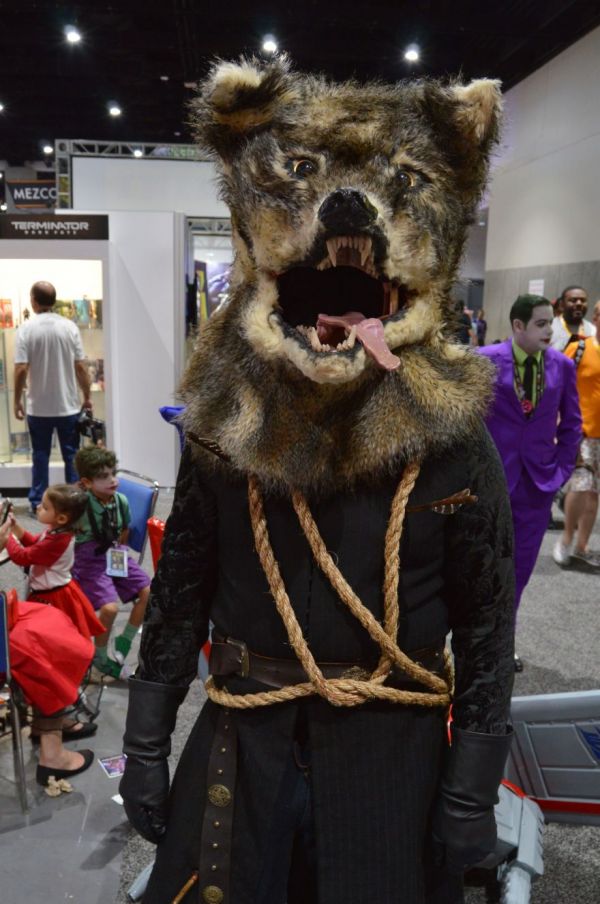 Game of Thrones cosplays are also always popular, but it's rare to see one as detailed as this dead Rob Stark who was even adorned with arrows in his chest.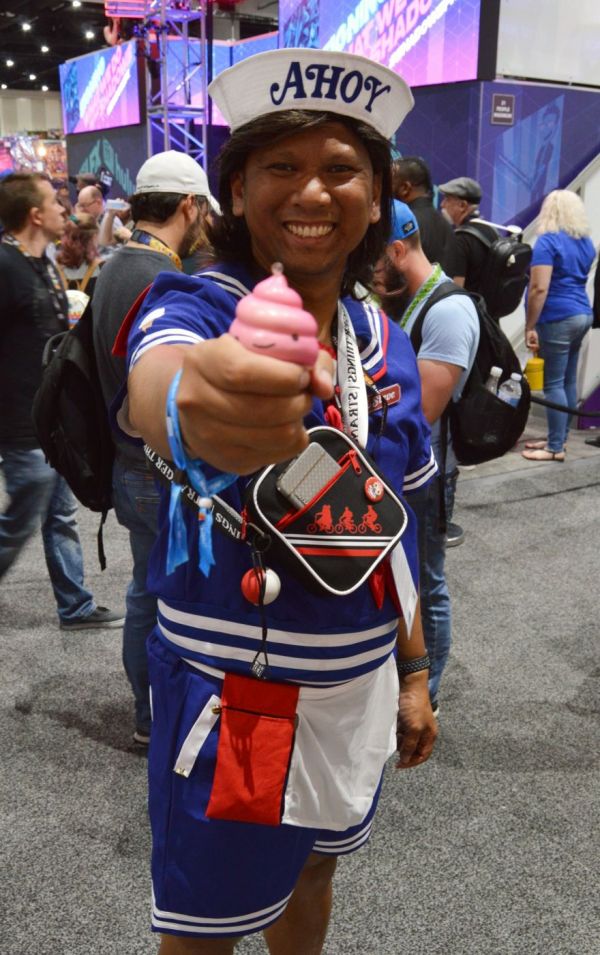 The Scoop's Ahoy crew was also a popular cosplay, which is hardly surprising given how popular Stranger Things is, but I admit, it made me hungry for a U.S.S. Butterscotch every time I saw one.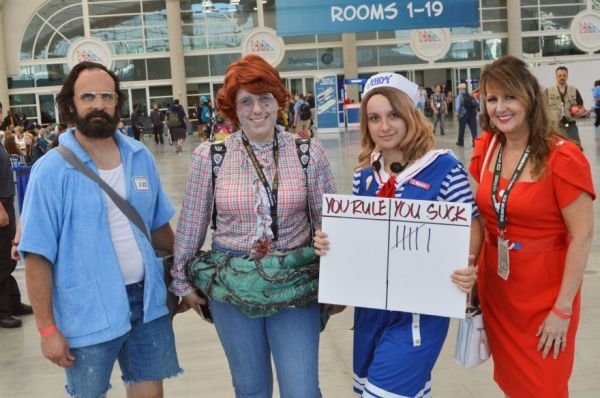 This group of secondary Stranger Things characters was particularly delightful, especially since it was the only cosplay I've ever seen featuring Mike's mom or Murray.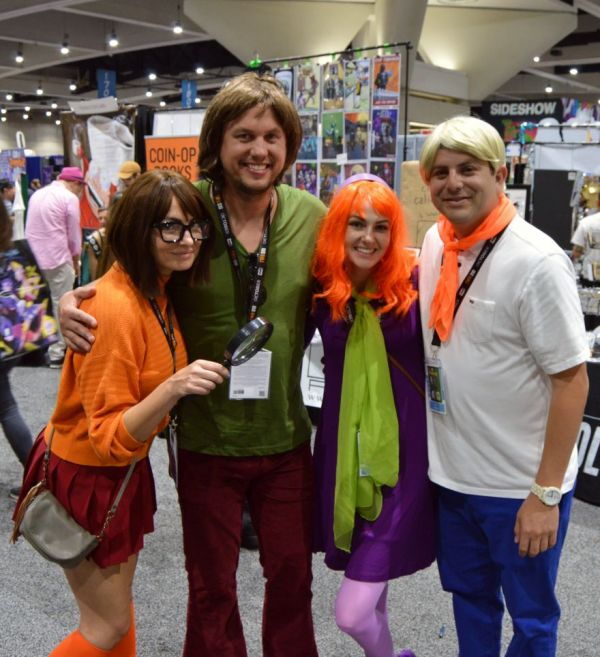 Ruh roh, this gang sure does look ready to solve a spooky Comic Con mystery.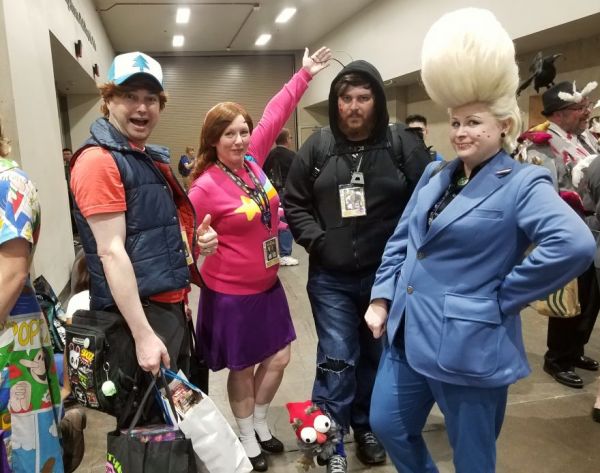 Speaking of spooky mysteries, fans of Gravity Falls will love this group cosplay that even features one of the town's delightfully absurd dwarves.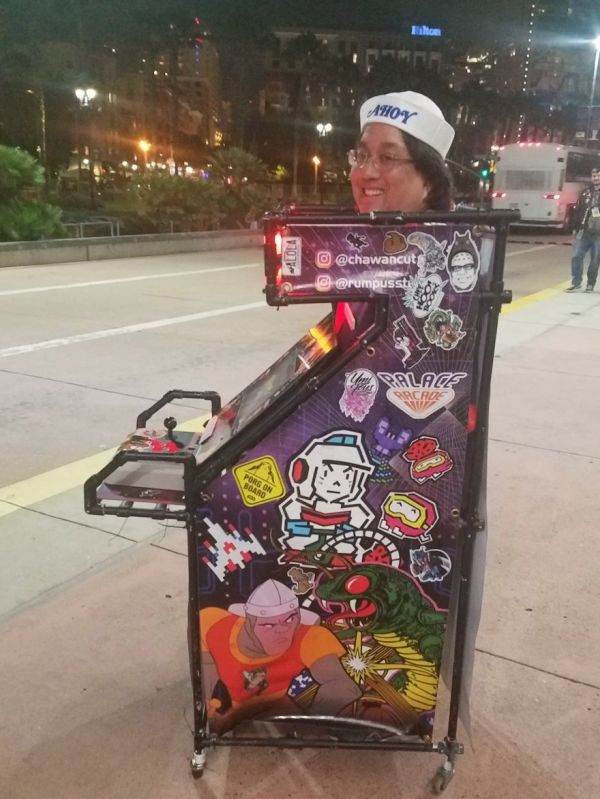 This guy's crazy console costume actually worked with a playable emulator on the front side. As if that wasn't nutty enough, he doubled the costume the next day, walking around inside two back-to-back consoles.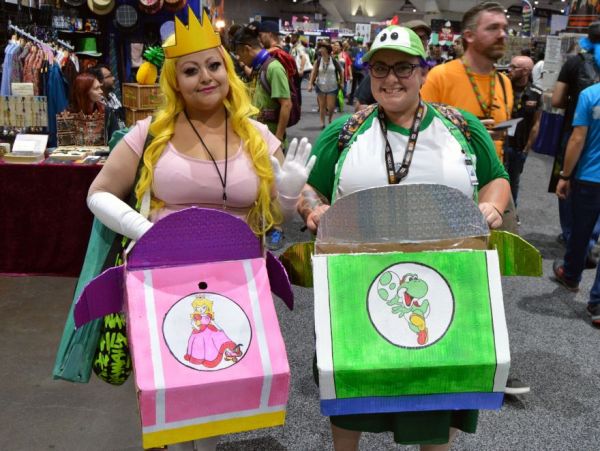 These Mario Kart riders looked great and were having a good time, but that could change at any time if someone threw a banana peel or turtle shell at them.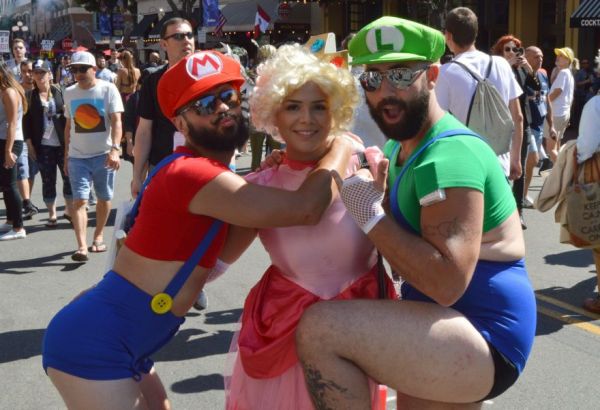 This princess was not in the wrong castle, but I don't think either of these plumbers will be falling in love with her any time soon.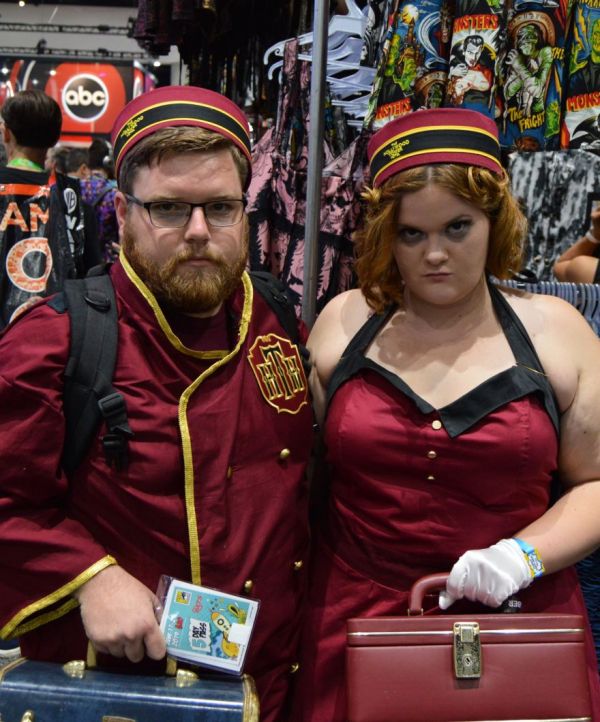 I can't say how glad I am that there aren't many elevators in the convention center, and that I didn't get stuck in one with these two.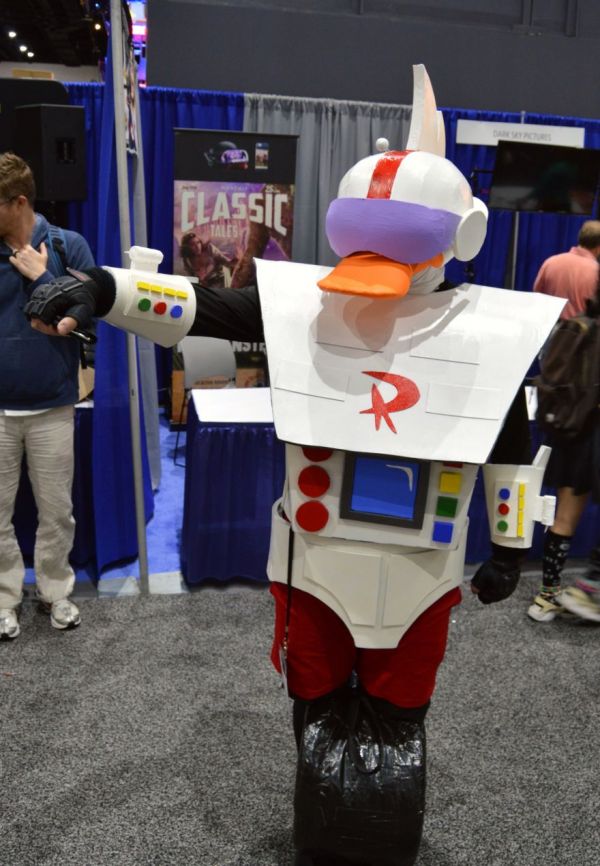 In all the years I've been going to Comic Con and other conventions, I've never once seen a Gizmoduck cosplay and I can't tell you how glad my 8 year old self was to finally witness such a thing.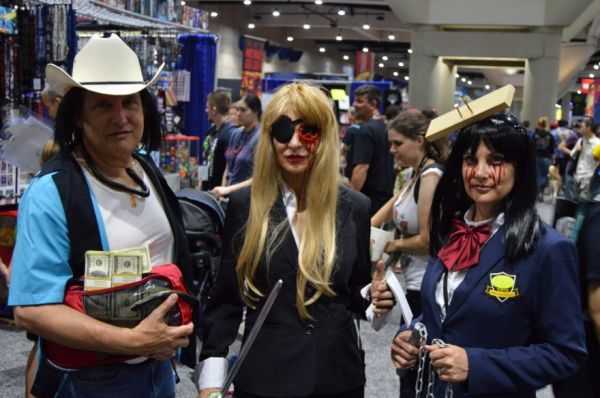 On the other hand, I've seen more than a few Kill Bill costumes in my day, but never a group as delightfully gory as this group after their encounters with The Bride.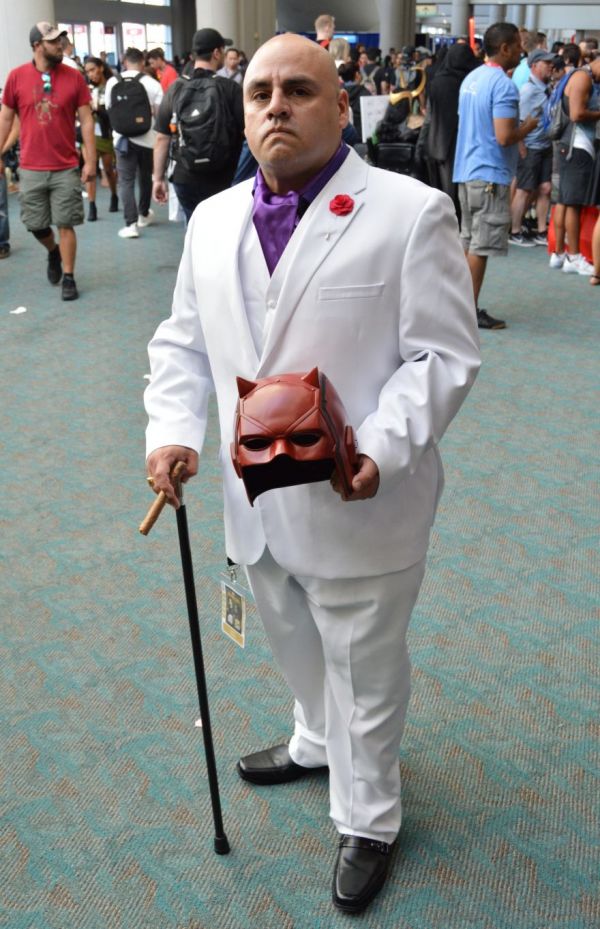 I don't know about you, but I wouldn't miss with this Wilson Fisk, or should I call him King Pin?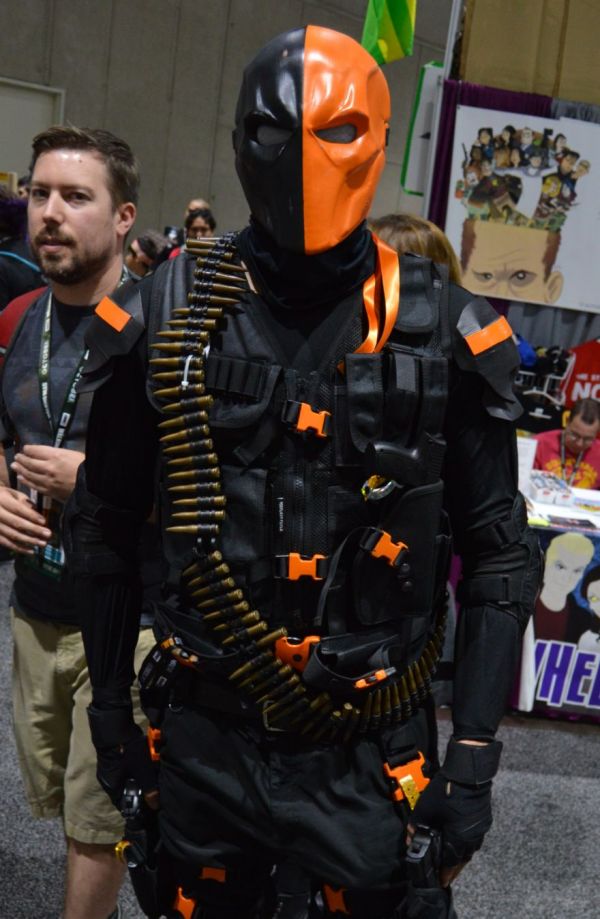 Similarly, this Deathstroke was looking pretty darn intimidating.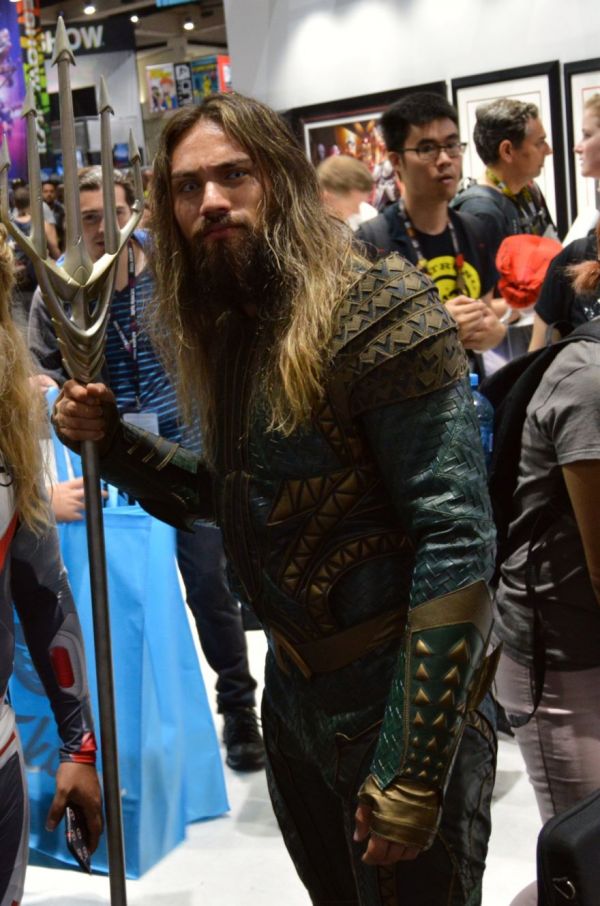 Don't worry though, there were plenty of heroes standing by as well.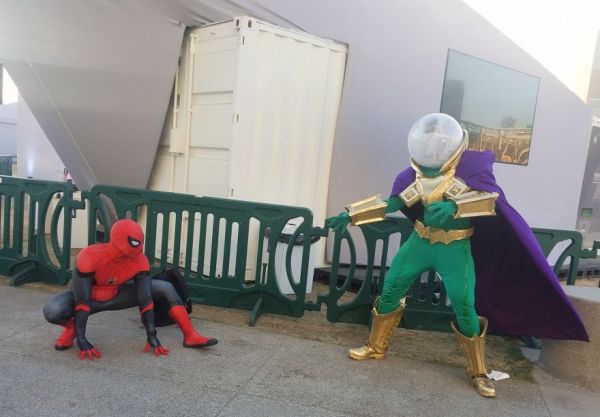 In fact, Spider-Man and Mysterio were about to get into it outside the convention center. Fortunately, security came in and broke it up before they started smashing up whole city blocks.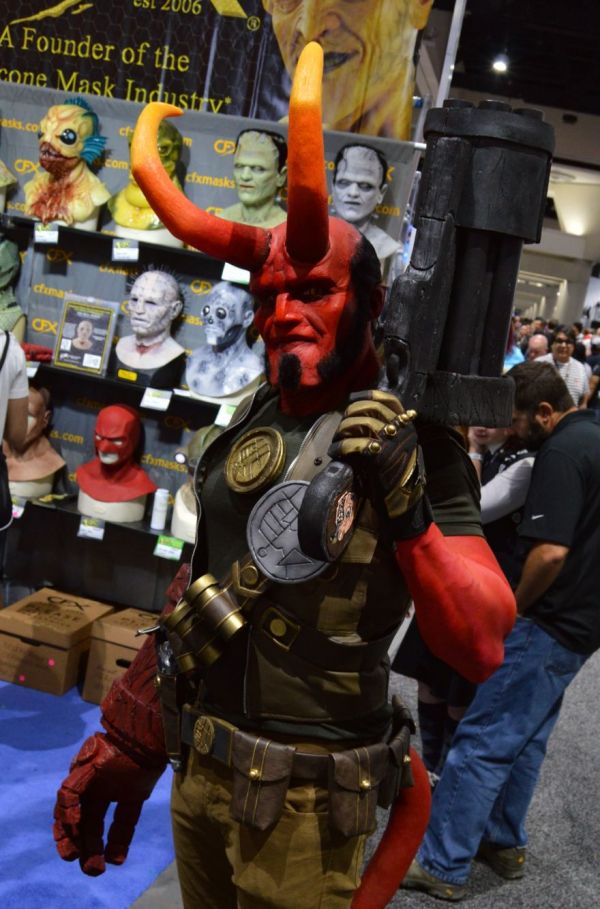 I think Hell Boy would have been happy to blow the whole damn thing up.
There are always tons of Punisher cosplays at the con, but it's rare to see someone who actually has the build of the one in the comic books.
Harley is always the Queen of Hearts in the Batman universe and this lovely cosplayer has accepted that crown proudly.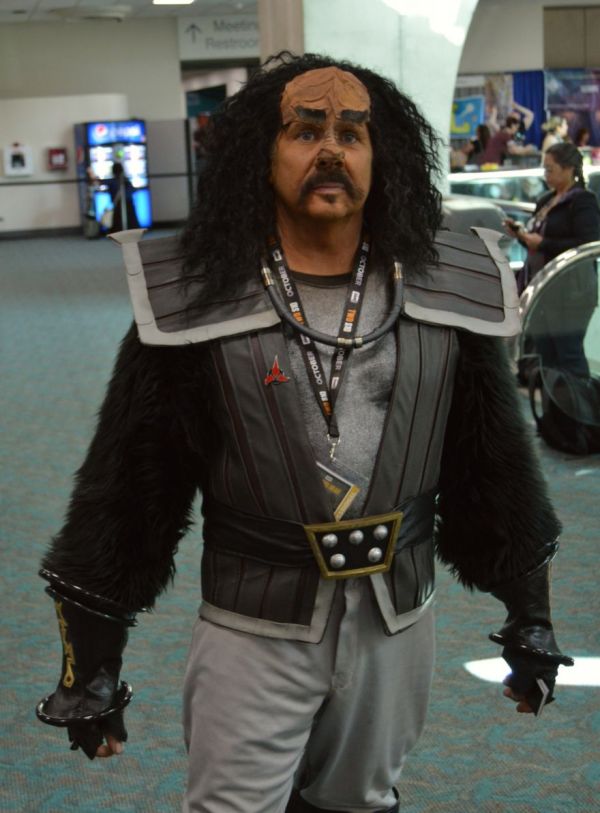 Can you even have a convention without a Klingon or two?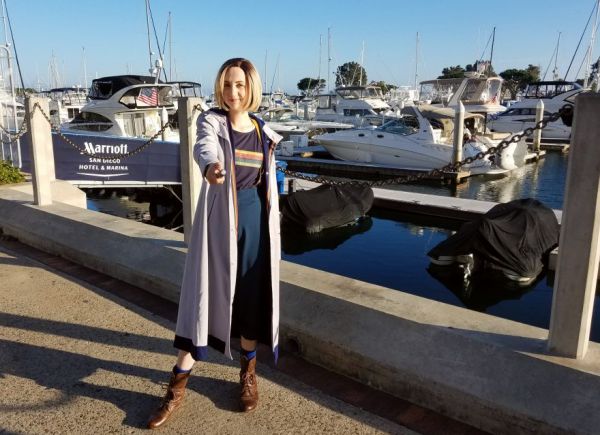 The Doctor was there to save the day... if only you'd let her.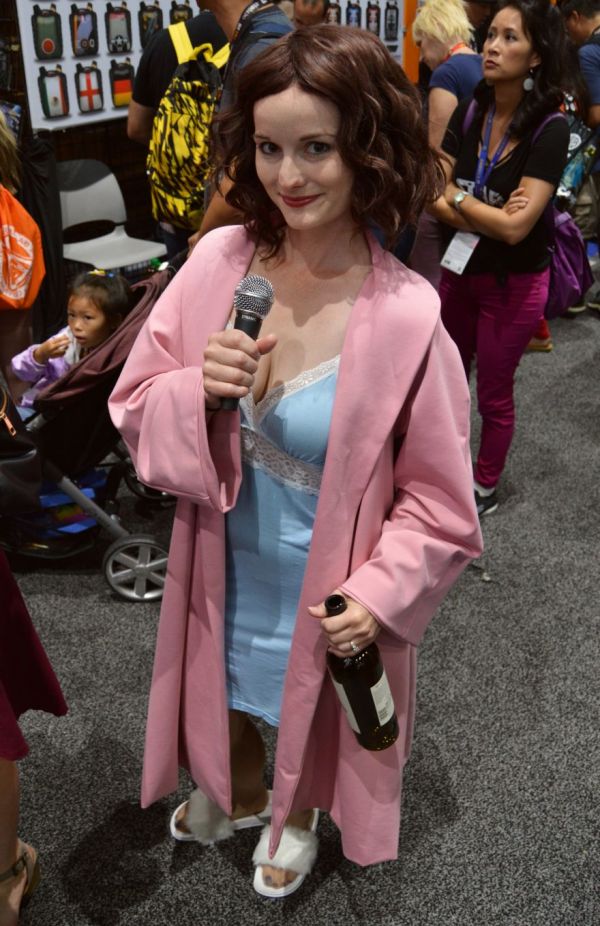 The Marvelous Miss Maisel was there to brighten everyone's day with a good laugh.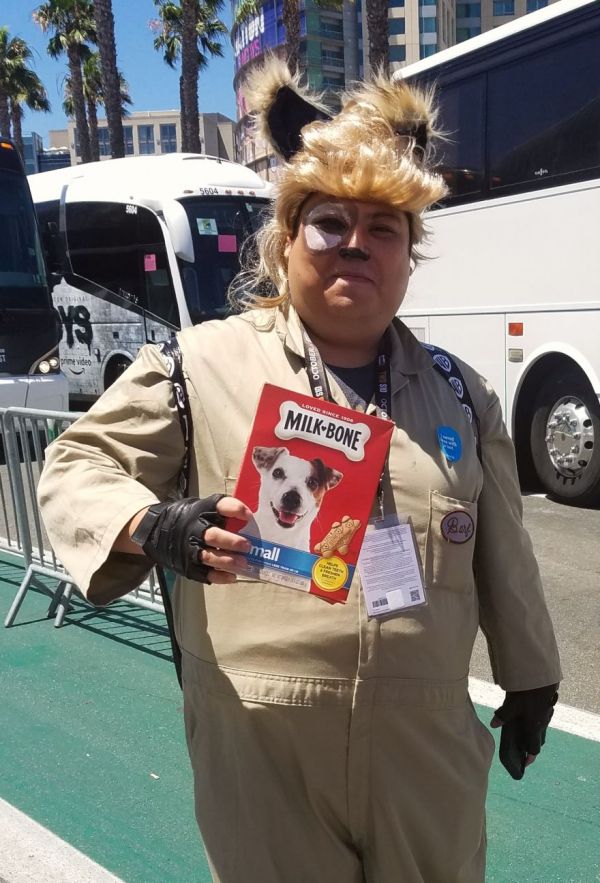 This charming Barf costume certainly doesn't make me feel sick.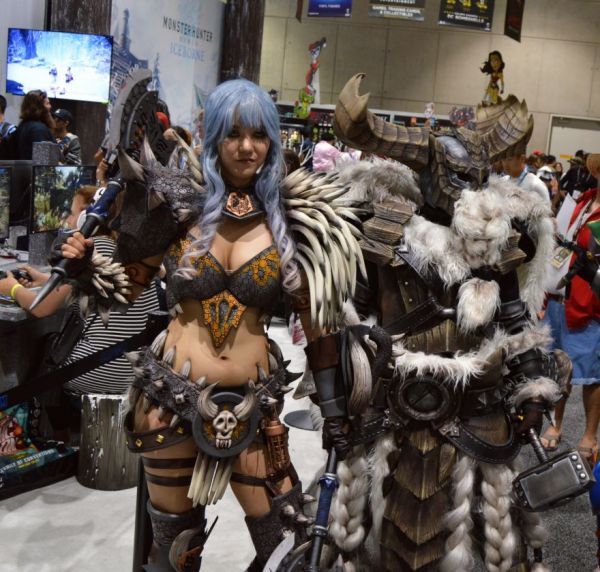 I'm pretty sure this Monster Hunter Iceborn duo were actually employed by the game studio, which doesn't make their costumes any less impressive.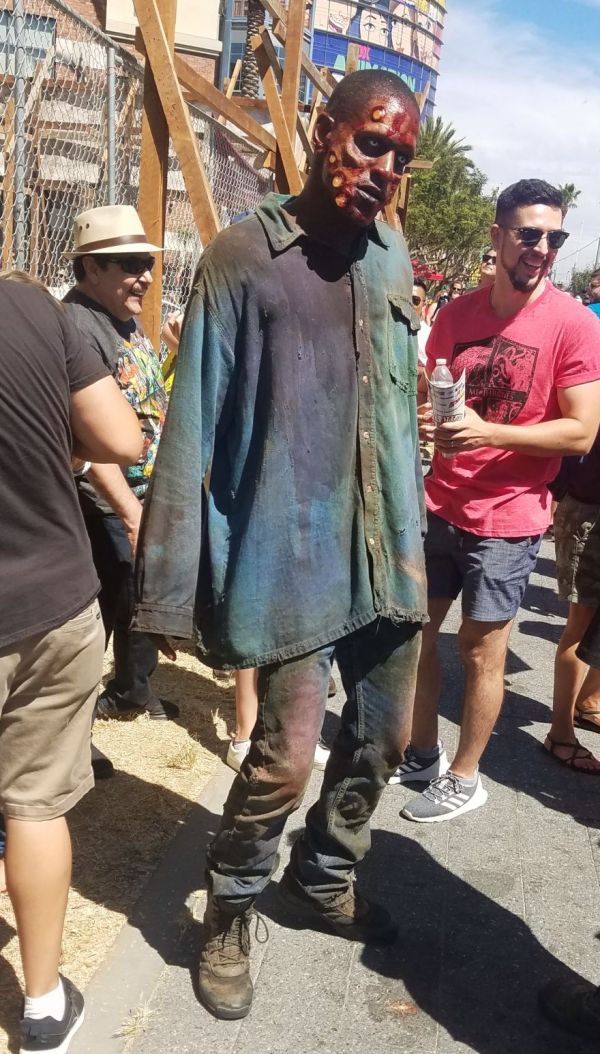 It's pretty common to leave the convention feeling like a zombie by Sunday, but this guy really must have gone a little overboard Saturday night.
Can't get enough cosplays from Comic Con? Here are some great genderswapped costumes from this year's con and you can check out our photos from past years (2009, 2010, 2011, 2012, 2013, 2014, 2015, 2016 and 2017) and there's more cosplay photos on my site, Rue The Day (2008, 2009, 2010, 2011, 2012, 2013, 2014, 2015, 2016, 2017, 2018 and 2019). For some serious hotties, check out these Rue the Day posts: 2008, 2010, 2011 (girls), 2011 (guys), 2012 (girls),2012 (guys), 2013, 2014, 2015, 2016 (girls), 2016 (guys), 2017, 2018 and 2019.