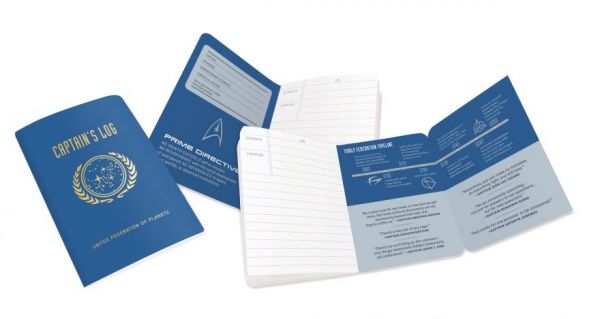 Star Trek Capatain's Log Pocket Notebook
May you live in the now and prosper. It may not be safe out there, but the wonderous treasures of adventure await!
Before you head out into the great depths of the unknown, consider taking a Star Trek Captain's Log Pocket Notebook, from the NeatoShop, with you. Each book contains 48 pages for jotting down important quotes, species observations, and profoundly philosophical reflections on your travels. 
The Star Trek Captain's Log Notebook includes a copy of the Prime Directive. This is also known as Starfleet General Order 1, General Order 1, or just the non-interference directive.
Also included in the notebook is a handy conversion chart for calculating warp speed to approximate average speed and an early federation timeline.  Both which will come in handy when you are quizzed by any fellow trekkies you meet on your journey. Remember, insufficient facts always invite danger. 
Traveling without a Star Trek Captain's Log Notebook would be highly illogical. Take notes and look at them with special pride. Now get out there and boldly go where no man, women, or person has gone before. 
But before you go, be sure to check out the NeatoShop for more great Stationery. New items arriving weekly. 
Don't forget to stop by the store and check out our huge collection of artwork by wide array of fabulous artists.
We offer a large, and growing, selection of apparel and goods for that perfect custom look. We specialize in curvy and hard to find sizes. We carry baby 6 months shirts all the way up to 10 XL Big and Tall shirts in a wide range of styles and colors. We know that fun and faboulous people come in every size.