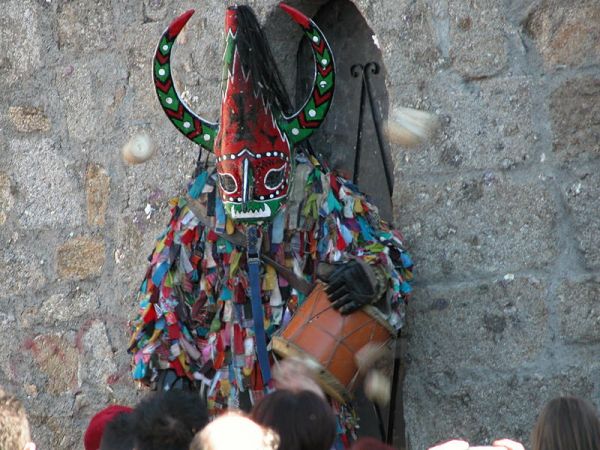 Piornal, Spain, is a village of only 1600 people, but this past February, the population swelled to 14,000 for the festival of Jarramplas. The character of Jarramplas is a man dressed as a demon, who walks the village streets while being pelted with turnips by excited crowds. The ritual has been around for hundreds of years, and its origins are murky. Is it a pagan fertility ritual? A welcome for spring? A ritual scapegoating? No one is really sure, but they do have fun with it. Despite the physical ordeal, volunteers who become Jarramplas consider it an honor.  
With the fall of fascism in Spain in 1978, the festival began to gain popularity again. It got modernized along the way. Originally, Jarramplas was only protected by layers of clothes. But in the 1990s, tired of seeing volunteers emerge black and blue every year, Díaz says, Piornalegos commissioned a nearby factory to make a fiberglass suit of armor. (Ironically, because the armor weighs so much, Jarramplas now can't run away from his pursuers very well, and still gets a pretty serious beating.) The original dogskin drum has been replaced with plastic and canvas, and the traditional mask—cardboard decorated with animal blood, charcoal, and olive juice—is now just painted fiberglass topped with horsehair. Instead of gathering leftover turnips, the town council now buys them in mass quantities—this year it was almost 30 tons—from a farmer in a nearby town.
Read what happens during the ritual of Jarramplas at Atlas Obscura.