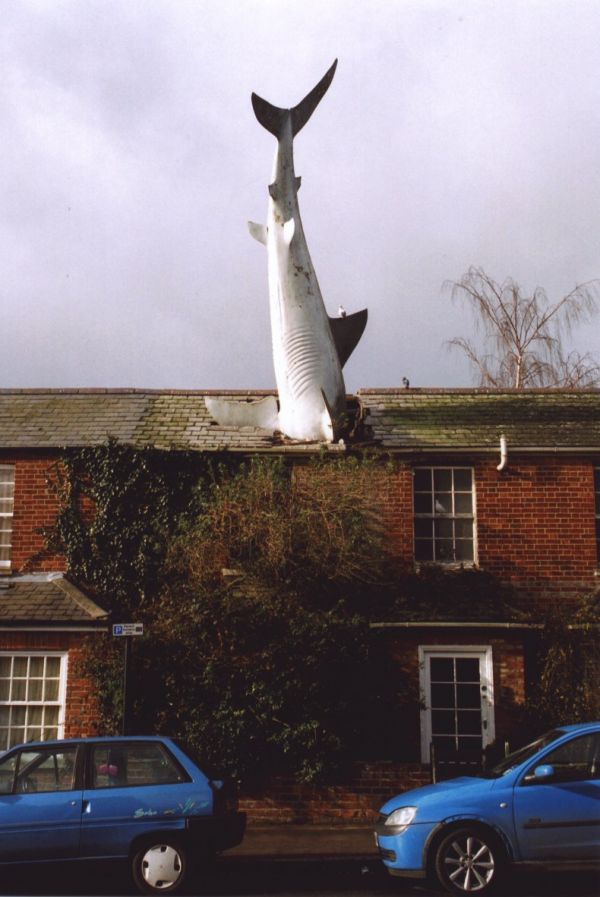 Earlier this month, 74-year-old Bill Heine passed away as a result of cancer. You might not know him by name, but you certainly know about his house. Heine bought a home in Oxford in 1986, and asked a friend if he could think of something to "liven it up."
His friend, the sculptor John Buckley, provided an answer in the shape of an eight-metre (25ft) shark which would sit on his roof, perpetually appearing as though it had just crashed into the house from the sky. The fibreglass fish, which became known as the Headington Shark after the Oxford suburb, led Heine, a local journalist and businessman who died last week, into a six-year legal battle with the local council.

The process turned a relatively unremarkable street into a beloved local landmark and resulted in one of the most notable triumphs of British eccentricity over petty bureaucracy.
You know how that battle turned out, since the shark is still crashing through the roof 33 years later, but you'll enjoy learning the details of how the Headington Shark came about, at the Guardian. -via Nag on the Lake 

(Image credit: Henry Flower)