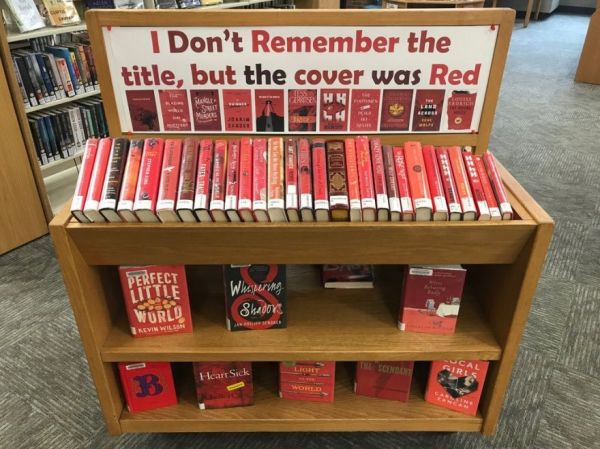 This image was posted at reddit with the label When Libraries Troll Their Patrons. We've all been there, trying to find a book when we recall neither the title nor the author. Commenters started telling tales about working in book stores or libraries, or getting embarrassed by being that patron with the wonky memory. Librarians and book store workers want to help, and they consider it a challenge to find that one book you can't identify, if they have the time. Then starstarstar42 told his story.
To all bookstore employees that take the time to help... thank you.

35 y.o. me walked into a bookstore after WEEKS searching on the web for the first book my now deceased mom let me pick out on my own. Thing is, 3 y.o. me was really mad at her for some reason that day and I did not want to pick out a stupid book! I cried all the way home because she made me do so.

That night she tucked me in (me, still very mad) and read me that book. I f-----g hated the story. I f-----g hated the mouse that starred in it. I f-----g hated the colors when she showed me the pictures. I f-----g hated that book, period. At the end, my mom kissed me and smiled as she smoothed back my hair. Looking back so many decades later I understand now that her love for me was dancing in her eyes as if to say, "be mad all you want, little man of mine. I can never stop loving you. You are my world".

30 years later and I was stoically mourning my mom's death when, for no reason I can explain, I remembered that book.

I wanted it. I wanted more than anything else in my life to find it. To see the mouse in it again, to hold the cover, to bring that small part, that tiny memory of her, back into my life.

Weeks on Google. All I could remember were hazy faded images of a mouse. I searched "mouse story" on Google. 2.8 million hits. It wasn't in the first 20 pages of 100 hits-per-page results. I kept trying till one night I furiously slammed my fist on my desk and gave up. I had nothing else to go on. I was unnaturally angry and upset at myself that evening; feeling I'd let her down again, as I'd done more than once when she was still around. I barely got any sleep that night.

A week later and I'm driving past a mom & pop bookstore/vinyl record shop. With little hope, I went in and bashfully asked the question that my mind knew was stupid, but had to be said.

"I'm looking for a book. It's about a mouse. I'm so sorry, that's all I remember. Can you help me?" I didn't even tell her why this meant so much to me.

The owner, a nice lady in her 50's, spent an hour helping me. She suddenly turned into a combination of "Monk" and "Sherlock". How old was I now, how old when I read it? Was the book wider than it was tall? What colors in it did I remember? Any other characters that I could remember? Most of the answers to her questions were "I can't remember".

One hour.

She found it. "Scuttle the Stowaway Mouse" by Jean Soule. It had been out of print for decades, but she found a pristine copy of it online, ordered it for me and it got to me 48 hours later. $32 she made on that sale. Not even enough to pay to keep the lights turned on in their shop for a day I bet.

Got home, opened the book, my hands softly running over the cover as if it was my mom's face. I was unashamedly weeping bittersweet tears by the first page. Each word was like a kiss on a mad little 3 y.o. boy's forehead.

I miss my mother with my whole heart.

Thank you, bookstore lady. Thank you beyond words.
Please pass the tissues. -via reddit