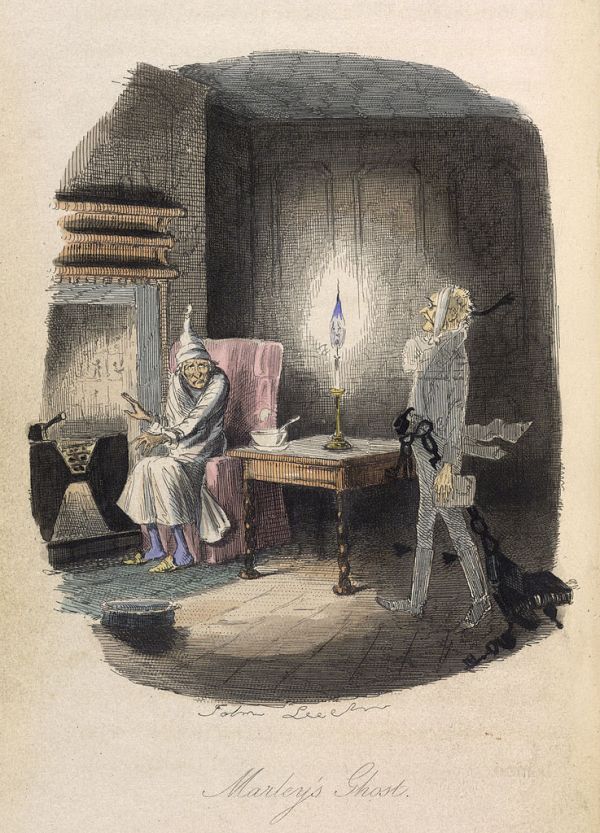 One of the peculiarities of modern life is how we sort activities into their proper slot, and doing it any differently is "wrong." But it was not always so. For example, kids use to dress up and demand candy on Thanksgiving. People told ghost stories at Christmas. After all, the most famous Christmas story outside of the Bible is Charles Dicken's A Christmas Carol, which is full of ghosts.
"Whenever five or six English-speaking people meet round a fire on Christmas Eve, they start telling each other ghost stories," humorist Jerome K. Jerome wrote in his 1891 collection, Told After Supper. "Nothing satisfies us on Christmas Eve but to hear each other tell authentic anecdotes about spectres. It is a genial, festive season, and we love to muse upon graves, and dead bodies, and murders, and blood."

Telling ghost stories during winter is a hallowed tradition, a folk custom stretches back centuries, when families would wile away the winter nights with tales of spooks and monsters. "A sad tale's best for winter," Mamillius proclaims in Shakespeare's The Winter's Tale, "I have one. Of sprites and goblins." And the titular Jew of Malta in Christopher Marlowe's play at one point muses, "Now I remember those old women's words, Who in my wealth would tell me winter's tales, And speak of spirits and ghosts by night."
It's possible we've done away with the scarier traditions of Christmas because we overdid it in October. Pity. Read more about the tradition of Christmas ghost stories at Smithsonian.