The following is an article from Uncle John's OLD FAITHFUL 30th Anniversary edition.
(Image credit: Flickr user brett jordan)
If you ever have occasion to visit a children's school in Japan, use the third stall in the third-floor bathroom at your own risk. Better yet, just wait until you get back to your hotel.

KID STUFF

When you were growing up, did your parents ever scare you with stories about the boogeyman? Tales of a shadowy creature that punishes children for bad behavior is common to many cultures— Spain has El Coco, Slavic countries have Baba Yaga, India has Bihar, Mediterranean countries have Babau, and so on. Moms and dads in Japan have a similar tradition. But where the American boogeyman is usually described in vague and amorphous terms, the stories that Japanese parents tell about scary imaginary beings are more defined— and they're frequently centered in the bathroom. Traditionally considered unclean even when kept perpetually immaculate by the most fastidious of housekeepers, bathrooms were often hidden away in a dark corner of the house. Ghosts were said to live in the toilet, and parents liked to tease children about a hairy hand rising up out of the water and pulling kids down into the sewage pipes.

SCHOOL SPIRIT

It stands to reason that with such a spooky start, some kids might come up with their own scary legends around the bathroom. And sure enough, they have.
One of the most popular has to do with Toire no Hanako-san, or "Hanako of the toilet." The legend is believed to date back to the 1950s, when Hanako was a popular girls' name. Toire no Hanako-san is said to haunt the third toilet stall of third-floor girls' bathrooms in elementary schools (assuming their school has a third floor.) And she is said to have died a horrible death, the details of which vary from school to school: in some she died in a World War II bombing raid; in others she was killed by one or both parents, or by a stranger; in still others she committed suicide after she was bullied by schoolmates.

Whatever the case, for a few generations now, word has spread from one schoolchild to another that if they stand outside the third stall in the third-floor girls' restroom, knock three times, and ask, "Are you there, Hanako-san?" a voice will answer, "I'm here." When they enter the stall, they will be greeted by the ghost of a girl in a red skirt. That's it— Toire no Hanako-san is creepy and scary and sometimes slams bathroom doors, but she's not dangerous.

Like a game of telephone, the tale has grown with each telling. In some schools, instead of a little girl appearing, kids believe a bloody human hand will emerge from the toilet stall. In other schools the hand is not bloody, and in still others the voice that replies "I'm here" is that of a three-headed lizard pretending to be Hanako-san, and it will eat any child foolish enough to enter the stall.

MORE SPOOKS
In some schools, the bathrooms are haunted by a legless female ghost named Kashima Reiko, who died after she was run over by a train. That's also how she lost her legs. She asks, "Where are my legs?" of anyone who enters the bathroom, and if they don't give the correct answer ("kamen shinin ma," or "mask death demon," which may also be the phonetic root of her name), she will rip their legs off, leaving them as disfigured as she is.

Another scary schoolhouse bathroom spirit is Aka Manto (Red Cape), known in some places as Aoi Manto (Blue Cape), a male ghost who haunts the last stall in the girls' bathroom. Sometimes the ghost is said to be that of a man so beautiful in life that he had to wear a white mask to stop every woman he met from falling in love with him. He's still so charming that most schoolgirls who hear his voice are powerless to resist him.
According to one version of the tale, when a child in the last stall is seated on the toilet doing their business, the disembodied voice of Aka Manto will ask, "Which do you prefer, the red paper or the blue paper?" If the child chooses red, Aka Manto will slash their throat or chop off their head, causing their blood to flow down their back until it looks like a red cape. If the child chooses blue, Aka Manto will kill them by choking them until they turn blue.

CAPE FEAR

Another version of the story says that the ghost will ask the child if they want a red or blue cape. The child who chooses red will have their blouse torn off and a cape-shaped patch of skin ripped from their back; the child who chooses blue will have the blood drained from their body until they turn blue.

Choosing yellow for the toilet paper or the cape -even though Aka Manto hasn't offered yellow as an option- results in the ghost shoving the child's head into the bowl of the toilet they've just used (so it's a good idea to flush before answering the question). Answering with any color other than red, blue, or yellow causes a pair of hands to rise up out of the toilet and drag the child down to hell. The only way to emerge unscathed from the toilet paper/cape conundrum: don't answer at all… and wait for the demonic spirit to leave.
(Image credit: Flickr user Vitor Sá)
__________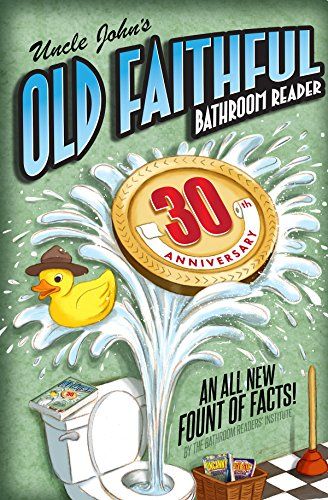 The article above is reprinted with permission from Uncle John's OLD FAITHFUL 30th Anniversary edition. Every year for the past three decades, Uncle John and his team of tireless researchers have delivered an epic tome packed with thousands of fascinating factoids. And now this extra-special 30th anniversary edition has everything you've come to expect from the BRI, and more! It's stuffed with 512 pages of all-new articles sure to please everyone.
Since 1988, the Bathroom Reader Institute had published a series of popular books containing irresistible bits of trivia and obscure yet fascinating facts. If you like Neatorama, you'll love the Bathroom Reader Institute's books - go ahead and check 'em out!