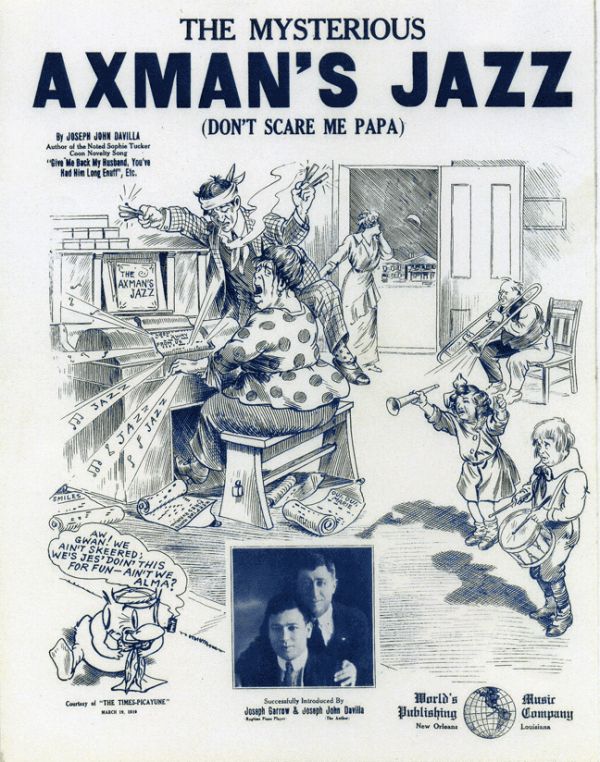 Neatorama is proud to bring you a guest post from history buff and Neatoramanaut WTM, who wishes to remain otherwise anonymous.
In the spring of 1918, New Orleans, Louisiana (NOLA) was not exactly a city known for banking its fires. Although WWI was still in effect, the city's motto then was as it is now – 'Laissez les bons temps rouler' – let the good times roll. And roll they did. NOLA had culture, a storied history, the country's first movie theater, a booming financial district, any and all kinds of vice, Jax beer, jazz music, fine cuisine, the French Quarter, and Mardi Gras. NOLA was one of the nation's busiest seaports, had a curious mix of wealth and poverty but relative overall prosperity, and was possessed of a diverse international citizenry and surprisingly good race relations for the day, thanks to its Cajun and Creole heritage. To its inhabitants, NOLA had all that one could want - and now it was about to have a serial killer.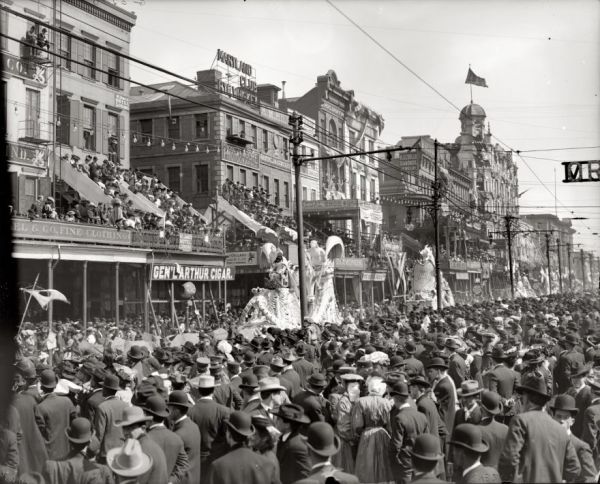 For all its splendor and romance, NOLA, the 'Big Easy', had a dark side. It was the site of the largest mass lynching in American history, had some organized crime connections, including the Mafia, and an active voodoo culture. As in any large city, there was crime, and the NOLA police department was kept busy, although in truth most of its calls were in the red-light district, where there was frequent trouble at one or other of the city's many bordellos or saloons. There were murders, of course, but these were generally of the 'typical' variety – robbery, jealous suitors, cheating spouses, public insults, and so forth. Yet nothing in its dark side's long history had prepared the NOLA metropolitan area for what was to become one of the greatest unsolved crimes of the 20th Century – that of the Axeman of New Orleans.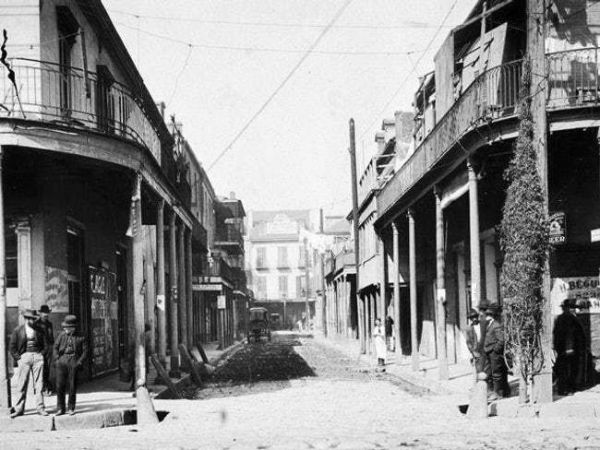 Beginning in May 1918 and lasting through October 1919, a series of horrific assaults and murders engulfed the NOLA metropolitan area, the obvious work of a serial killer. These crimes were never solved, and they stopped as mysteriously as they had started. The murders became infamous not only for their blood-spattered violence but also for the bizarre modus operandi (MO) of the perpetrator. Each of the 'canonical' victims was Italian, and either a grocer or a baker. Family members were sometimes not spared; men, women, and even small children were mercilessly slaughtered, a most unusual behavior for a serial killer. While it is impossible to ascertain whether or not a single perpetrator was responsible for all of the atrocities ascribed to the Axeman, and there has never been any consensus as to the exact number of the Axeman's victims (there were probable copycat murders), it is a fact that at least twelve people across metropolitan NOLA were attacked by the Axeman over a 17 month period, at least seven of who died from their injuries.
Like Jack the Ripper 30 years earlier and the Cleveland Torso Killer 15 years later, this unknown criminal had several nicknames - the Boogeyman, the Axeman of New Orleans, or simply and most commonly, the Axeman (or Axman). But, unlike Jack the Ripper and the Cleveland Torso Killer, the Axeman would leave behind some survivors of his attacks, some eyewitnesses to his crimes, and all of his implements of murder. But for all that, he was never officially identified, much less apprehended.
It all began on May 23, 1918, when an Italian grocer named Joseph Maggio and his wife were butchered while sleeping above their store. The police discovered that a panel in the rear door had been chiseled out, providing an entry point for the killer. The murder weapon, an axe belonging to the Maggios, was found in their bathtub. Nothing had been stolen, including jewelry and money that were in plain sight.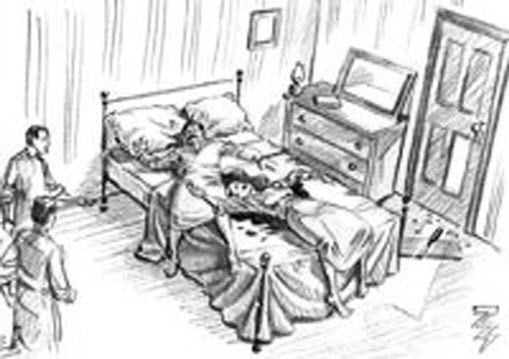 NOLA police investigators began looking through old cases for similar crimes and discovered that three axe murders of Italian grocers had occurred in 1911. These crimes bore a strong resemblance to the Maggio crime and had been thought to be a Mafia vendetta against fellow Italians. All were unsolved.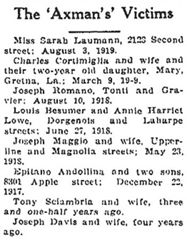 One of the most baffling aspects of the Axeman's crimes was that of his MO; he entered his victims' homes by chiseling a single panel out of the rear exterior door. This method of entry in particular is quite surprising, given the amount of time and work (and risk) that it would take to chisel a panel out of a thick wood door and the relatively small size of the opening in the doorway that would be created. Yet, he apparently managed to fit through these rather small entry points, even though it seemed that no adult male could possibly gain entry through them, most especially as most eyewitnesses later described the Axeman as a tall, dark-skinned, heavy-set man. After entering, he would then attack his victims in their sleep and bludgeon them with an axe. Curiously, the weapons he employed (axes, but upon occasion also knives and straight razors) were always abstracted from the houses he entered, and they were always left behind at or near the scenes of the crimes along with the chisels that he had used for removing the panels from the doors. So far as is known, he never robbed any of his victims.
NOLA being NOLA, with its ingrained voodoo culture, some maintained that the Axeman was a creature from the world beyond. How else, they said, could eyewitnesses describe the killer as being a large man when only a small person could have slipped through the chiseled-out panels in the doors? The killer must have entered by supernatural means, as each door was still locked when the crimes were later discovered. In addition, his ability to quickly flee the scene "as if he had wings" led the citizens of New Orleans to wonder if the Axeman were even human or instead some sort of ungodly demon. If there were any skepticism about the latter, it was quickly dispelled by what was soon to follow.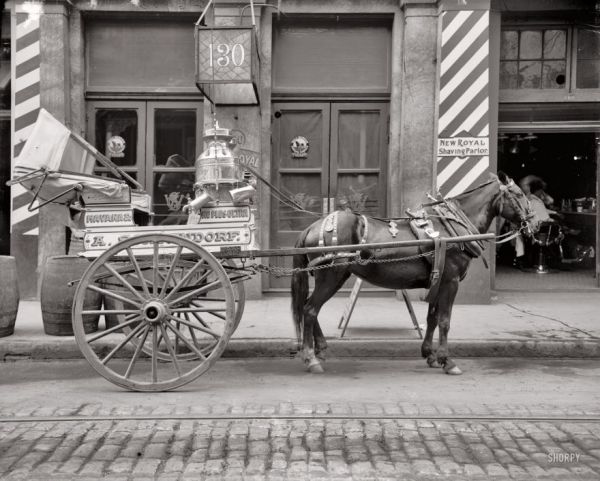 In March of 1919, the Axeman revealed himself as much as he ever would. A letter received by the NOLA Times-Picayune newspaper, purportedly from the Axeman, revealed that he loved jazz music and thus would spare anyone who played jazz through the night of Tuesday, March 18. This letter follows in full.
Hell, March 13, 1919

Esteemed Mortal:

They have never caught me and they never will. They have never seen me, for I am invisible, even as the ether that surrounds your earth. I am not a human being, but a spirit and a demon from the hottest hell. I am what you Orleanians and your foolish police call the Axeman.

When I see fit, I shall come and claim other victims. I alone know whom they shall be. I shall leave no clue except my bloody axe, besmeared with blood and brains of he whom I have sent below to keep me company.

If you wish you may tell the police to be careful not to rile me. Of course, I am a reasonable spirit. I take no offense at the way they have conducted their investigations in the past. In fact, they have been so utterly stupid as to not only amuse me, but His Satanic Majesty, Francis Josef, etc. But tell them to beware. Let them not try to discover what I am, for it were better that they were never born than to incur the wrath of the Axeman. I don't think there is any need of such a warning, for I feel sure the police will always dodge me, as they have in the past. They are wise and know how to keep away from all harm.

Undoubtedly, you Orleanians think of me as a most horrible murderer, which I am, but I could be much worse if I wanted to. If I wished, I could pay a visit to your city every night. At will I could slay thousands of your best citizens, for I am in close relationship with the Angel of Death.

Now, to be exact, at 12:15 (earthly time) on next Tuesday night, I am going to pass over New Orleans. In my infinite mercy, I am going to make a little proposition to you people. Here it is:

I am very fond of jazz music, and I swear by all the devils in the nether regions that every person shall be spared in whose home a jazz band is in full swing at the time I have just mentioned. If everyone has a jazz band going, well, then, so much the better for you people. One thing is certain and that is that some of your people who do not jazz it on Tuesday night (if there be any) will get the axe.

Well, as I am cold and crave the warmth of my native Tartarus, and it is about time I leave your earthly home, I will cease my discourse. Hoping that thou wilt publish this, that it may go well with thee, I have been, am and will be the worst spirit that ever existed either in fact or realm of fancy.

The Axeman
The citizens of metropolitan NOLA did their best to follow the Axeman's instructions to the letter. Although many later claimed that they had participated just for the fun of it, it was clear that the populace as a whole was terrified. The night of March 18, people in NOLA partied as if their lives depended on it. Restaurants and clubs all over town that offered jazz music were jammed; friends and neighbors gathered in homes to "jazz it up", and every musician in the city had been engaged in some venue. By midnight, practically every house in the city was alive with jazz, many of them pounding out a composition by a well-known local composer, Joseph Davilla, entitled "The Mysterious Axman's Jazz", which, NOLA being NOLA, soon became a smash hit. Listen to it here.
As promised, no one playing jazz that night died at the hands of the Axeman.
But the Axeman had been pushing his luck. There had been several aborted attempts at other of his crimes, one of which nearly got him shot. Households and entire communities began organizing such that someone armed was always on watch at night while others slept. Bands of vigilantes armed with shotguns conspicuously roamed the streets after dark. Some few even openly dared the Axeman to come calling, providing their addresses through newspaper ads.
On October 27, 1919, the Axeman conducted his final slaughter, perhaps because NOLA was becoming too hot for him. An Italian grocer named Mike Pepitone (or Pipitone) was butchered, but his wife and children, asleep in another room, went unharmed.
The horror then came to an abrupt end. This was the last canonical murder attributed to the Axeman. He was never seen or heard from again. No one would ever learn the identity of the Axeman - or would they?
A year after the Pepitone murder, a man named Joseph Mumfre (also Momfre and other variant spellings) was shot and killed on the west coast, allegedly by Mike Pepitone's widow, Esther Albano. She had been eyewitness to his murder and was said to have recognized Mumfre as her husband's killer. Mumfre had years earlier been ringleader of a blackmail gang which preyed on NOLA's Italian community. He was sent to prison in 1911, just after the first series of axe murders. He was paroled in 1918, around the time that the Axeman's murders began. Immediately after the Pepitone murder, Mumfre left NOLA for the west coast, and the Axeman vanished as well. In spite of all this circumstantial evidence, there was no actual evidence to link him to any of the Axeman's crimes.
Did Esther Albano really recognize the Axeman? And if she really knew his identity, why did she not inform the NOLA police? Had the Axeman then been apprehended and identified by Albano and the other eyewitnesses, he would either have quickly been tried, convicted, and executed or seized by a mob and lynched. But would even such an end have satisfied a bereaved widow and mother of six children, especially one of Italian heritage? After all, revenge is a dish best served cold.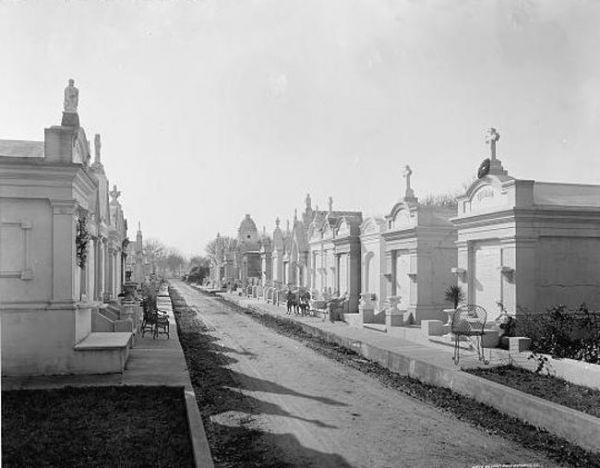 Was Joseph Mumfre really the Axeman? Was the Axeman instead someone who remains unknown today? Or was the Axeman actually what he claimed to be all along – a supernatural entity from the depths of Hell? Only one thing is certain after the passage of nearly a century; whoever – or whatever – the Axeman was, he is today legend, and legends never die.
Sources and Further Reading
13 Grisly Facts About the Axeman of New Orleans
The Axeman serial killer of New Orleans (1918-1919)
The New Orleans Times-Picayune
Fresh light on the Axeman of New Orleans
The Axeman's Jazz
When Hell Came to Earth: The Axeman of New Orleans
The Axeman of New Orleans Murders
The Axeman Murders of New Orleans
The Murderous Axeman Of New Orleans May Sound Like A Myth, But It's Far From It
Axeman of New Orleans
25 Blood-Chilling Facts About The 'Axeman Of New Orleans' That'll Make You Scream
Joseph Maggio at Find A Grave
Katherine Maggio at Find A Grave
Mary Cortimiglia at Find A Grave
Joseph Mumfre at Find A Grave