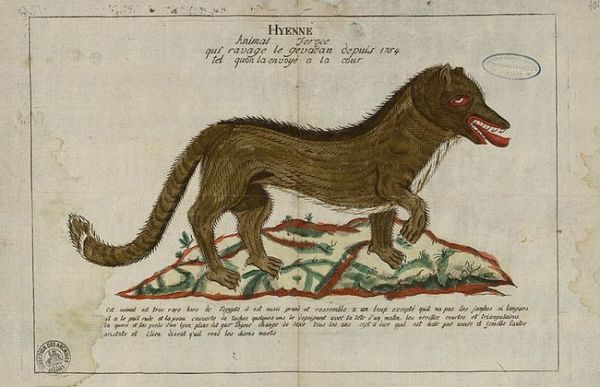 At the point where belief in supernatural forest monsters overlapped the new era of newspaper distribution lies the story of the Beast of Gévaudan. Beginning in 1764, the people of the French region of Gévaudan suffered 100 deaths and nearly 300 injuries attributed to a unknown beast. The country was entranced by the press accounts of the attacks, and eyewitness descriptions from those who survived.
Individuals may have had some success defending themselves, but official hunters had none. In February 1765, the d'Ennevals, a father-son hunter duo from Normandy, announced they would travel to Gévaudan to eliminate the beast. Jean-Charles, the father, boasted he'd already killed 1,200 wolves, relevant information assuming the predator was, in fact, a wolf. But no one was sure of that. "It is much bigger than a wolf," wrote Lafont in an early report. "It has a snout somewhat like a calf's and very long hair, which would seem to indicate a hyena."

Duhamel described the animal as even more fantastical. In his words, it had a "breast as wide as a horse," "a body as long as a leopard's," and fur that's that was "red with a black stripe." Duhamel concluded, "You will undoubtedly think, like I do, that this is a monster [hybrid], the father of which is a lion. What its mother was remains to be seen."

Other witnesses claimed the beast had supernatural abilities. "It could walk on its hind feet and its hide could repel bullets and it had fire in its eyes and it came back from the dead more than once and had amazing leaping ability," Smith says.
While the animal could have been a lion or other escaped exotic creature, many modern-day researchers believe the Beast of Gévaudan was an particularly large wolf, or wolves. After the newspaper accounts died down, the beast attacks continued until 1767, although normal wolf encounters remained. Read the saga of Beast of Gévaudan at Smithsonian.