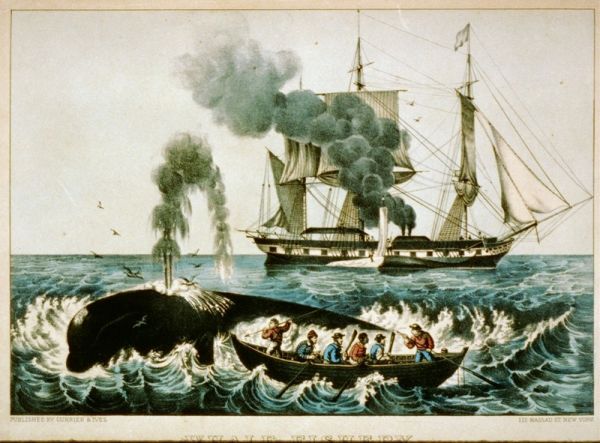 In the 18th century, ships sailed all over the world to hunt whales, which were both plentiful and profitable. The work was hard, but there was time to keep logs, which are now part of history. Many of those accounts of whaling expeditions in the 18th century mentioned "woggins." It was also spelled wogin, woglin, woging, or wargin. They were apparently plentiful, and were often eaten. There was a mention of wings, but what kind of bird was the woggin? Whaling historian Judith Lund wanted to find out.
Like all professionals, 18th-century whalers had their share of strange jargon. A "blanket" was a massive sheet of blubber. "Gurry" was the sludge of oil and guts that covered the deck after a kill, and a "gooney" was an albatross. Modern-day whaling historians depend on their knowledge of these terms to decode ship's logs—vital for understanding the sailors' day-to-day experiences, as well as gleaning overall trends. Being elbow-deep in whaleman slang is just part of the job.

So when Lund ran into a word she didn't know, it caught her eye. Lund was at the New Bedford Whaling Museum, trying to dig up some data on oil harvest rates. "I was reading a logbook and charging along beautifully," she says, "when I came across the fact that whalemen on that voyage were eating woggins and swile."

Lund had heard of swile—it's whaler slang for "seals"— but woggins were new. She asked the museum librarian, Michael Dyer, who didn't know either. "The woggin was a mystery to both of us," she says. So Lund did what any curious person would—started emailing everyone she could think of, asking if they had ever heard of it.
Lund eventually found the answer, which led to more questions, which led to more answers, and before you know it, biologists and ornithologists were studying whaler's logs for their research. Read the story of the bird once known as the woggin at Atlas Obscura.