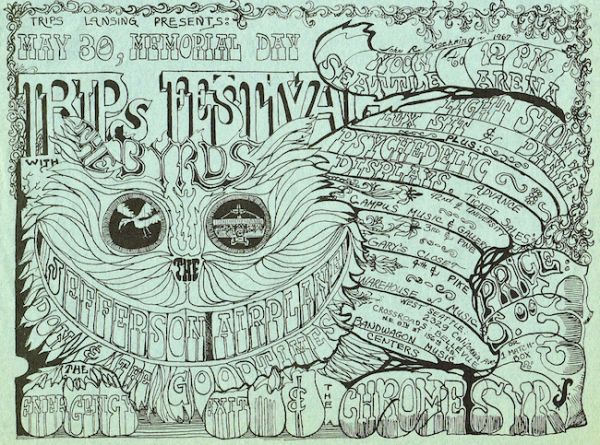 While the artists who make rock concert posters for venues in San Francisco in the 60s became famous, John Moehring was doing the same thing in Seattle with little fanfare. Fifty years later, he is famous among poster collectors, those who really appreciate the psychedelic art of the era. Moehring produced posters for appearances by The Doors, Jefferson Airplane, The Grateful Dead, and other monsters of rock. Collectors Weekly has an exclusive interview with Moehring about those days.
"Lots of bands playing at Eagles came to the house to partake of the Alice B. Toklas-inspired chewies and hang out before or after concerts," Moehring says. "It was a safe environment for rock 'n' roll road warriors often quite a distance from home."

Naturally, Moehring had his favorites. "I have special memories of Pink Floyd's visits," he says. "They were fun people to spend some time with. And Alice Cooper, in spite of his appearance, was just a down-to-earth guy who liked to play golf. Go figure. People weren't really stuck-up about their fame back then," Moehring adds. "Everybody was interested in meeting new people and hearing what they thought and had to say."

One of Moehring's fondest memories is of an evening spent with English rocker Marc Bolan of Tyrannosaurus Rex—his second band, T-Rex, and its big hit, "Bang a Gong (Get It On)," were still a few years away. Accompanying Bolan on this particular evening was his then-girlfriend and future wife, June Child.

"Marc wanted to go out and have some real American French fries," Moehring recalls, "so we piled into whatever ramshackle vehicle I had at the time and drove to a restaurant, where we ate French fries and just talked and talked. Eventually Marc got tired, so I drove him back to where they were staying, but June was still raring to go. We stayed up the entire night driving all over Seattle. I showed her all my favorite little places." For example, one stop on this after-midnight tour was an old water tower way out on the Magnolia Bluffs overlooking Puget Sound. "The tower had these real cool cross braces all around it," Moehring says, "and if you shook one of the braces that was down close to the ground, the whole thing would start to vibrate and reverberate. It was just a lovely, lovely evening."

Read the rest, and see a nice collection of posters, at Collectors Weekly.