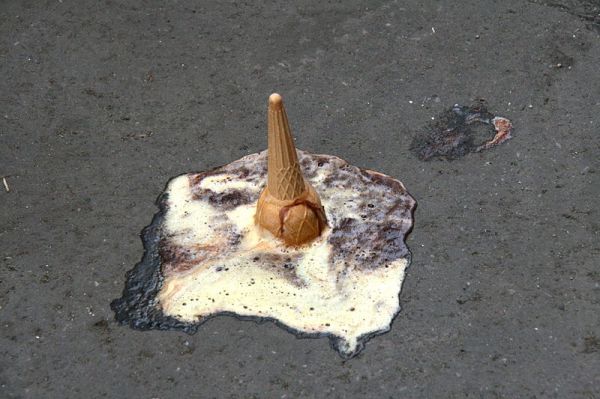 The most common story about the origin of the ice cream cone has its debut at the 1904 St. Louis World's Fair. A waffle maker was set up next to an ice cream vendor when the vendor ran out of ice cream cups. The waffle maker lent his skills to produce edible containers that became a hit. But this story is only common because the ice cream maker, Ernest Hamwi, went on to found the Missouri Cone Company. There are several variations of that story, but ice cream cones existed long before the World's Fair. A French etching may point to the use of the edible cone as far back as 1807! And there are even previous patents.
In the second half of the 19th century, ice cream bought outside the home was served in a small glass container, called a "penny lick" for the price. You would lick the ice cream out of the glass and return it to the vendor to wash and reuse. This practice wasn't necessarily sanitary, and it could cause delays if too many people wanted ice cream at the same time.

The solution: an edible container. Italo Marchiony, who later claimed he had been making edible cups to serve ice cream in New York City since 1896, filed a patent in 1903 for his own ice-cream-cup-making machine. The mold's shape is something more akin to a cup than a cone, as was the "apparatus for baking biscuit-cups for ice-cream" that Antonio Valvona of Manchester, England had patented a year before.
Still, the actual inventor of the ice cream cone hasn't been fully determined. Read what we do know at Time.
(Image credit: Tamorlan)