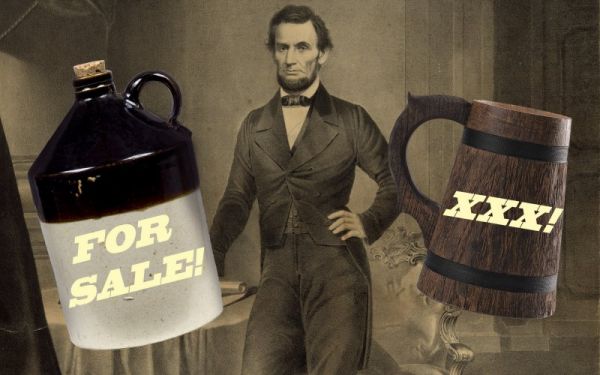 While the biggest issue during Abraham Lincoln's political career was slavery, it wasn't the only issue. The nation was swinging from a freewheeling culture of alcohol to a movement for temperance, and a politician's stance could affect votes. Lincoln's father worked off and on at a distillery in Kentucky. Liquor was a part of everyday life where he grew up.
In the first of a series of legendary debates with the democrat Stephen Douglas, Lincoln's history of co-owning a grocery in Salem, Illinois, in the 1830s was mentioned by his opponent as a way to tie him to the alcohol trade. "I was a school teacher in the town of Winchester, and he a flourishing grocery-keeper in the town of Salem," accused Douglas.

The audience would have understood that calling Lincoln "a flourishing grocery keeper," meant that he essentially ran a popular bar. And at the time, these types of establishments were blamed for causing all kinds of disorderly conduct and encouraging a range of sinful behaviors.

Lincoln staunchly denied Douglas' accusation and always claimed that people could purchase liquor at his store but not consume it there. During the debate he was, however, careful not to condemn those grocery store owners that did sell liquor by the glass: "The Judge is wofully [sic] at fault about his early friend Lincoln being a "grocery keeper." I don't know as it would be a great sin, if I had been, but he is mistaken. Lincoln never kept a grocery anywhere in the world."
Lincoln's statements appear to contradict each other, but may be a confusion over the definition of "grocery" in context. Lincoln and his partner William Berry had a liquor license for their businesses, but it is unclear whether Lincoln himself ever sold any liquor by the drink. While in office, Lincoln had to walk a fine line between advocating for alcohol or advocating against it. Read more about that struggle at The Daily Beast.

Here's some background on Lincoln's stores and liquor licensing.