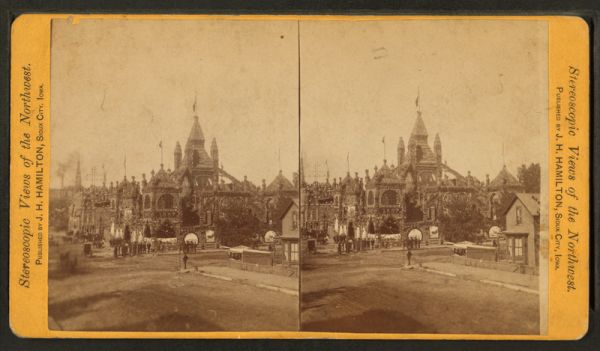 I had the opportunity a couple of years ago to visit the Corn Palace in Mitchell, South Dakota. It's an amazing sight, unabashedly tacky, but most of all, it was a glimpse into the past. Why would anyone cover an entire building with a cash crop? To show off a town's agricultural success. The Corn Palace is the last remaining remnant of a midwest custom that began in 1887 when Sioux City, Iowa, built a corn palace to show Americans that their town was a pleasant and bountiful place to live.
The city wanted to signal that life in the Midwest wasn't as dreary and desperate as it might seem, and, as Pamela H. Simpson writes in Corn Palaces and Butter Queens, the idea for the palace came from a town meeting, at which one enterprising man asked "why, if Saint Paul and Toronto could have ice palaces, Sioux City couldn't have a corn palace."

The palace the city built was such a success that President Grover Cleveland came to visit, and almost immediately, other cities started work on their own agricultural edifices. In 1889, there was a Texas Spring Palace, decorated not just with corn but with oats, cactus, moss and johnson grass. Ottumwa, Iowa, made a Coal Palace, built on a foundation of coal and walled with coal mixed with mortar. By 1890, there was a bluegrass palace, a hay palace, Forest City's flax palace, and a sugar beet palace in Grand Island, Nebraska, followed in the next years by a grain palace, broom palace, and more and more corn palaces.
Of course, pictures were taken of the various crop palaces, and you can see them as well as read about them at Atlas Obscura.