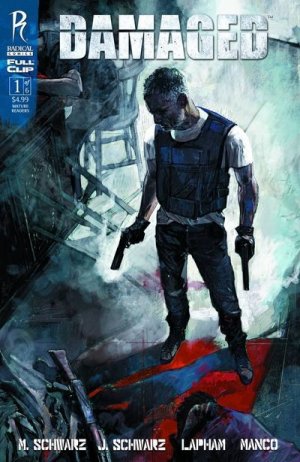 Comics have come a long way from the days of pandering to children in order to sell a product. These days, they're full of mature stories and subject matter that would make Golden Age
Superman
blush, and that's how I like it. To me, a comic book with no spandex clad heroes in sight means I'll be entertaining more than just my eyeballs when I dig in.
Enter the newest title from Radical Comics-
Damaged
. It's a dark, edgy cop story with a serious noir edge, and lots of the old ultraviolence. The story centers around two cops/brothers, one of which will draw obvious comparison to the
Punisher
with his violent vigilante antics and attitude about killing bad guys.
Written by David Lapham (
Crossed
and
Stray Bullets
),
Damaged
pays homage to its obvious influences without becoming predictable, and the six issue mini series format means you will be left with a satisfying conclusion to the storyline.
The great thing about this series is it's a throwback with modern flavor, a good pulp story that is familiar yet timeless, with a cast of characters that are iconic enough to exist in any era, and beautiful artwork by Leonardo Manco (
Hellblazer
and
War Machine
) that helps sell this realistic story about human nature, inner conflict and inescapable fate.
Want to know more? Read an exhaustive review at the link to the Bad Haven article below, so you know what you're getting in to before you shell out for the books.
http://www.badhaven.com/comics/comic-reviews/reviewdamaged-1-4-of-6/