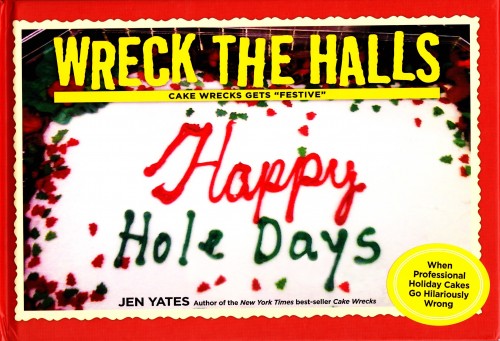 Jen Yates, of the blog Cake Wrecks, published the book Cake Wrecks: When Professional Cakes Go Hilariously Wrong in 2009. The response was so great, she and her husband John went to work on a new book. That book, Wreck the Halls is available now. In it, you'll find hundred of holiday cakes, 232 pages of them, that are doubly sweet: you get to laugh at them, and someone got to eat them. Here's a sampling for you. The book begins with just a couple of Halloween cakes, and quickly moves on to Thanksgiving. There's an entire section of turkey cakes, both the feathered kind and the cooked kind, all looking like something besides turkeys. And some are mashed up with other Thanksgiving traditions.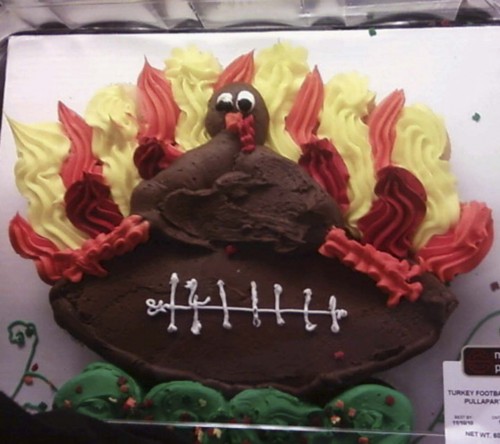 But I was particularly drawn to this cornucopia.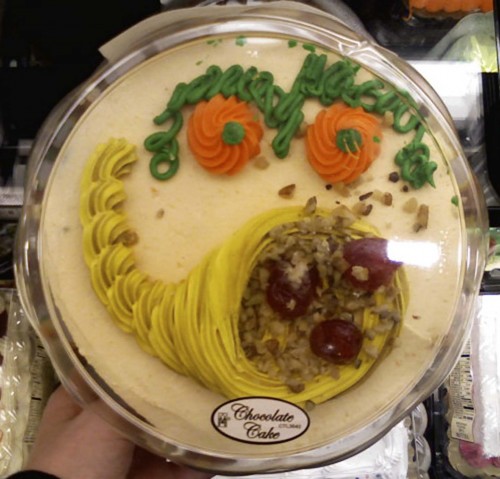 Maybe because it reminded me of this guy: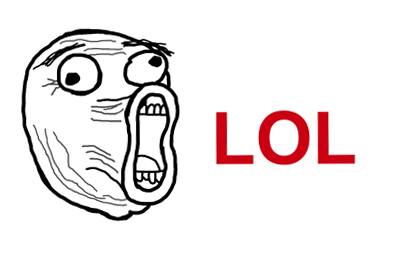 In the midst of all this bounty, someone had to ruin the mood. In a high-calorie manner.
The largest number of Cake Wrecks are about Christmas, but there are plenty of other holidays represented, like Super Bowel Sunday.
Better watch what snacks you serve for the Super Bowel. You may have to Go Go Go!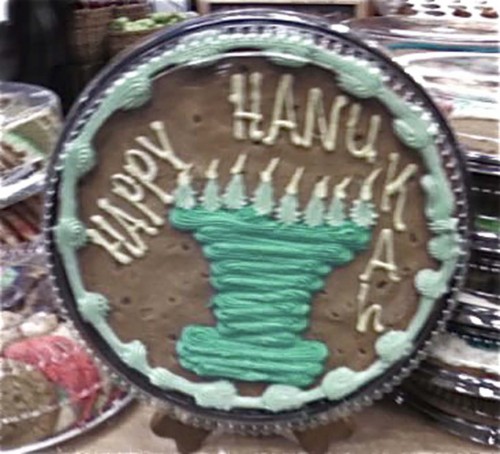 And there's Hanukah, although this baker wasn't sure whether to use the nine lights of Hanukah or the seven candles of the non-Hanukah menorah, so he/she compromised and used eight. Then forgot how long a word "Hanukah" is. The book also features a lots of Hanukah cakes with the symbolic five-pointed stars.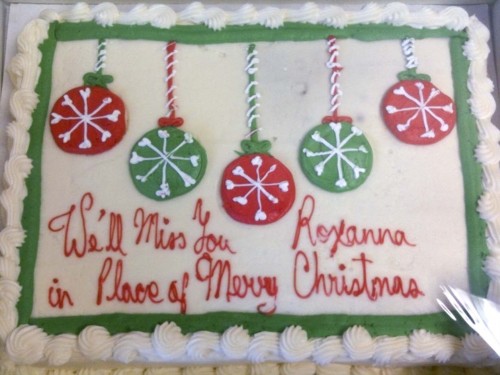 Some non-holiday occasions are included, such as this festive going-away party cake.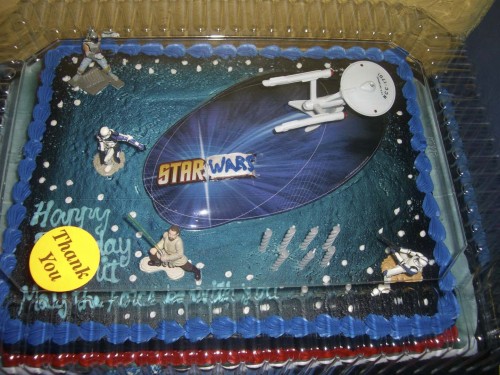 And this science-fiction themed birthday cake. This is an example of a baker "making do," although the recipient may have called it "making doo-doo." Speaking of that, have you ever noticed how cakes that are supposed to have turkeys or reindeer as decorations made of icing tend to end up looking like poo? I didn't realize that, until so many of them were collected together in the book Wreck the Halls.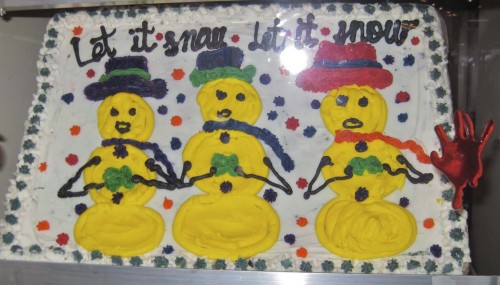 Even if there weren't winter holidays, we would celebrate snowfall. Just be sure to follow the advice of the sage Frank Zappa, and don't you eat that yellow snow!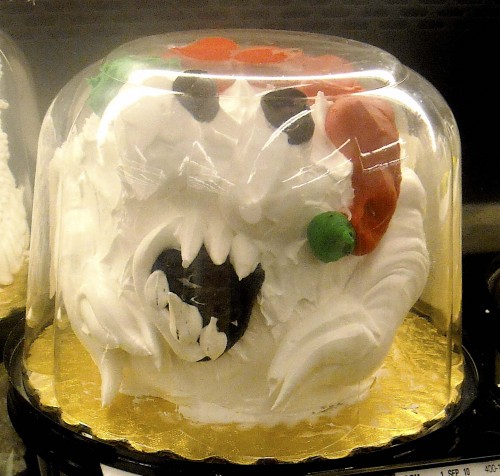 But of course, the real fun comes when a baker tries to make a cake look like Santa Claus. It may end up looking more like a Halloween zombie.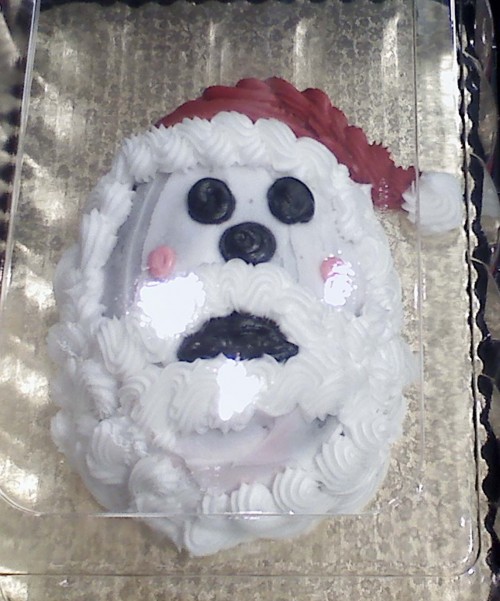 Or the ghost of Christmas ...something.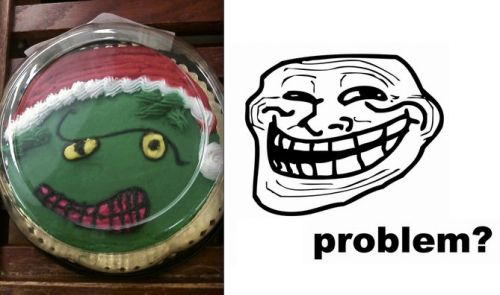 I believe this one is supposed to be the Grinch from the Dr. Seuss story.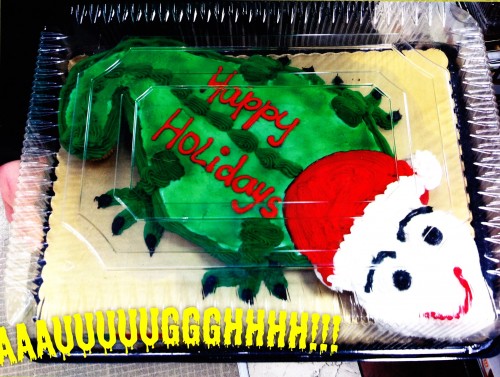 What is this? I don't know! These are just a very few samples from the huge collection of cake in the book Wreck the Halls: Cake Wrecks Gets "Festive". Oh, there's lots more. I had no idea there were that many ways to misspell "holidays," much less "Christmas," and even "merry." Wreck the Halls is available now at Amazon, Barnes & Noble, and at a book store near you.