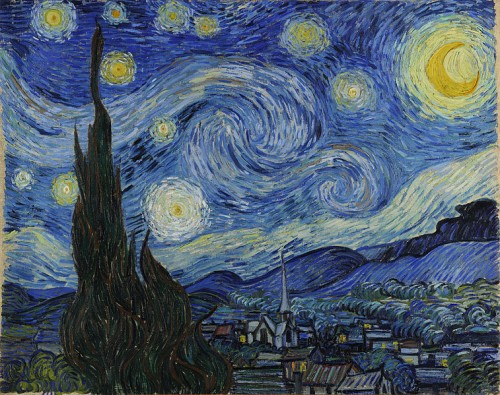 Starry Night
is a painting by Vincent Van Gogh that has proved to be
an enduring iconic image
. Painted in 1888, the scene shows a night sky filled with stars swirling over the French countryside, which includes
a view of the village of Saint-Rémy
. Since 1941, the painting has been at the Museum of Modern Art in New York. But everyone wants their own copy, or some version of
Starry Night
. We've seen a lot of them.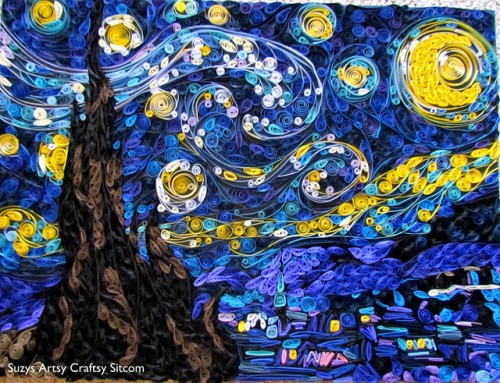 Suzy Myers
used quilled paper to recreate
Starry Night
. You can see the process and closeup views at her site.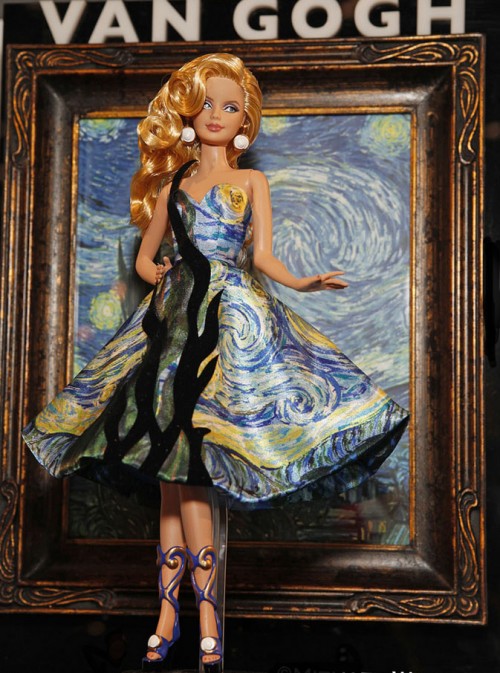 Back in April, Mattel unveiled a set of "fine art Barbies." The collection includes a Da Vinci Mona Lisa model, another honoring Gustav Klimt, and this Barbie honoring Vincent Van Gogh with a
Starry Night
dress.
See them all at If It's Hip, It's Here
.
Tabitha Ballard made
an award-winning cake
that reproduces the Van Gogh painting.
Flickr user and pastry chef Megpi made what she called an
"Impressionist Cake"
in 2008. Only the top layer uses the image of
Starry Night
, but it's
all
impressive!
Andy Alcala
reinterpreted a series of classic artworks as
face paintings
. In addition to
Starry Night
, he also used works by Edvard Munch, Piet Mondrian, Banksy, and more.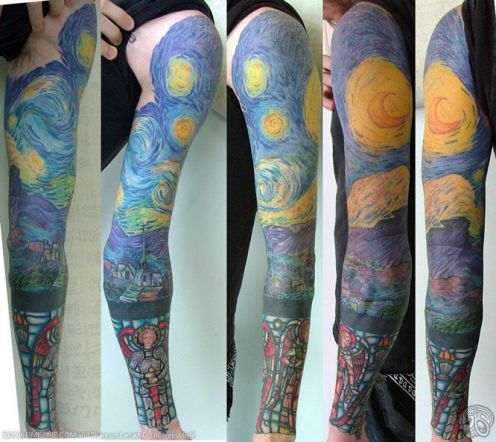 You'll find quite a few
Starry Night
tattoos if you look for them.
This full-arm tat
goes all the way!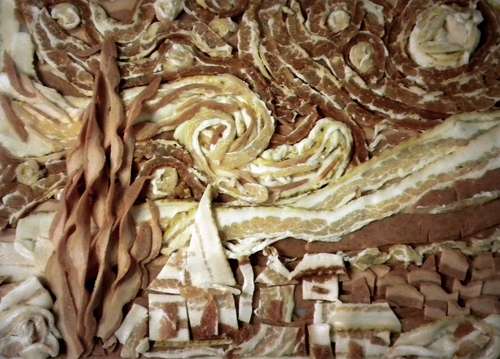 Did you ever have the burning need to make a Van Gogh masterpiece out of bacon? It's been done, but you can make your own with step-by-step directions from
Instructables
.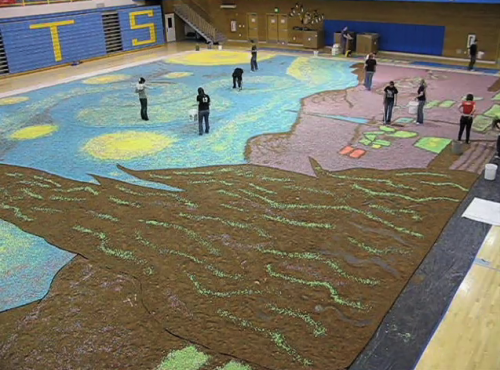 Doyle Geddes, a teacher at Sky View High School in Smithfield, Utah, led 150 students through the construction of the world's largest recreation of Van Gogh's masterpiece
Starry Night
. The finished product was 72 feet by 90 feet on the gym floor, and an inch deep in breakfast cereal! A Malt-O-Meal factory donated two tons of Tootie Fruities, Cocoa Dyno-Bites and Frosted Mini Spooners for the project.
Watch them put it together
in a time-lapse video.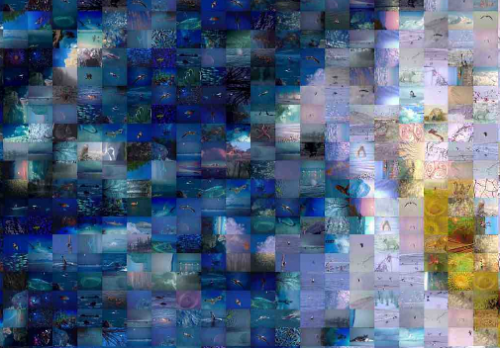 Imagine a 1.5 Gigapixel image made of over 200,000 other images. This version of
Starry Night
is a photomosaic.
At this link
, you can zoom in over and over to see the other images that make up this image.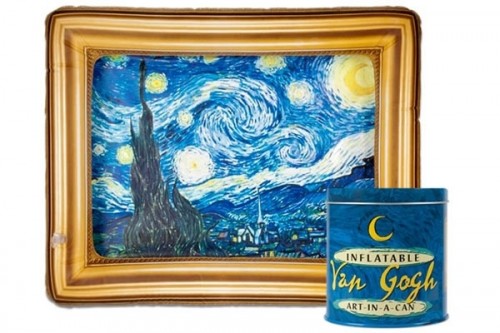 You can have your own
Starry Night
from the NeatoShop! Our
Inflatable Van Gogh in a Can
gives you a 19x15 version of the painting packed in a convenient can. Anytime you need some art, just pull it out and blow it up!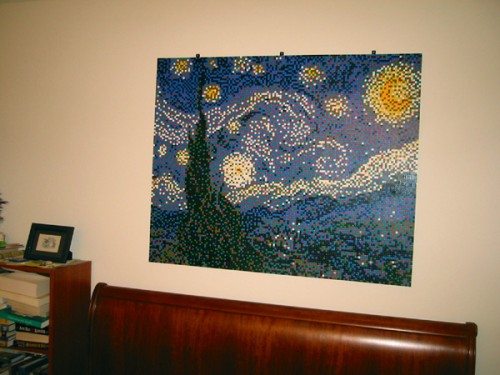 If something is nice, someone will eventually make a LEGO version of it. Ed Hall did it in 2001, with awesome results.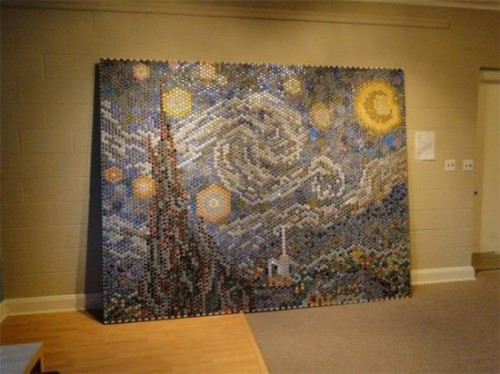 Ross Thomas and Elizabeth Farrell of the University of Virginia collected 8,000 bottle caps and used them to make a
Starry Night
mosaic. Their finished product is shown here, but it's far from the only bottle cap mosaic of Starry Night. See the others
at Oddity Central
.

It's not only artists that recreate the Van Gogh work.
A photograph of a storm on Jupiter
struck Ransom Riggs (and plenty of other people) as very reminiscent of
Starry Night
.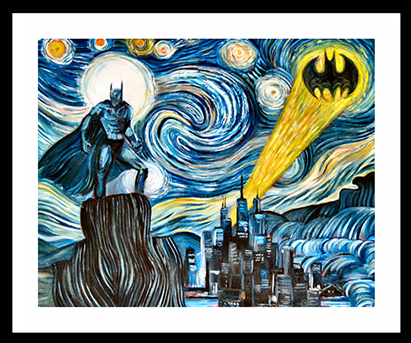 And then there are the mashups, in which an artist takes a pop culture icon and places it into Van Gogh's world.
James Hance
thought
Starry Night
would be a great backdrop for
The Dark Knight
. He was right!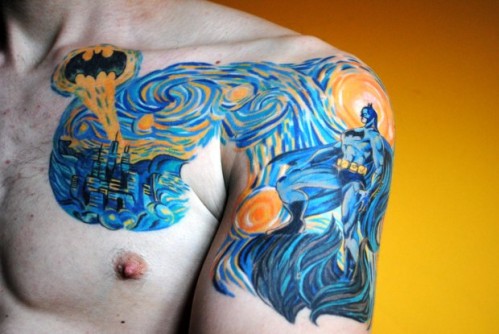 Hance's mashup was later enshrined
in a tattoo
.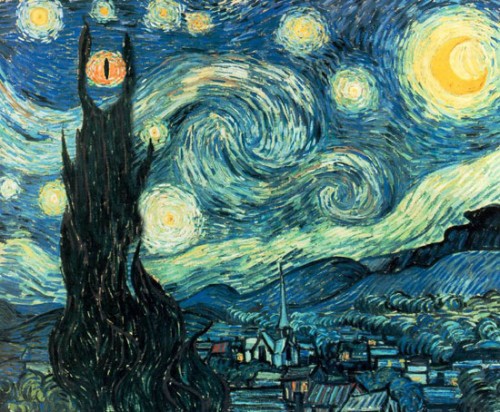 Someone did the same for
The
Lord of the Rings
, putting
the Eye of Sauron
into the scene. Unfortunately, the artist's name has been lost along the way.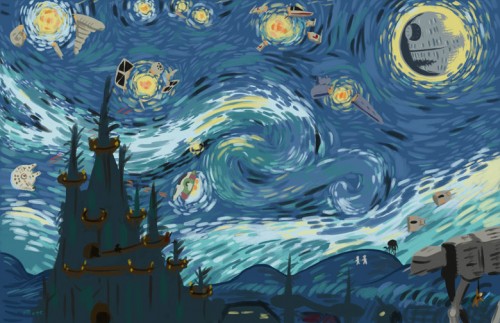 The stars are replaced by spaceships and an ominous Death Star in this
Star Wars/Starry Night
mashup by
Newbpainter
.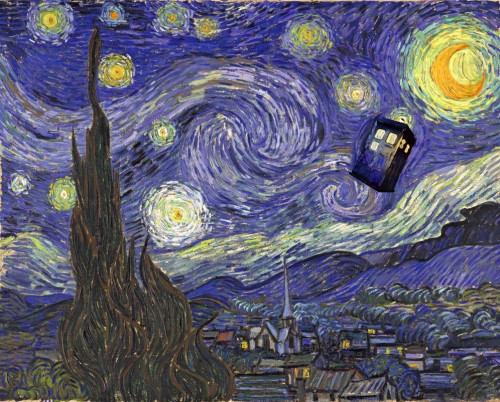 DeviantART member
Terry Lightfoot
inserted a TARDIS from the
Doctor Who
series into Van Gogh's masterpiece.

(YouTube link)

And now for some music! Don McLean paid tribute to Van Gogh's painting in the lyrics of his 1971 song "Vincent." This video uses many of Van Gogh's paintings to illustrate the song.