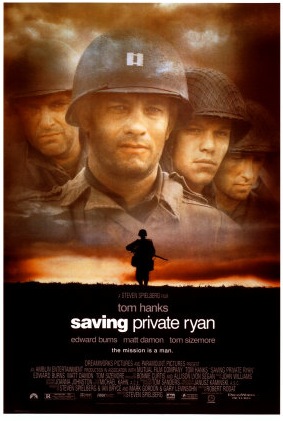 The following is an article from the book
Uncle John's Bathroom Reader Salutes the Armed Forces.
It was selected to run today on the 67th anniversary of the Allied Invasion of Normandy, also known as D-day.
"The boy's alive and we're going to send someone to save him...and we're going to get him the hell out of there." -from Saving Private Ryan
FACT OR FICTION?
In 1998
Saving Private Ryan
gave moviegoers an infantryman's view of the 1944 invasion of Normandy on D-day. The film follows Captain John Miller (Tom Hanks) and the survivors of his unit as they battle their way onto Omaha Beach. Then, instead of getting a hoped-for rest, they get another dangerous assignment -to go behind enemy lines and find a missing soldier, Private James Ryan (Matt Damon). Private Ryan's three brothers have all recently died in combat and, in accordance with War Office policy, the last living son must return home alive to his family. Private Ryan must be "saved."
Directed by Steven Spielberg,
Saving Private Ryan
won five Academy Awards and the admiration of World War II veterans who said the movie faithfully depicted their experiences. The film renewed interest in the men who fought at Normandy, but filmgoers also wanted to know of there was a real-life Private Ryan.
THE REAL PRIVATE RYAN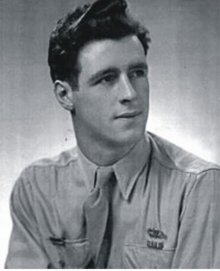 Sergeant Frederick "Fritz" Niland
The fictional Private Ryan was inspired by Sergeant Frederick "Fritz" Niland -a paratrooper in the 101st Airborne Division and 501st Parachute Infantry Regiment. Just after midnight on D-day, June 6, 1944, a plane dropped Sergeant Niland into France. He was supposed to land near the city of Carentan, but -like Private Ryan- got "lost" when his plane was hit by enemy fire and he had to jump miles away from his target.
Fritz, 24, was born in Tonawanda, New York, the youngest of four brothers, from oldest to youngest, Edward, Preston, Robert, and Fritz. Their mother Augusta "Gussie" Niland, later recalled that the brothers had always been best of friends. They graduated from Tonawanda High School and attended local colleges, but they were all attracted to military service. Their father had been a Rough Rider with Teddy Roosevelt during the Spanish-American War, and they grew up listening to his war tales. By spring 1944, they were all overseas: Robert was a mortar sergeant in the 82nd Airborne, Preston was a lieutenant in the 4th Infantry Division, and Edward was flying B-25s for the Army Air Force in the Pacific. Robert, Preston, and Fritz were all stationed in England, waiting for the invasion of Europe.
But 1944 didn't go well for them. On May 20, Edward's plane was shot down over the jungles of Burma. On June 6, Robert parachuted into France and was killed in heavy fighting at the village of Neuville-au-Plain. The following day, Preston, who'd landed at Utah Beach, died while defending the wounded. And Fritz, of course, was "lost" somewhere behind enemy lines.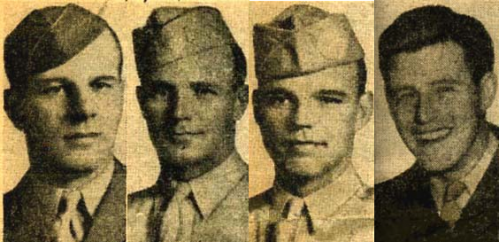 Edward, Preston, Robert, and Frederick Niland.
THE TELEGRAMS ARRIVE
In
Saving Private Ryan
, one of the women in the military's secretary pool is typing condolence letters to parents of dead soldiers when she notices that three letters are all going to the same name and address. She brings the matter to the attention of her commanding officer, and the order goes out to search for Private Ryan.
On D-day, Gussie later said, she was thinking how glad she was that Edward was far from Normandy's fierce fighting; then the telegram came with the news about his plane crash stating that he was presumed dead. On June 21, another War Office telegram arrived, this one about Preston's death, followed two days later by one about Robert. The courier who delivered the telegrams begged not to be sent back to deliver the second and third telegrams. Within the space of a few weeks, the Nilands were grieving for three sons lost to the war.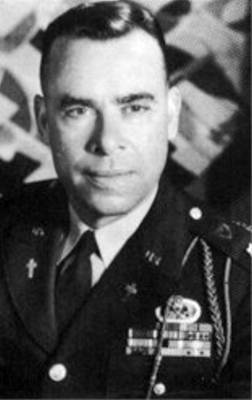 Father Sampson
In Spielberg's film, Private Ryan knows nothing of his brothers' fates until Captain Miller finds him. Fritz, separated from his unit, also knew nothing of his family's pain. When he regrouped with Company H, he got the news about Edward's plane being shot down. Then Robert's company commander found the grieving sergeant and told him that his brother Robert had been killed and was buried at a cemetery in the French village of Sainte-Mère-Église. Stunned by the loss of two brothers, Fritz sought out the company chaplain, Father Sampson, and asked for a ride to Robert's grave. New cemeteries had been hastily created for the Allied dead. Fritz and Father Sampson searched the village but were unable to find Robert's grave. They tried another cemetery, and when Father Sampson saw Preston Niland's grave, he thought that the wrong name had been recorded in error and showed it to Fritz. The distraught young man said, "Father Sampson, Preston is my brother, too." Eventually they found Robert's grave, and Fritz realized he'd lost all three brothers.
LOST BANDS OF BROTHERS
What about the film's premise that the War Department would send a soldier home after his siblings had died in battle? Many people believed that the United States had a law forbidding families to serve on the same ship or in the same military unit -a myth repeated in the movie. In fact, no such law existed. Instead, the War Department adopted the "sole survivor" policy. If a soldier or sailor's siblings were killed, he was not allowed to serve in combat zones. After Father Sampson brought Fritz back from the cemetery, he filled out paperwork to notify the Army that Fritz was the Niland family's sole survivor and had to be sent home.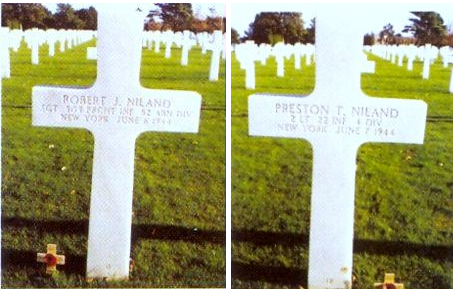 THE ONLY BROTHERS I HAVE LEFT
When Captain Miller finally finds Private Ryan, the young man is defending a bridge from the Nazi's and refuses to leave his post. He explains that he's with "the only brothers I have left ...I wouldn't desert them." Private Ryan could have been speaking for Fritz Niland, who refused to leave his fellow soldiers, insisting, "I'm staying here with my boys." Determined to avenge his brother' deaths, Fritz managed to remain on the front lines until August, when he was finally ordered to return stateside. He served out the rest of the war as an MP, always longing to get back to Company H. He would later say that it took an edict from President Roosevelt to get him to leave the front.
In a miraculous turn of events, Edward, presumed dead, came home in May 1945 after nearly a year in a Japanese prison camp. Though happy to have Edward back, Fritz never fully got over the deaths of Robert and Preston. Fritz's daughters were invited to see the premiere of
Saving Private Ryan
, but their father never got to see it; Fritz Niland died of a heart attack in 1983.
__________
The article above is reprinted with permission from
Uncle John's Bathroom Reader Salutes the Armed Forces
.
Since 1988, the Bathroom Reader Institute had published a series of popular books containing irresistible bits of trivia and
obscure yet fascinating facts
.
If you like Neatorama, you'll love the
Bathroom Reader Institute's books
- go ahead and check 'em out!