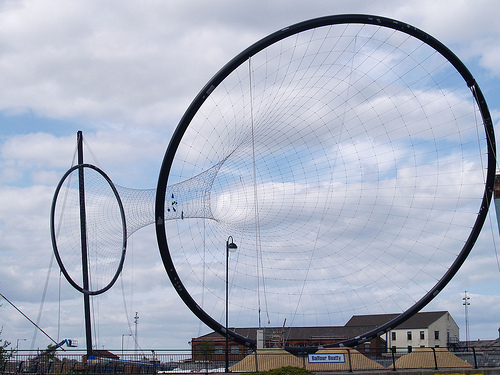 Middlesborough in the UK yesterday saw the unveiling of Temenos, a colossal new sculpture by Anish Kapoor.  It's big, to say the least and stands at over fifty meters.
A startling arrival indeed. It is just the first of five works of art to be known as the Tees Valley Giants – although the timetable for the others has become somewhat more flexible since the recession came along and spoiled everybody's party. Kapoor's attempt to change a landscape with art is certainly bold. Yet there are many who feel it is a waste of money (around US $5 million all told) but others see it as a symbol of hope for an area that bore the brunt of the last recession and was still recovering from that when our latest one came along.
Link
(Image credit: Flickr user
Pickersgill Reef
)
From the
Upcoming
ueue
, submitted by
taliesyn30
.