The following is an article from the book Uncle John's Bathroom Reader Salutes the Armed Forces. Presenting, in our humble opinion, our leading leaders of men and women at war.
1. GEORGE WASHINGTON (1732-99)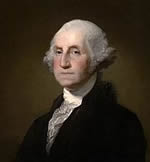 Born in Westmoreland County, Virginia, Washington grew up under the guardianship of his eldest brother. After a spotty education, he became a surveyor and eventually inherited his brother's prosperous estate, Mount Vernon. He joined the Virginia militia in 1752, advanced to major, fought during the French and Indian War (1754-60), and made it to the rank of honorary brigadier general. Washington didn't return to the battlefield until July 1775, after being appointed general by the Continental Congress.
At Cambridge, outside Boston, he took command of the disintegrating Continental Army. The American Revolutionary War-Washington energetically and skillfully revitalized the militias at Cambridge and organized them into Continental Army regiments. Using cannons borrowed from the colonies, he occupied Dorchester Heights and brilliantly forced Sir William Howe's British army to evacuate Boston and retire by sea to New York City.
Washington tried to drive the British from Ney York but failed, partly due to his own inexperience and partly due to untrained troops and clumsy subordinates. His masterful withdrawal from Long Island and Harlem Heights into New Jersey and Pennsylvania during the autumn of 1776 saved the army from extinction. General Howe captured most of New Jersey and made the mistake of believing Washington's army was militarily impotent. On the night of December 25-26, 1776, Washington's forces crossed the Delaware River in boats, drove Howe's Hessians out of Trenton, and on January 3, 1777, Washington learned that General John Burgoyne planned to invade the Hudson Valley from Canada.
Though soon hard-pressed defending Philadelphia, the national capital, he sent many of his best troops upriver and, in October, defeated the British at Saratoga. Having weakened his forces defending Philadelphia, Washington abandoned the defense of the city on September 26, forcing the Continental Congress to move west to York. Not everything went well for Washington, but he managed to contain one British force in the north while sending forces south to fight another British force under General Charles Cornwallis at Yorktown. The strategy worked, and on October 19, 1781, Cornwallis surrendered.
What Made Him Great? Washington's unorthodox military education kept him from becoming an orthodox 18th-century general, which led to his boldness. The Continental Army never numbered more than 35,000 men, and Washington never had more than a third of it under his personal command, yet he managed to subdue, with help from the French fleet, Great Britain's professional army. Underrated by modern standards, Washington was a brilliant strategist and self-taught tactician. He also became a gifted statesman. He believed in civilian government and the rule of law, spurning attempts by his officers to make him a military dictator.
2. WINFIELD SCOTT (1786-1866)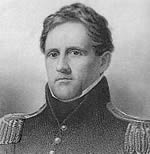 Known as "Old Fuss and Feathers," Scott was born outside Petersburg, Virginia, and studied law until 1807, when he enlisted in a cavalry troop. At 6'5" and 250 pounds, Scott could cripple a horse-and did-so he transferred to the light artillery as a captain. Suspended briefly in 1810 for making inappropriate remarks to his superior, Scott rejoined the Army as a lieutenant colonel when the War of 1812 broke out, and led more troops into more battles in that war than any other officer. He suffered two wounds at Lundy's Lane on June 25, 1814, but 10 days later won an important victory at Chippawa, Ontario.
Raised to the rank of major general for distinguished service, Scott became a national hero. For the next 30 years, except for two trips to Europe to study military developments, Scott fought Seminole Indians in the South and Plains Indians in the West. In 1845-46, when General Zachary Taylor's battles with General Santa Anna's army in northern Mexico were inconclusive, Scott recommended to President James K. Polk an amphibious landing at Veracruz as the fastest way to conquer Mexico City. Scott planned the massive operation, and on March 9, 1847, landed near Veracruz and 18 days later captured the city.
On April 8 he began the march inland, routed Santa Anna's larger army on April 18 at Cerro Gordo, and occupied Puebla on May 15. He paused to collect supplies, resumed his advance on Mexico City on August 7, and after fighting decisive battles at Contreras, Churubusco, Molino Del Rey, and Chapultepec, captured the Mexican capital on September 14. He served as military governor there until April 22, 1848, when he returned to Washington. Promoted brevet lieutenant general in February 1855, Scott became the highest-ranking officer in the Army since George Washington.
As general-in-chief of the Army, he tried to prevent the American Civil War by counseling presidents James Buchanan and Abraham Lincoln. He sadly became what his nickname implied, "Old Fuss and Feathers," a man obsessed with strict adherence to Army red tape with the out-of-date habit of adorning his military headwear with feathers. Though physically infirm, his mind was still sharp, but he could no longer take the field and, on November 1, 1861, resigned.
What Made Him Great? Scott left a remarkable record as a strategist, a diplomat, and a brave and skillful tactician. His Anaconda Plan for strangling the South by keeping it from its sources of supply during the Civil War was first sneered at by Union generals, but was later adopted by Lincoln, and turned out to be the overriding strategy that eventually won the war.
3. ROBERT E. LEE (1807-70)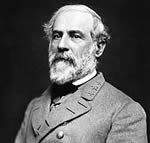 The greatest Confederate general of the Civil War, Lee graduated from West Point in 1829, second in a class of 46, and joined the engineers. A Virginian by birth, Lee claimed that he fought for his home state more than for the Confederacy. The Mexican War-During the Mexican War, Lee served with distinction as a member of General Scott's staff at Veracruz in March 1847, and at Cerro Gordo the following month. His eye for reconnaissance and tactical improvisations led to Scott's victories reconnaissance and tactical improvisations led to Scott's victories at Churubusco, Chapultepec, and eventually to the surrender of Mexico City.
Lee worked a desk job from 1852 to 1855 as superintendent at West Point, after which he became colonel of the 2nd U.S. Cavalry and served in the Southwest until shortly before the outbreak of the Civil War. Lee was offered but rejected a top command in the Union army and resigned when Virginia seceded. On June 1, 1862, he replaced wounded General Joseph E. Johnston and took command of the Army of Northern Virginia. The Civil War-Lee became one of those rare generals who thought strategically, broadly designed his tactics, and took chances. He understood the generals of the North better than those generals understood themselves. He came up with the strategy for Major General Thomas J. "Stonewall: Jackson's Shenandoah Valley Campaign during the spring of 1862, making Jackson the most celebrated officer in the Confederacy-until he was later eclipsed by Lee.
In late June, Lee's smaller force bluffed Major General George B. McClellan's army into withdrawing, and two months later Lee outmaneuvered Major General John Pope and defeated the Army of Virginia at the Second Battle of Bull Run on August 29-30. On September 17, with a force half the size of McClellan's Army of the Potomac, Lee repulsed the Federals in a drawn battle at Antietam. After President Lincoln replaced McClellan with Major General Ambrose Burnside, Lee bloodied the massive Union army on December 13 at Fredericksburg. Lee's aggressive instincts were never more evident than at Chancellorsville. He ignored the maxims of warfare, divided his much smaller force, and on May 2-4, 1863, decimated the right flank of the Army of the Potomac with a surprise attack. But his greatest mistake occurred on July 1-3 at Gettysburg, when he was overly aggressive at a time when he should have fought defensively. He admitted the error and withdrew into Virginia.
By 1864 many of Lee's best officers had been killed and there were no more soldiers to replace those who'd been lost in battle. Forced to fight defensively, Lee held off Grant's offensive in the Battle of the Wilderness on ay5-6, at Spotsylvania on May 8-12, and repulsed the Union assault at Cold Harbor on June 3. Those battles cost Grant a third of his men, but Lee couldn't withstand the pressure and withdrew to Petersburg's trenches. It took Grant eight months to flush Lee out of Petersburg and force his surrender on April 9, 1865, at Appomattox Court House.
What Made Him Great? Lee's men adored him. In victory and defeat, they witnessed his great strength of character, his high sense of duty, and his humility and selflessness. Even Northerners accepted Lee as the greatest general of the Civil War.
4. ULYSSES S. GRANT (1822-85)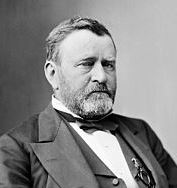 Born Hiram Ulysses at Point Pleasant, Ohio, the future general grew up on his father's farm. In 1839 he entered West Point and found himself listed by his middle name and his mother's maiden name. On that day he became Ulysses Simpson Grant, which in later years became "U.S." Grant and "unconditional Surrender" Grant.
In 1843 he graduated 21st in a class of 39 and became a second lieutenant in the 4th Infantry. The Mexican-American War-During the Mexican-American War, Grant distinguished himself while serving under General Zachary Taylor in Texas and later under General Winfield Scott in Mexico, where he received two brevets (commissions of higher rank) for gallantry. Grant enjoyed fighting, but he found n pleasure in the peacetime army. In July 1854, he resigned as captain from a dismal post in Oregon and returned to his family in Missouri, where for six years he tried without much success to scratch out a living on the family farm.
The Civil War-Grant Reemerged in June 1861 as colonel of the 21st Illinois Infantry. Promoted to brigadier general in August, Grant ran his own campaigns and on February 6, 1862, seized Fort Henry on the Tennessee River and 10 days later demanded the "unconditional surrender" of Fort Donelson. In April, after first being surprised by a Confederate attack at Shiloh, he repulsed the enemy. Privately, he feuded with Major General Henry W. Halleck and was accused of drunkenness, but redeemed himself on July 4, 1863, by capturing Vicksburg. When men like Halleck questioned Grant's ability, Lincoln countered with a brisk rejoinder, replying, "I can't lose him. He fights."
After Vicksburg, Grant's stature as a fighting general bloomed. When Major General William S. Rosecrans's army was bottled up at Chattanooga, Grant took charge, broke the siege, and drove the Confederates into Georgia. Lincoln rewarded Grant with a promotion to lieutenant general and made him general-in-chief of the armies. Instead of establishing an office in Washington, Grant took the field with the struggling Army of the Potomac. With characteristic doggedness, he drove General Robert E. Lee's Army of Northern Virginia to its final defeat at Appomattox on April 9, 1865.
What Made Him Great? Though the point is still argued, Grant was an effective strategist. He made mistakes and learned from them. His drive and resolution made him a first-class general. Grant's postwar popularity earned him the presidency in 1869, but he was a warrior, never a good businessman or a politician. In fact, his hapless presidency was marked by the corruption of unworthy appointees he trusted.
5. JOHN J. PERSHING (1860-1948)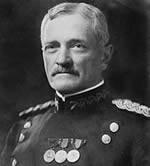 Pershing grew up on a farm in Laclede, Missouri, and displayed a high level of intelligence as a child. He taught school for four years before getting an appointment to West Point in 1882.
The Indian Wars-Commissioned a second lieutenant in the 6th Cavalry Regiment in June 1886, he served in the West during the Indian wars. In 1895 he commanded the famous African American Buffalo Soldiers, which is where he got the nickname "Black Jack."
The Spanish-and Philippine-American Wars-During the Spanish-American War, he served with the 10th Cavalry at San Juan Hill, and he also commanded troops in the Philippine-American War from 1899 to 1901. He went wherever he could find action and eventually returned to San Francisco in 1914 to take command of the 8th Infantry Brigade.
The Mexican War-When the Mexican civil war of 1914 spread across the border, Pershing led a 4,800-man brigade and for 10 months unsuccessfully pursued Pancho Villa's forces into Mexico, and experience that prepared him for his next move-and a big one. World War I-In 1917, after a short interview, President Woodrow Wilson decided that Pershing would command the American Expeditionary Force (AEF) in Europe. Pershing arrived in France on June 23 to begin a massive buildup of U.S. forces. When France demanded that American units fight under French field commanders, Pershing refused. He preserved the AEF as an independent fighting force and directed three major offensives in 1918: Aisne-Marne from July 25 to August 2, Saint-Mihiel from September 12 to 19, and the final Meuse-Argonne offensive on September 26 to November 11.
Pershing didn't use the same tactics employed by the French, which, after four years of war, had failed to dislodge the enemy. Trench warfare created enormous casualties. Taking a page from Robert E. Lee's playbook, Pershing operated on the flanks of the enemy. He was also the first to use air power to soften up fortified positions by bombing instead of relying entirely on artillery. While the French and British thought the war could be won by 1919 or 1920, Pershing said the AEF would end the war in 1918-and they did. His appointment as General of the Armies of the United States in July 1919 made him the first and only general to receive the rank in his own lifetime. He avoided politics and served for two years as chief of staff, retiring in 1924. He is seldom remembered because the AEF didn't contribute to major European campaigns until 1918.
What Made Him Great? Like Lee and Grant, Pershing took the field with his men and was recognized for his personal bravery. A strict disciplinarian, he was also cold, distant, and demanding, which many of his subordinates disliked-but he was also fair, just, and tenacious, virtues that his detractors overlooked. Had any other general been sent to France to command the AEF, American units would probably have been propelled into the French army to fight poorly conducted battles under generals using ineffective tactics.
6. DWIGHT D. EISENHOWER (1890-1969)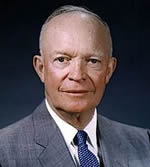 "Ike" was born in Denison, Texas, and grew up in Abilene, Kansas. He graduated from West Point in 1915, and played football there. Unlike most officers, Eisenhower rarely served in the field. After performing a variety of training duties during World War I, he graduated at the top of his class from the Command and General Staff School in 1926 and from the Army War College in 1928. He was on General Douglas MacArthur's staff from 1933 to 1939, and in September 1941 he received a promotion to brigadier general while serving as chief of staff to the 3rd Army.
Attached to the Army War Plans Division from December 1941 to June 1942, Eisenhower advanced to major general and was put in charge of U.S. forces in Europe. World War II-Eisenhower assumed command of Operation Torch, the November 8 invasion of French North Africa, and the invasion of Tunisia one week later. It took Allied forces six months to drive the German and Italian armies out of Africa. On July 9, 1943, Eisenhower commanded the invasion of Sicily.
Once the Allies secured a strong holding position in Italy, President Franklin D. Roosevelt moved Eisenhower to England to plan the cross-channel invasion of France. Appointed Supreme Commander of the Allied Expeditionary Force, Eisenhower directed Operation Overlord, the Allied amphibious assault on Normandy, France, on June 6, 1944. It was at this point that Eisenhower's role became extremely political: he had to placate Great Britain and the other Allies while making decisions regarding the war in Europe. He also had problems with some of his generals and made political concessions that produced poor results. Yet he made extremely sound decisions when reacting to setbacks, such as the German Ardennes offensive (Battle of the Bulge) from December 1944 to January 1945. When the Allied offensive resumed in February, he planned and implemented the crossing of the Rhine and the push into Germany. After Germany's surrender on May 7-8, 1945, Eisenhower commanded the Allied occupation forces until November. He returned home and replaced General George C. Marshall as chief of staff, the highest-ranking officer in the U.S. Army.
What Made Him Great? Eisenhower became a man of exceptional ability. He retired in February 1948 to become president of Columbia University, but in December 1950 President Harry S. Truman made him the first supreme commander of NATO. Eisenhower retired again in 1952, ran for president, and won. Part of his foreign policy was to protect Middle Eastern countries from Soviet aggression and to avoid getting the United States involved in countries like Vietnam.
7. DOUGLAS MacARTHUR (1880-1964)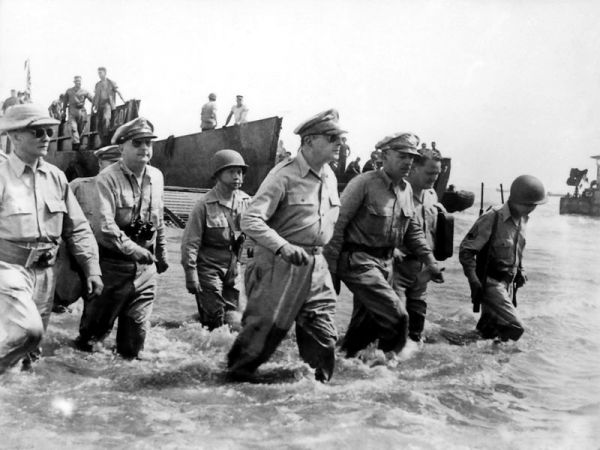 MacArthur was the son of Medal of Honor recipient Lieutenant General Arthur MacArthur Jr., and followed in his father's footsteps. He graduated from West Point in 1903, first in his class, and began his career serving under his father in the Philippines.
During World War I, he went to France and commanded a brigade at Saint-Mihiel and a division during the Meuse-Argonne campaign. After the war, he returned to the Philippines as a major general. He retired from the Army in August 1936 to become the Philippine government's field marshal. As war with Japan became imminent, President Roosevelt reinstated MacArthur as a lieutenant general commanding U.S. forces in the Far East.
World War II-Though he was warned repeatedly that the Philippines could be struck by Japan, and was provided with B-17 bombers to defend against an attack, MacArthur believed the islands would not be invaded before the spring of 1942. This miscalculation led to faulty vigilance and would have resulted in the removal of any other commander but MacArthur. Instead, he was ordered to Australia to stem the Japanese advance, awarded the Medal of Honor for the defense of the Philippines, and became the supreme commander of Allied forces in the Southwest Pacific.
Always a superb strategist, MacArthur stopped the Japanese drive on New Guinea and recovered western New Britain. In November 1942 he began leap-frogging forces along the northern coast of New Guinea to Morotai in the Molucca Islands, which reopened the way to the Philippines. On October 20, 1944, he led the invasion of Leyte, fulfilling his promise to return to the Philippines. President Roosevelt raised MacArthur to general of the armies and put him in charge of planning the invasion of Japan, which was preempted by Japan's surrender.
MacArthur remained in Tokyo as supreme commander of the occupation forces and administered the defeated country with benevolence. He was still there when North Korea invaded South Korea in June 1950.
The Korean War-As supreme commander of United Nations forces in Korea, MacArthur conceived one of the greatest double envelopments in military history. Using a force strong enough to hold a perimeter in the southeastern corner of Korea, he sent a strong amphibious force to assault Inchon in the northwestern corner of the country. The resulting "pincers" movement virtually destroyed the North Korean army. He followed this brilliant move and stepped on the toes of Communist China. Neither President Truman nor the United Nations wanted China drawn into the Korean War, but MacArthur, mainly from arrogance, allowed it to happen. After he was recalled to the United States and replaced by Lieutenant General Matthew Ridgway, MacArthur retired.
What Made Him Great? Though egotistical and controversial, MacArthur was nevertheless one of the greatest generals of World War II and of history. His amphibious campaigns were masterpieces of strategy and boldness, and were noted for their efficiency and low casualty rates. Despite his flamboyance, MacArthur cared for his men and believed thorough planning would save lives -and it did.
8. GEORGE S. PATTON (1885-1945)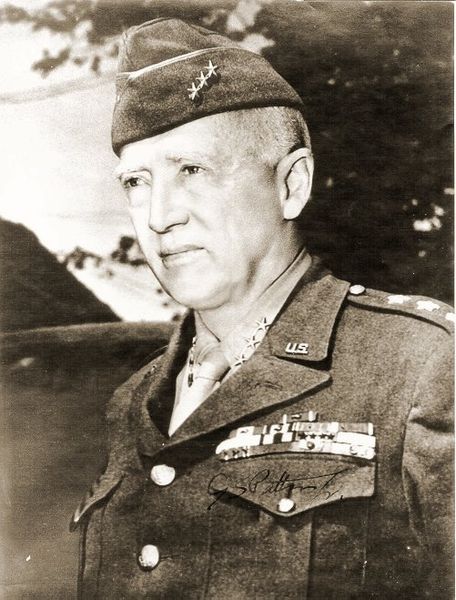 Patton was descended from an old Virginia military family but was born in San Gabriel, california. He attended the Virginia Military Institute and went on to West Point, graduating in 1909. After placing fifth in the modern pentathlon at the 1912 Olympics, Patton joined the cavalry when men still rode horses, and he never left the branch after it became mechanized. He learned a great deal about fighting while serving under General John J. Pershing, and during World War I he organized and led the 1st Tank Brigade during the Saint-Mihiel and Meuse-Argonna campaigns late in 1918.
During the postwar years, Patton spread his time between studying and advancing tank technology (a series of tanks were named for him), serving on the general staff, and attending the Army War College. By April 1941 he had risen in the ranks to major general and was in command of the 2nd Armored Division. By then, Patton had earned the reputation of having a uniquely gifted military mind, immense energy, and a penchant for being blunt.
World War II-Patton participated in the planning of Operation Torch and in November 1942 commanded the landings in French Morocco. He replaced Major General Lloyd Fredendall following the defeat at Kasserine Pass on march 3, 1943, and assumed command of the 2nd Army Corps. Temporarily relieved of duty after a minor quarrel with the British, Patton subsequently took command of the 1st Armored Corps, which later became the 7th Army. His brilliant campaign in Sicily during July and August of 1943 was overshadowed by a highly-publicized face-slapping incident in a hospital on August 3rd. Patton despised cowardice, and when he found a soldier skulking in a hospital bed with no evidence of an injury, he called him a "damned coward" and slapped his face in the presence of reporters. After the incident made national news, General Eisenhower brought Patton to England and tried to keep him out of trouble until the Normandy campaign. Patton sulked for five months before Eisenhower gave him command of the newly formed 3rd Army.
He landed in France on July 6, 1944, broke out of Normandy with his tanks, advanced east across France, wheeled suddenly north, and struck the flank of the German army. When the German Ardennes offensive in December 1944 threatened to swallow up a surrounded American division at Bastogne, Patton pushed the 3rd Army through mud and snow and relieved Bastogne on december 26, 1944. He pressed on to the Rhine under stiff resistance, crossded it on March 22nd, and pushed through central Germany into Bavaria. By May 8, when Germany surrendered, his spearheads had reached into Czechoslovakia. Now without a war to fight, Patton's inappropriate political comments once again put him at odds with Eisenhower. Removed from command of the 3rd Army, Patton moved to the 15th Army, which had few troops and existed mainly on paper. With one day to go before his return to the United States, a car he was riding in was hit by a truck. Patton was paralyzed from the neck down and died less than two weeks later.
What made him great? Like many field commanders, Patton was a warrior and not a politician. His tactics were brilliant. By any measure, he became America's greatest leader of heavy-armor forces, as well of one of America's outstanding field commanders.
9. MATTHEW B. RIDGWAY (1895-1993)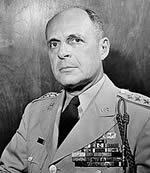 Best known for saving the UN effort in the Korean War, Ridgway was also a celebrated leader in World War II. He was born at Fort Monroe, Virginia, and graduated from West Point in 1917. During World War I, Ridgway served with the 3rd Infantry Regiment but did not go overseas. During the postwar years, the army sent Ridgway to China and the Philippines. He periodically returned stateside to attend high-level military training.
In December 1941 he joined the 82nd Infantry Division, which he later commanded as the 82nd Airborne, one of the army's new airborne divisions. In early 1943 Major General Ridgway brought the division to the Mediterranean and on July 9-10 made the first American airborne assault on Sicily. He led elements of the division during the September 9 amphibious assault on Salerno. On D-day, June 6, 1944, he parachuted into France with his troops.
In August he moved up to command the 18th Airborne Corps, which consisted of the 82nd and 101st Airborne Divisions, and led his men in the airborne assault at Arnhem on September 17. He played a major role in stemming the German Ardennes offensive in December 1944 and later participated in the Rhineland and the Ruhr campaigns, during which he received his third star. The Korean War-Ridgway's greatest hour came during the Korean War, when the Joint Chiefs of Staff sent him to Korea to clean up MacArthur's mess. The Chinese had led MacArthur's UN forces reeling back from the Manchurian border in December 1950, recaptured the South Korean capital of Seoul, and threatened to drive US forces completely out of Korea. Ridgway stopped the counteroffensive 75 miles south of Seoul and gradually reestablished control of the area, fighting his way back to the original border between the two Koreas.
For the next several months, he fought a battle of containment, forcing the enemy to throw hundreds of thousands of men into his stubborn mincing machine before agreeing to truce talks. Ridgway's strategy of containment became the adopted policy of the United States throughout the Cold War. After serving briefly as Supreme Allied Commander in Europe, Ridgway returned to the United States in October 1953 to become the Army's chief of staff during the Eisenhower administration. Because of his personal policy of Communist containment, he probably kept the Unites States from becoming involved in the Vietnam War for ten years.
What Made Him Great? Ridgway did not believe in massive retaliation to Communist threats, but he did sanction "flexible response", which is the strategy he followed that ended the Korean War. With the exception of Vietnam, it is the same policy American presidents followed until the Iraq War in 2003.
10. H. NORMAN SCHWARZKOPF (1934- )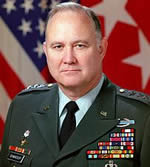 Born in Trenton, New Jersey, Schwarzkopf was an army brat whose father served on both World Wars. Like his father, he graduated from West Point, and in June 1956 he became a second lieutenant in the infantry.
Vietnam War-The man who became known as "Stormin' Norman" served two tours in Vietnam, first as an advisor to the South Vietnamese in 1965 and later as commander of the 23rd Infantry Division, where he earned the first of three Silver Stars and Two Purple Hearts Promoted to colonel, he returned to the United States in a body cast due to war injuries. After reaching home, Schwarzkopf was shocked by the public's hostility to the war and considered resigning. He privately blamed the government for becoming involved in a war with unclear objectives and a misconceived strategy.
Between the Wars-Schwarzkopf remained in the army and for the next twenty years worked his way up the ladder by commanding the 172nd Brigade in Alaska and the 1st Brigade, 9th Infantry Division at Fort Lewis, Washington. After serving as deputy director of plans for the Pacific command in 1978-80, he eventually became a major general and commanded the 24th Mechanized Infantry Division at Fort Stewart, Georgia. He returned to Fort Lewis in 1986 as a lieutenant general and took command of the 1st Corps. With his elevation the U.S. Central Command in 1988, he was responsible for planning Desert Shield, which became Desert Storm in January 1991, the ousting of Iraqi forces from Kuwait.
Desert Storm-In this capacity Schwarzkopf planned, organized, and executed the largest U.S. mechanized combat operation since 1945. Between August 1990 and and January 1991, he assembled 765,000 troops-of which 541,000 were American-from 28 countries, hundreds of ships, and thousands of tanks and aircraft. When a six-week aerial bombardment failed to bring Saddam, Hussein to the negotiating table, Schwarzkopf drew Iraqi forces out of position with a fake amphibious landing and performed what he termed an "end run" around Iraq's vaunted Republican Guard. He cut the enemy's communications, destroyed their supply lines, and in 1090 days forced Saddam to adopt a cease-fire. Total U.S. casualties were 293 killed and 467 wounded. Schwarzkopf could have marched into Baghdad with little resistance, and he expressed a willingness to do so. But UN resolutions did not include the capture of Iraq, so Schwarzkopf stood down. Somewhat annoyed by not finishing the job, he retired from the Army in 1992.
What Made Him Great? Schwarzkopf executed a classic campaign and left no messes within the scope of his task. He understood his orders and performed them with few casualties and received much praise from the world community.
__________
The article above is reprinted with permission from Uncle John's Bathroom Reader Salutes the Armed Forces. Since 1988, the Bathroom Reader Institute had published a series of popular books containing irresistible bits of trivia and obscure yet fascinating facts. If you like Neatorama, you'll love the Bathroom Reader Institute's books - go ahead and check 'em out!