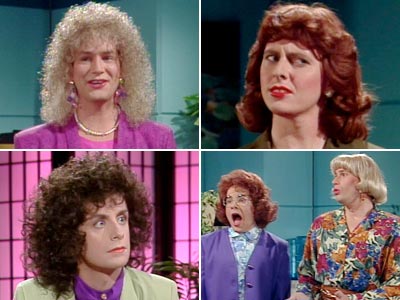 The Kids In The Hall were probably most successful at pulling off the female disguise, although they weren't trying to fool anyone.  Their skits occasionally needed women characters, and their delivery was a perfect blend of self-awareness and application.
Many times in movies and other forms of entertainment, the contriving plot demands someone dress like a woman
and fool other people
, ostensibly people who aren't blind.  OMG Lists compiled ten of the worst offenders, from
White Chicks
to
Bosom Buddies
.  It's a pretty accurate list, despite my affection for
Tootsie
.
http://omglists.blogfaction.com/article/111081/10-cross-dressing-disguises-that-shouldnt-have-fooled-anyone/