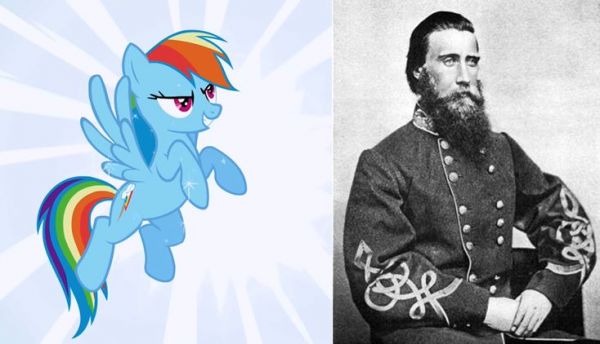 Physically brave to the point of recklessness, this leader has courage beyond any doubt. But sometimes, this hero, revered by many, makes poor decisions, largely because of the belief that the best solution to any problem is a direct, frontal attack.
Yes, I'm taking about Rainbow Dash from My Little Pony. But I'm also referring to Confederate Lt. Gen. John Bell Hood.
The Elements of Harmony were absent from America during the terrible years of 1861 to 1865. But there were plenty of heroes, clods, fools and geniuses among the general officers of both armies. You can find similar people--er, ponies-- on My Little Pony: Friendship Is Magic today. Let's link together ponies and their military counterparts during the American Civil War.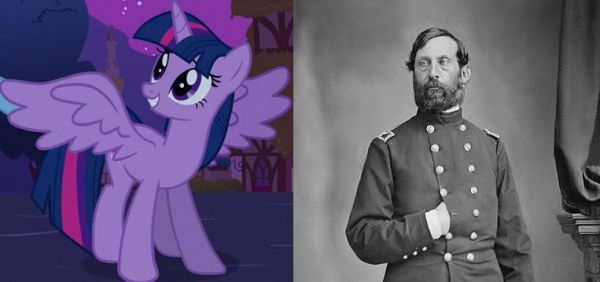 Like Twilight Sparkle, U.S. Maj. Gen. Henry Jackson Hunt did not seek fame, but he also did not avoid great responsibility. He was an intellectual who bent his logical mind to solving complex problems. I suspect that if Twilight Sparkle had been in command of Federal artillery at Gettysburg, she would have devastated Pickett's Charge as well as Hunt did.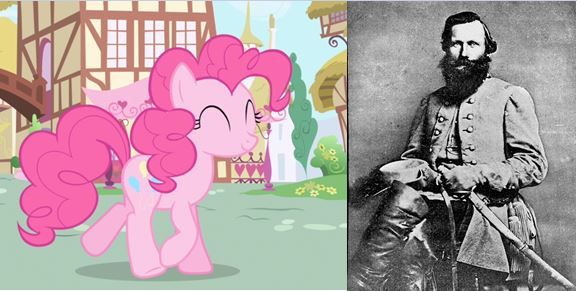 Pinkie Pie is an outside of the box thinker noted for her bold and original solutions. The one-man band that she made during "Swarm of the Century" confused her friends, but terminated the parasprite menace. Confederate Maj. Gen. J.E.B. Stuart had a similar disposition, well-demonstrated during his terror-inducing circumnavigation of the Army of the Potomac during the Peninsula Campaign.
Continue reading