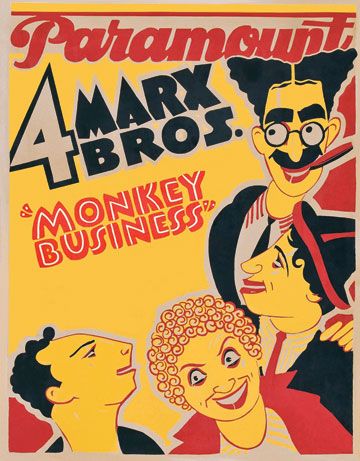 Neatorama presents a guest post from actor, comedian, and voiceover artist Eddie Deezen. Visit Eddie at his website or at Facebook.
The year was 1931 and the four Marx Brothers (Groucho, Harpo, Chico and Zeppo) had by now had three hit Broadway shows and two smash movies: The Cocoanuts (1929) and Animal Crackers (1930)- behind them. Both The Cocoanuts and Animal Crackers were simply filmed versions of their Broadway shows. Both films had been shot in nearby Astoria Studios in Long Island, New York.

The Marxes, now being official 24-karat movie stars, decided to pull up stakes and move to the only residence befitting motion picture celebrities- Hollywood. Their third film would be their first with an official Hollywood screenplay.

The working title of their tertiary film was Pineapples, but was soon changed to Monkey Business. Written by S.J. Perelman and Will B. Johnstone with a screenplay by Arthur Sheekman, Monkey Business was directed by Norman Z. McLeod

Monkey Business was to be the only Marx Brothers film in which none of the brothers have a character name. Because they played four stowaways on a passenger ship, they were simply referred to as "the stowaways." (in the film's end credits, they are credited by their names, i.e. Groucho, Harpo, Chico and Zeppo Marx.)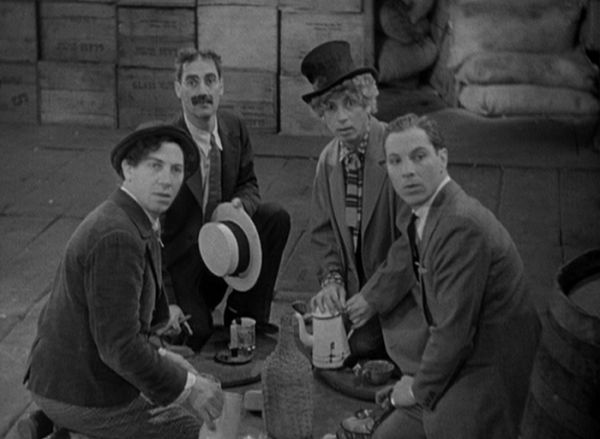 What little plot there is involves the boys stowing away on a ship, being pursued by the captain of the ship and his underlings, meeting rival gangsters on board and getting involved with them, leaving the ship and thwarting an attempted kidnapping of one of the gangster's daughters.
Continue reading