You should know by now that we love cats here at Neatorama. We love crafts, too! So when we heard about the new book
Crafting With Cat Hair
(subtitled
Cute Handicrafts to Make With Your Cat
), we knew it was a natural for us. Originally published in Japan as
Nekoke ferutono han
in 2009, this book by Kaori Tsutaya has now been translated into English by Amy Hirschman and hits bookstores today.
KAORI TSUTAYA is a Japanese writer obsessed with cats. She exhibits her craftwork and runs kitty craft workshops to inspire other cat owners. AMY HIRSCHMAN is a translator, crafter, and pop-culture enthusiast. She lives in Los Angeles.
We've posted before about people who
knit sweaters out of their dog's hair
. This isn't like that. And it's not about recycling hair for the sake of recycling.
Crafting with Cat Hair
has small, yet very
personal
projects that celebrate your cat and they look as cute as can be! If you've got a cat and a cat brush, you have the raw materials to make several projects. Unless you have one of those hairless cats.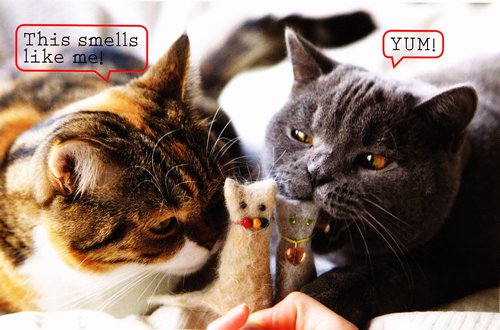 Craft projects are not all that's in this book. Tsutaya gives you plenty of pictures of her cats, some cat humor, and practical tips on caring for your cat, from proper brushing techniques to pest control.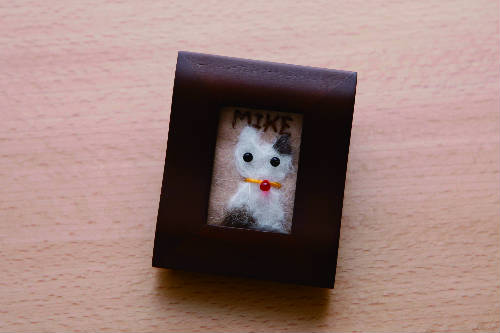 The miniature cat portrait project is the first one my cat crazy daughter wants to try. You can personalize the portraits to resemble cats you know. You can even make a group picture!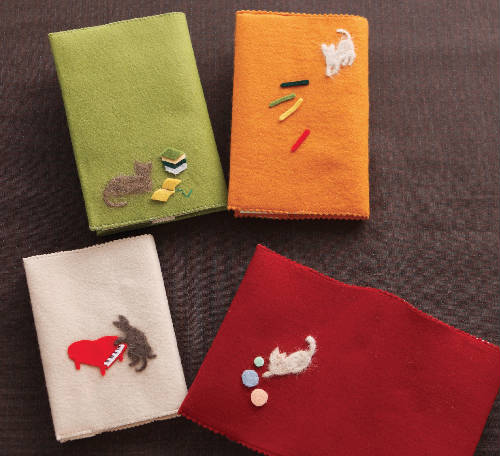 These book covers are not completely made of cat hair, just the decorations. But you will have step-by-step instruction for making the covers as well as the cats.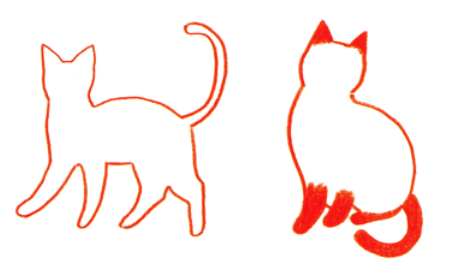 Tsutaya makes things easy for you by including a variety of cat patterns of the proper size for the projects.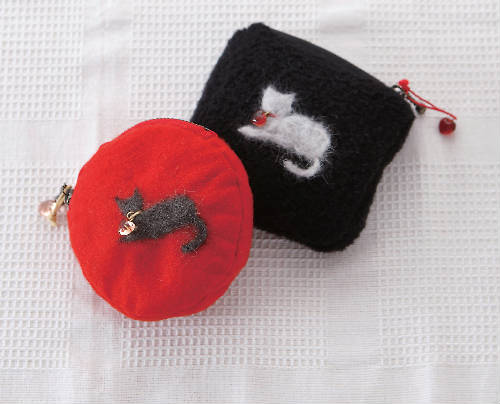 These are coin purses decorated with needle-felted cats. Other projects in the book include tote bags and pincushions you make yourself, and mittens, gloves, hats, and scarves that you decorate with needle-felted kitties. And what about the finger puppet on the cover? That's
my
favorite.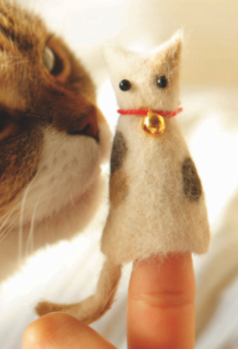 See, there are two basic techniques for making miniature cats in
Crafting With Cat Hair
. In the very first project, Tsutaya shows us how to make felt with cat hair, beginning with how you brush it from the cat. Wrapping layers and then shaping the material with soap and water give us a solid piece of cat hair fabric, which we've made in the shape of a finger puppet as we go.
The other technique involves needle felting with cat hair, which is how many of the objects are decorated. Tsutaya also has instructions for cleaning and caring for the finished crafts.
These projects make personal keepsakes honoring the cats you love (believe it or not, I first typed "catsakes"), and also would make great gifts for cat lovers! Or, you could skip the work and buy the book as a gift for your cat-loving friends and relatives.
Crafting With Cat Hair
is published by Quirk Books, and is available in stores today, as well as online at
Amazon
and
Barnes & Noble
.
Paperback,
$14.95
, on sale for $9.17, 96 pages, 4-color, 7 ½ x 8
ISBN 978-1-59474-525-6