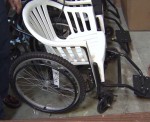 Don Schoendorfer makes wheelchairs out of lawn chairs and bicycle wheels. His hobby was inspired by a woman in India who crawled across the dirt because she had no wheelchair. After building 100 of the inexpensive chairs, Schoendorfer founded the organization
Free Wheelchair Mission
in order to get the chairs shipped to those who need them worldwide.
It costs less than $60 to have each chair made, shipped and delivered to "some of the most remote corners of the globe," according to Schoendorfer's website, freewheelchairmission.org.

Better yet, the recipients don't have to pay a dime for their new mobility.

Schoendorfer says he hopes to distribute 20-million wheelchairs in total.
Link
-via
Breakfast Links
(Image credit: KTLA-TV)