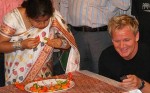 As noted in a story earlier today, the Indian military announced that it has
successfully weaponized the world's hottest chili
- the bhut jolokia.  They claim that when placed in grenades it will be an effective weapon because it will "
choke terrorists and force them out of their hide-outs."
Their announcement not surprisingly did not mention the fact that last year an Indian woman, Anadita Dutta Tamuly, entered the Guiness Book of Records by eating 51 of those famous peppers.  After the completion of her dietary feat, Ms. Tamuly then smeared handfuls of the seeds into her eyes.
Link
.