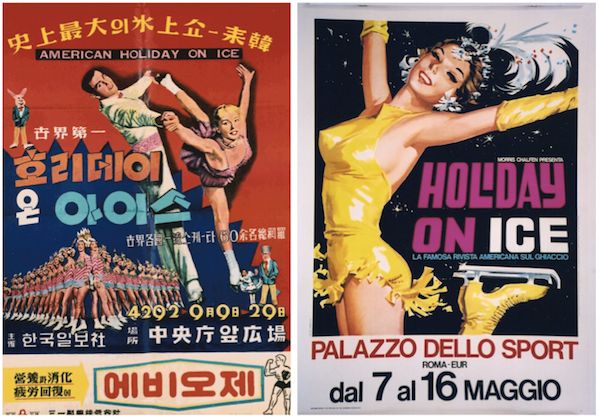 Roy Blakey spent 15 years as a professional ice skater with various shows, including Holiday on Ice, during its heyday in the mid-20th century. Along the way, he began to collect souvenirs, and now is an avid collector of vintage ice show ephemera. Blakey tells us about the history of ice shows, which took off in the U.S. and spread all over the world.
Collectors Weekly: Ice shows seem an odd and somewhat cumbersome U.S. export.

Blakey: Well, Morris Chalfen was a genius. He realized ice shows needed no translation; that they would appeal to people all over the world. But the origin of the international shows goes back to the portable ice shows—or tank shows, as we called them—in the U.S., which started with Carl Snyder in 1943. Snyder had been booking bands into hotels when he decided to start producing tank shows. He'd bring a 20-by-20-foot ice rink right into a nightclub or the theater-restaurant of a fancy hotel. The story I heard is that the first one was in Toledo, Ohio, during Christmas and New Year's, so he called it Holiday on Ice.

Shortly after that, two brothers from Milwaukee named Cal and Emery Gilbert, who owned an ice rink in Toledo called the Ice House, invited Holiday on Ice to perform at their rink. Emery was a brilliant technician, and he figured out how to enlarge Snyder's portable rink to arena-size. The three became partners, and after a couple of years, Morris Chalfen heard about this little Holiday on Ice company and invested some money in it so they could build several arena-sized, portable ice rinks. That way they could have one rink going in the city where they were performing while another was being set up in the next city for the next show. It made everything more efficient, which was important since by then Holiday on Ice was competing with the Ice Follies, the Ice Capades, and the Hollywood Ice Review, which starred Sonja Henie.

In fact, those three companies had signed exclusives with all of the big arenas, which meant Holiday on Ice was frozen out of places like Madison Square Garden in New York and Chicago Stadium. Holiday on Ice needed its portable rinks, but that turned out to be a big plus for them in that they could go wherever they wanted. They could play on a theater stage, a basketball court, an outdoor football stadium, even a bullring, which they first did in Guadalajara, Mexico.
There's more to the story, plus we'll get a look at Blakey's collection of ice show and skating memorabilia in an article at Collectors Weekly.