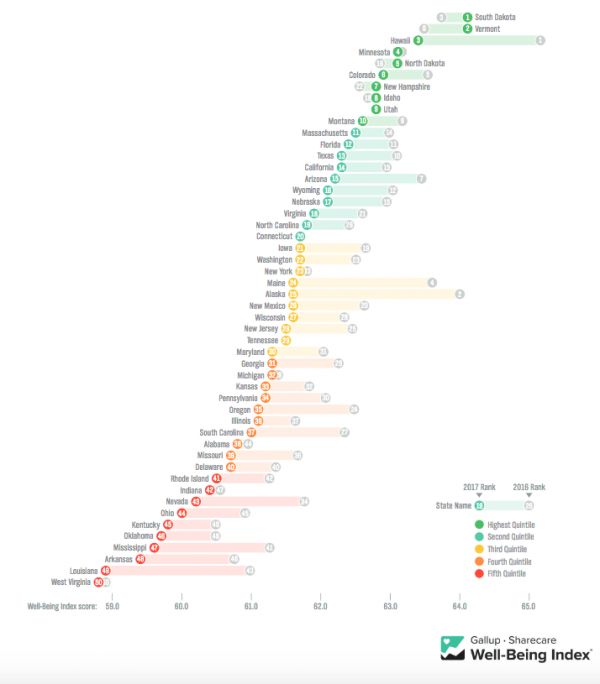 A collaboration between Gallup and Sharecare led to the 2017 Well-Being Index, which they've done annually since 2008. The news is not good. While a few states improved over the previous year, none of the improvement scores were statistically significant. Most states had lower scores, some drastically lower.
Despite the national downturn, the Gallup-Sharecare Well-Being Index found improvement in several traditional measures of physical health in 2017, such as the proportion of Americans reporting participation in regular exercise, abstention from smoking and being overweight. Community well-being – defined as liking where you live, feeling safe and having pride in your community – also improved for Americans between 2016 and 2017.

Although improvements in certain physical health categories and community well-being signal progress, the sharp declines in overall well-being were driven by drops in purpose and social well-being metrics, as well as the mental health aspects of physical well-being. Out of a possible score of 100, the national Well-Being Index score dropped from 62.1 in 2016 to 61.5 in 2017, marking the largest year-over-year decline since the index began in 2008.
South Dakota improved its ranking, coming in at #1. Vermont, North Dakota, New Hampshire, and Idaho had improved scores, while all other states' well-being declined in 2017. You can read the full report here, or the short version at Digg.