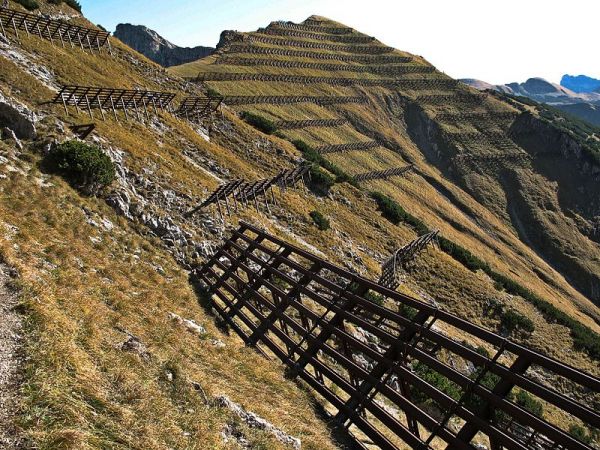 In mountainous areas of Europe, you might enjoy the breathtaking view of a snow-covered Alp in winter. But in summer, the snow melts and the infrastructure underneath is exposed. These are avalanche protection fences, designed to mitigate the effect of sudden slides.
Strangely, the purpose of this kind of fencing in mountainous regions is not to stop a snow drift but to cause one. The fences (usually referred to as snow fences) are positioned so that drifting snow is blown in to a place where it presents the least amount of danger. By forcing a drift on the side of the mountain, it is then less likely to cover the transport routes below.

Over many centuries, communities have learned, often to their great cost, where the initiation zones of avalanches are located. This led to the very human desire to stabilise the snow and it was the idea of a fence which was found to work. No doubt there was much trial and error but the idea was to help absorb the force of the snow-pack through a system of fences – and to transmit that force to the ground, keeping the snow in its place.
See a gallery of avalanche fences in summertime images at Kuriositas. -via the Presurfer

(Image credit: Stephan Möller)