Neatorama presents a guest post from actor, comedian, and voiceover artist Eddie Deezen. Visit Eddie at his website or at Facebook.
You can't live on Jack Daniels alone, Pally. -Frank Sinatra, 1962

When Sinatra dies, they're giving his zipper to the Smithsonian. -Dean Martin
Countless things have been said about Frank Sinatra, and why not? Frank was the legend of legends, the biggest star in show business, "Old Blue Eyes" himself, the original "swinger," the world's greatest singer, an awesome Oscar-winning actor, fighter, bon vivant, two-fisted drinker, manic/depressive, insomniac, leader of the Rat Pack. Oh yes, and the world's most successful ladies man.

It's tough to conjure up one line to define someone as multi-faceted as Frank Sinatra, but if you tried, it may have been "He loved women and women loved him."
"He had sex on the brain," says Nanci Venturi, who knew Frank from his early day. "He would make love to anyone who came along."

According to friend Joey D'Orazio, Frank confided to him, "I just want to make it with as many women as I can."

These quotes and the basic picture we all have of Frankie the swinger may all, indeed, be true. But like most of us, Frank Sinatra had both Jeckyll and Hyde sides. Yes, he did have women on the brain, like almost all men. A common Sinatra phrase while hanging out with his pals in the lounge of the Sands hotel in Las Vegas was, "We're all men sitting there. Where are the broads?"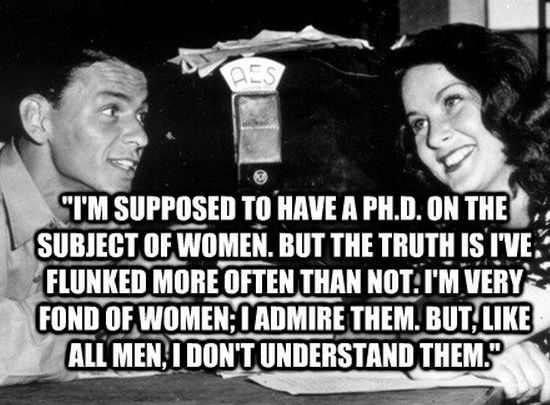 Okay, what did Frank Sinatra look for in a woman? "A sense of humor," he once answered, but later in the same conversation, he gave this fascinating elaboration: "I'm supposed to have a PhD on the subject of women, but the truth is, I've flunked more often than not. I'm very fond of women; I admire them. But like all men, I don't understand them."

Although the common perception of Sinatra would probably be of the ultimate skirt-chaser who scored with countless females, from the world-famous to the obscurely anonymous, Frank definitely has a more refined side. "Make her feel appreciated, make her feel beautiful," he once advised.
Continue reading