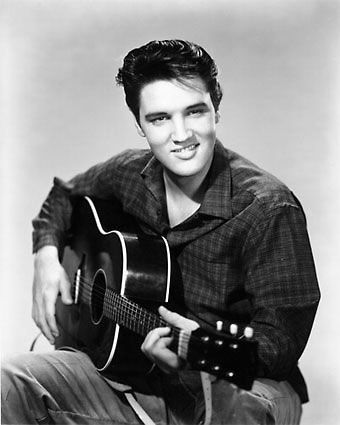 Neatorama presents a guest post from actor, comedian, and voiceover artist Eddie Deezen. Visit Eddie at his website or at Facebook.
There have been many famous, legendary haircuts (for men) and hairdos (for women) in show business history. Well, we can start with the mop tops of the Beatles. Then we obviously drift over to the long hair, frizzly hair, shaved head of the respective three stooges- Moe, Larry, and Curly. (not to mention the split-in-the-middle part of Shemp). Alfalfa of the "Little Rascals" had his slicked-down cowlick, Harpo Marx had his curly blond locks, and Yul Brynner and Telly Savalas had their bald domes.

Veronica Lake had her "peek-a-boo" hairdo. The classic blonds include Marilyn Monroe and Jean Harlow. And let's not forget Lucille Ball's legendary carrot top.

But Elvis Presley's combed-back, ink-black, slickly-oiled, long-sideburned haircut is known all over the civilized (and uncivilized) world.

The earliest Elvis hairstyle was not the jet-black we are all so familiar with. One can watch and enjoy Elvis' earliest TV appearances from 1956 and even his first movie Love Me Tender from 1956 and notice his hair a slightly lighter, dark sandy-ish shade.

It wasn't until his second (and best) movie Loving You in 1957 (Elvis' first color film) that we see the extreme ebony hair that was to be become his trademark. Although the King's hair was actually snow-white by the end of his life, he routinely had it dyed black from '57 on out.
Continue reading