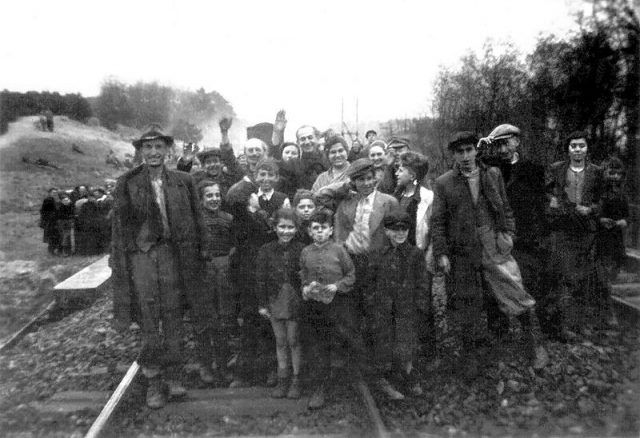 Who says Friday the 13th is unlucky?
We've seen a lot about WWII this week, with the 75th anniversary of the Normandy Invasion two days ago, but maybe we forget exactly what all the Allies were planning to do once they made a successful beachhead.
The Nazis had not been expecting this and so they panicked. Flashbak has the story about what happened in one such panic, when the Nazis abandoned a train which cars were packed with concentration camp prisoners en route to the interior of Germany. This incident occurred on Friday, April 13, 1945:
A few miles northwest of Magdeburg there was a railroad siding in wooded ravine not far from the Elbe River. Major Clarence Benjamin in a jeep was leading a small task force of two light tanks from Dog Company on a routine job of patrolling. The unit came upon some 200 shabby looking civilians by the side of the road. There was something immediately apparent about each one of these people, men and women, which arrested the attention. Each one of them was skeleton thin with starvation, a sickness in their faces and the way in which they stood-and there was something else. At the sight of Americans they began laughing in joy-if it could be called laughing. It was an outpouring of pure, near-hysterical relief.
The tankers soon found out why. The reason was found at the railroad siding.
There they came upon a long string of grimy, ancient boxcars standing silent on the tracks. In the banks by the tracks, as if to get some pitiful comfort from the thin April sun, a multitude of people of all shades of misery spread themselves in a sorry, despairing tableaux [sic]. As the American uniforms were sighted, a great stir went through this strange camp. Many rushed toward the Major's jeep and the two light tanks.
The story is inspiring, as are the numerous photographs taken that day. It is a celebration of life amidst death and a compelling tale of good's eventual triumph over evil. But the story doesn't end there - it continues for decades. Join me in celebrating the indomitable human spirit, won't you?